Now that the turkey's been eaten, and the leftovers are one lunch away from being a mere memory, it's time to refocus on the next round of seasonal gifts – television Christmas specials.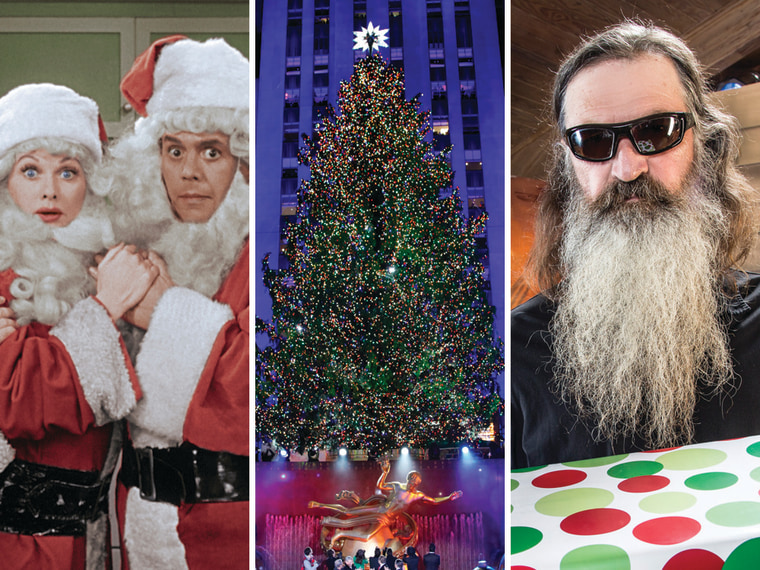 Aside from the always reliable "Rudolph the Red Nosed Reindeer" and "Charlie Brown Christmas," TV networks love feeding us brand-new holiday treats to entertain our eyeballs throughout the month of December. From reality show holiday episodes to live events, there's something to please even the biggest grinches. We've collected eight can't-miss holiday specials that bypass the coal and go right to the good stuff.
'Keeping Up with the Kardashians: A Very Merry Christmas'
Dressed up in their black and white couture jammies, most of the K-clan gathers to reminisce about their favorite Christmas memories, exchange some white elephant gifts and coordinate the photo shoot for their annual Christmas card. Heart be still. Airs Dec. 1 at 8:30 p.m. on E!
'Christmas in Rockefeller Center'
New York City rings in the holiday season officially with the 81st lighting of the massive tree at the Rockefeller Center skating rink. Hosts Savannah Guthrie and Al Roker welcome musical guests, including Mary J. Blige, Toni Braxton, Mariah Carey, Kelly Clarkson, as they belt out holiday standards (and try to stay warm). Check it out on Dec. 4 at 8 p.m. on NBC.
'Saturday Night Live Christmas Special'
Because nothing says "holiday season" like a recipe for "Schweddy Balls" ... Tune in for the classic Alec Baldwin sketch and Adam Sandler's classic "Chanukah Song" as holiday sketches get packaged together in this clip show. 'SNL' is at its best when it reminds us of the "fun" in dysfunctional holiday get-togethers, and does so Dec. 4, at 9 p.m. ET on NBC.
'The Sound of Music Live'
How about this for unexpected holiday fun: country sweetheart Carrie Underwood steps into the lederhosen of Maria Von Trapp as she sings against "True Blood's" Stephen Moyer playing Capt. von Trapp in this live three-hour production of "The Sound of Music." It might be heresy to devotees of Julie Andrew's classic film version, but the dangers of doing it live makes this even more intriguing. Airing Dec. 5 at 8 p.m. on NBC. 
'Dance Moms Holiday Special: 'Twas The Fight Before Christmas'
Will dance coach Abby Lee Miller allow peace on earth in her studio for the holiday season? What do you think? So expect things to get loud as usual as Abbie's girls prepare for a holiday routine and the parents, including the dads, get ready to deck some Miller. Dec. 10 at 9 p.m. on Lifetime.
'Duck Dynasty Christmas'
The Robertson clan follows up their hit Christmas album release this year with a brand new, one-hour special featuring those new redneck classics and the entire family dressing up to be part of a live nativity…because that can't go wrong. Check it out Dec. 11 at 10 p.m. on A&E.
'Grimm: Twelve Days of Krampus'
The dark world of "Grimm" gets as festive as it's ever going to get as Nick and Hank track down a Wesen Evil Santa targeting delinquent teens. Let's hope cuties Monroe and Rosalee keeps things a little light, at the very least. Dec. 13 at 9 p.m. on NBC.
'I Love Lucy Christmas Special'
Fans of Lucille Ball get gifted with two back-to-back episodes of her classic "I Love Lucy" sitcom - "Christmas Episode" and "Lucy's Italian Movie" – both colorized with a vintage look, per CBS. Don't miss these rare re-airings and maybe teach the new generation about comedy that never gets old. Dec. 20 at 8 p.m., CBS.