It's been 34 years since Ralph Macchio's Daniel crane kicked William Zabka's Johnny into submission in "Karate Kid," but old rivalries die hard.
Enter "Cobra Kai," a new series starring Macchio and Zabka in the roles they originated in 1984, which has them all set for another go-round.
Of course things are a little different now. Macchio is 56, Zabka 52, and let's just say they're more "Karate Adults" now.
"There's a lot more stretching now," admitted Zabka, who visited TODAY Wednesday with Macchio to talk about the show, which premieres Wednesday on YouTube Red.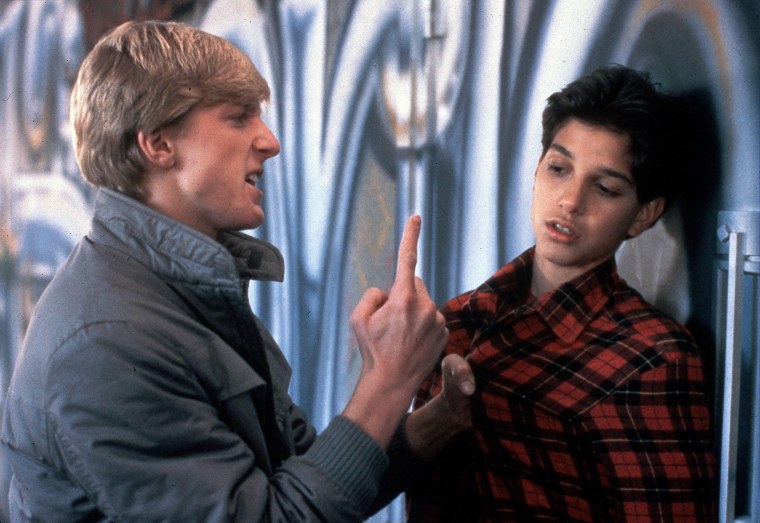 In the series, Johnny has reopened the Cobra Kai karate dojo, made famous in the film, while Daniel is struggling without his mentor Mr. Miyagi to guide him in life. Needless to say, it doesn't take long for them to face off again.
Macchio said for a long time he was happy to "let the legacy of the film franchise stand on its own," but he likes this new take on things, courtesy creators Jon Hurwitz, Hayden Schlossberg and Josh Heald.
"It's kind of a nice, smart way in," said Macchio. "These creators ... wrote 'Hot Tub Time Machine' and the 'Harold and Kumar' franchise (and) they had a fresh take on how to write for the 'now' generation. They are the biggest 'Karate Kid' fans.' ... It's 'Star Wars' to them."
May the force be with the show, then!
Follow Randee Dawn on Twitter.