Kaley Cuoco is having a hard time saying goodbye to "The Big Bang Theory."
"It's broken my heart," the actress, 32, told "Extra." "I am so sad that it's ending."
Though rumors had swirled for months that the beloved CBS sitcom's upcoming season would be its last, Cuoco revealed she and her co-stars still took the news hard.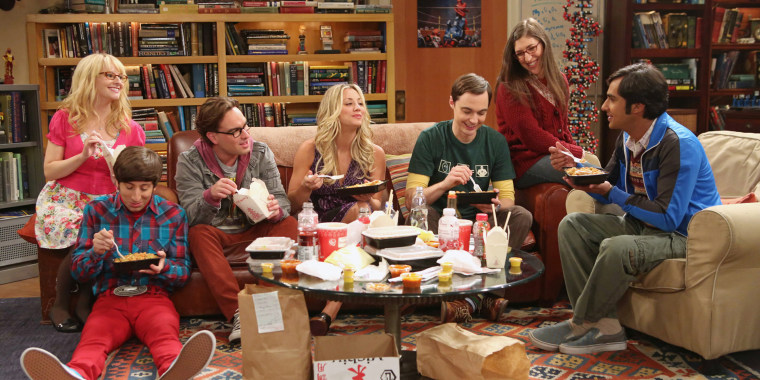 "I was bad, but everyone was crying," she revealed, adding, "I think we were all hoping for a giant 'bazinga!'"
Cuoco, who plays Penny, who's married to Leonard (Johnny Galecki) on the show, says she would have loved to see "The Big Bang Theory" continue for many more seasons. "For the record, I would have done 20 more years," she shared.
In August, CBS and Warner Bros. announced "The Big Bang Theory" would end its run after its upcoming 12th season, with its final episode airing in May 2019.
The popular sitcom, which tells the story of a group of smartypants friends who live and breathe science and technology, has nabbed 52 Emmy nominations and 10 wins since its 2007 debut. The show also stands to make television history: it will wrap as TV's longest-running multi-camera comedy with a record-breaking 279 episodes.
Shortly after CBS shared the sad news, Cuoco posted a sweet pic of herself and her cast mates, and gushed about their time together in the caption.
"This ride has been a dream come true and as life changing as it gets," she wrote. "No matter when it was going to end, my heart would have always been broken in two."
Cuoco also promised that even though the cast was "drowning in tears," they would bring fans "the best season yet."
"We are goin out with a bang," she vowed.
The final season of "The Big Bang Theory" kicks off at 8 p.m. ET/PT Monday on CBS, before moving to its regular time slot at 8 p.m. ET/PT this Thursday.