It's been 15 years since actor John Ritter died suddenly at 54, but "The Big Bang Theory" star Kaley Cuoco still cherishes her memories of working with him.
In fact, Cuoco, who played the actor's precocious teen daughter on the ABC sitcom "8 Simple Rules," still vividly remembers the day she met the star.
"We had a table read. I had just turned 16 and I wanted to look the part — I played kind of this sexy 16-year-old. So, I wore this, like, spaghetti-strap shirt with, like, a bra strap showing," Cuoco, 32, recalled in a new REELZChannel "Behind Closed Doors with Natalie Morales" honoring Ritter, who died of an undiagnosed aortic dissection.
"I'm sitting at the table read and John walks in, he looks at me and he's like (sternly), 'You're playing my daughter. Put a sweater on.' Then he barrels over in this laughter," the actress shared.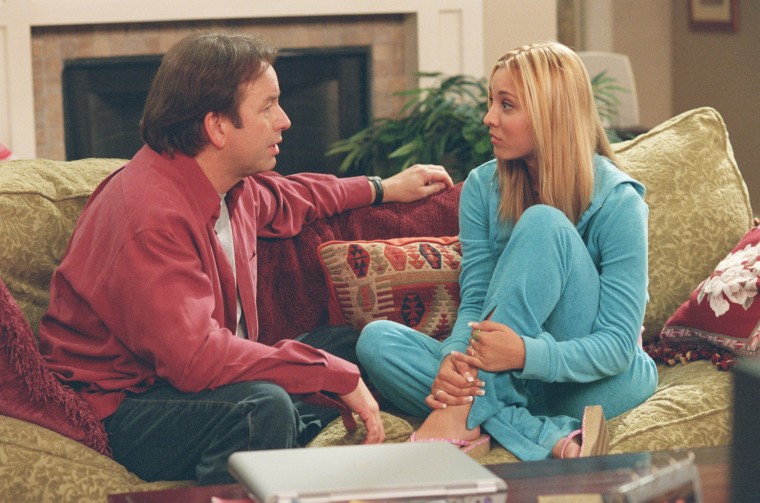 The former "Three's Company" star's deadpan remark was already hilarious, but in typical Ritter fashion, he continued milking the comedic moment for all it was worth — even getting physical.
"He took a sweater off a random person in the room — this whole physical act he did — he pulls it off and puts it on me. And he goes, 'Dress like that from now on,'" Cuoco recalled.
Needless to say, Ritter's impromptu comedy gold thoroughly charmed his TV daughter.
"That was it," Cuoco said, her eyes wide in admiration. "It was amazing. That was my introduction to him. I was in love from that moment on."
Last year, the actress took to Instagram to honor her onscreen dad on the anniversary of his Sept. 11, 2003 death.
"Today, 14 years ago, we lost one of the best there was," she wrote next to a photo of the pair. "Still not a day goes by where he doesn't make me laugh one way or another."
"Behind Closed Doors: John Ritter" airs on the Reelz Channel at 9 p.m. ET on Saturday, Sept. 8.