When "The Big Bang Theory" ends next year after 12 seasons, fans are no doubt wondering just how the show will end.
After all, Sheldon and Amy just got married ... so could a baby be on the way? That goes for Leonard and Penny, too — they've had multiple wedding ceremonies, so maybe it's time to expand the family a bit? Perhaps the apartment building will be condemned and they'll have to find new lodgings? The possibilities are as infinite as the universe.
Fans, no doubt have many "Big Bang" theories of their own.
And so does star Kaley Cuoco, who on Wednesday told James Corden on "The Late Late Show" that she's hoping for an uplifting conclusion.
Specifically, "I would like the elevator to get fixed," Cuoco said. "The stairs have gotten more and more exhausting as our seasons have gone on."
Ah, well, OK then.
The "Big Bang" elevator has never worked during the show's duration, and has become a long (non) running gag. In fact, the elevator was broken a few years before the series even began; in one episode we learned Leonard and Sheldon were the ones who broke it, after an experiment with rocket fuel went awry.
Characters and guest stars have had to take the adjacent stairs over the years.
"We're all a little bit older; (it's) a little more difficult getting up those steps," she added.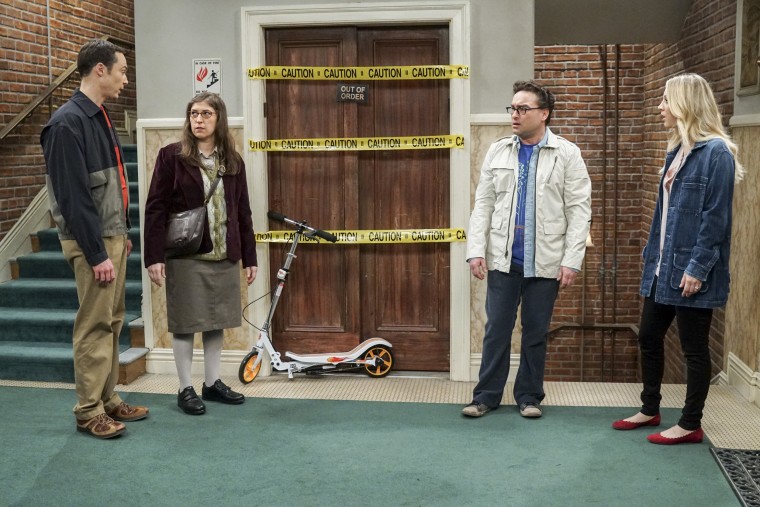 Making the decision as a cast to finish with the series was pretty heart-rending, she recalled. "It was definitely tough," she said. "There was not a dry eye in the room; a lot of hysterical sobs."
But no matter how it ends, Cuoco feels they can be proud of their work.
"It's time now, I guess, to move on to other things, which is so heartbreaking," she said. "It's been a long run, and we're very grateful."