Kaley Cuoco makes no secret of the fact that she was crazy about her late TV dad John Ritter.
On Tuesday, the "Big Bang Theory" star honored the actor on the 15th anniversary of his shocking death from an undiagnosed aortic dissection at age 54.
Cuoco, 32, took to Instagram to share a tender photo of herself blowing a kiss to Ritter's Hollywood Walk of Fame star. "15 years ... love you forever, John! #johnritter. You still make me laugh every single day," she wrote in the caption.
The actress, who played Ritter's precocious teen daughter on the ABC sitcom "8 Simple Rules," recently opened up about the pair's special bond in "Behind Closed Doors: John Ritter" on the REELZ channel.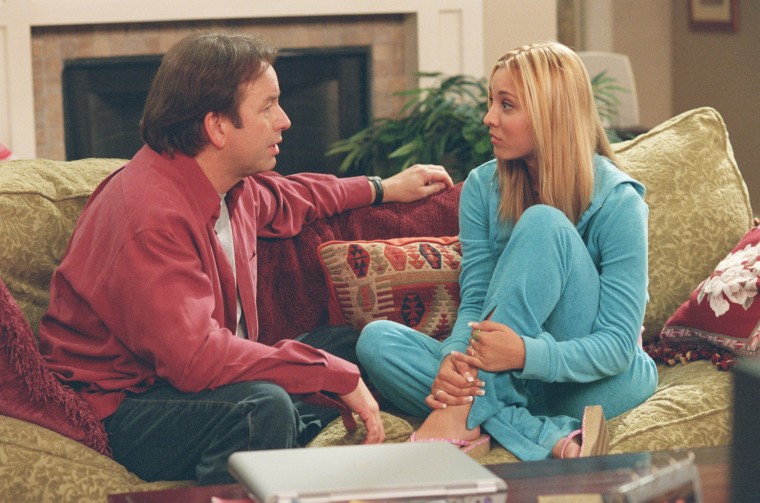 During the episode, Cuoco vividly remembered meeting Ritter for the first time.
"We had a table read. I had just turned 16 and I wanted to look the part — I played kind of this sexy 16-year-old. So, I wore this, like, spaghetti-strap shirt with, like, a bra strap showing," the actress recalled.
"I'm sitting at the table read and John walks in, he looks at me and he's like (sternly), 'You're playing my daughter. Put a sweater on.' Then he barrels over in this laughter," she said, laughing.
Before long, the legendary "Three's Company" star was milking the hilarious moment for all it was worth, even resorting to his trademark physical comedy.
"He took a sweater off a random person in the room — this whole physical act he did — he pulls it off and puts it on me. And he goes, 'Dress like that from now on,'" Cuoco said.
Needless to say, Ritter's impromptu comedy bit left his TV daughter thoroughly charmed.
"It was amazing," Cuoco remembered, her eyes wide in admiration. "That was my introduction to him. I was in love from that moment on."