What do Madonna and Katherine Harris have in common?
They both — it seems — have turned to the healing powers of Kabbalah water.
Harris, Florida's former Secretary of State, who sparked worldwide controversy when she stepped into the 2000 elections and helped George Bush win, oversaw a program in which some diseased trees in Florida were treated with water provided by associates of the trendy Kabbalah Centre. The cure didn't take.
Bottled Kabbalah water is a favorite of celebs such as Madonna, Ashton Kutcher and Britney Spears. Some leaders of the controversial Kabbalah Centre reportedly claim that the drink has the power to heal diseases such as cancer and AIDS, but skeptics say it's simply bottled H20 that's been blessed.
Under a program promoted by Harris, a rabbi and a cardiologist worked with researchers to test "Celestial Drops" on canker-infested orange trees in 2001, according to the Orlando Sentinel, which went on to quote a state scientist as declaring that the "product is a hoax and not based on any credible science." The product, it turned out, was merely water.
What's more, the scientist declared, "the traits attributed to so-called Kabbalah water — 'elegant crystalline structures' and 'high energy and low entropy' — are virtually identical to those of Celestial Drops." When asked if the product was actually Kabbalah water, one of the suppliers told the paper. "I can't really give you that information."
Harris denies knowing there was any link between the product and the Kabbalah Centre. When contacted by the paper the Forward, Harris said that she recommended the product after being told that "Israeli scientists" had produced the product, adding, "I deeply value Israeli technology."
Airbrushed absMariah Carey's midriff actually drew more attention than her ample bosom recently when non-fans posted pics of the singer at an event with what appeared to be airbrushed-on abs.
"Contouring" — or creating the appearance of muscles through airbrushing on tans — is the rage in certain circles, but, as one observer cautions, "you can't have abs of steel and pillowy sides."
Notes from all over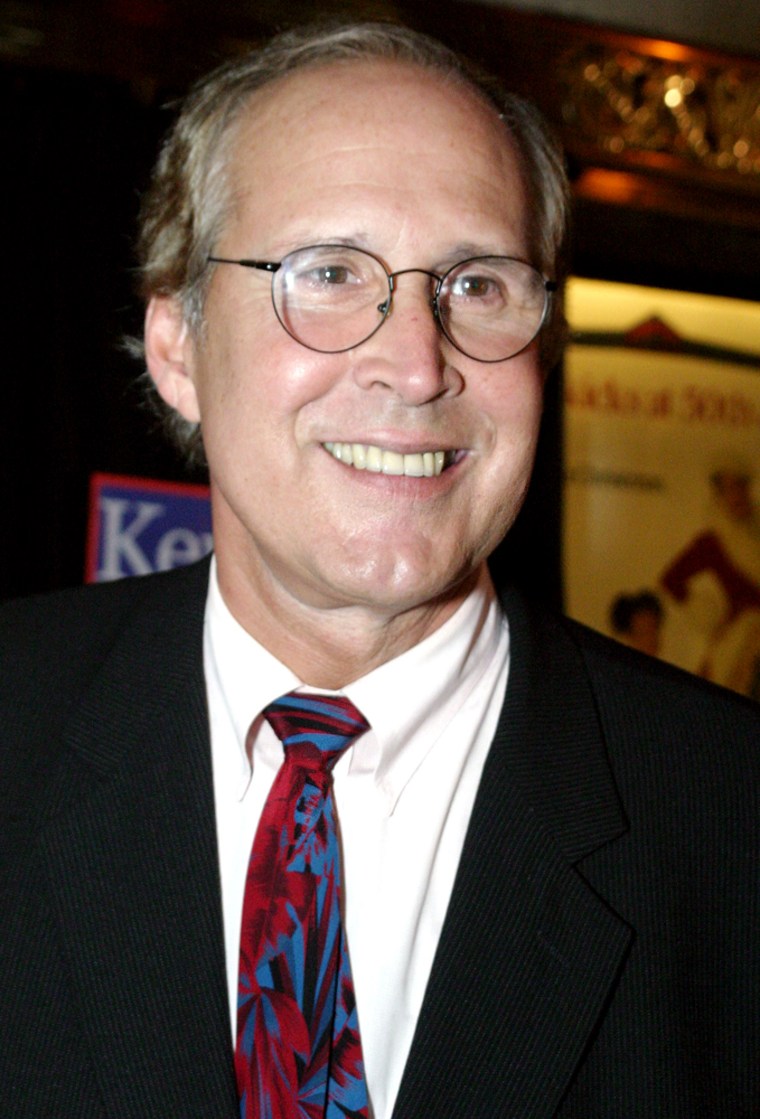 Don't look for Chevy Chase in the "Fletch" sequel. "Jersey Girl" director Kevin Smith is writing and directing the sequel to 1985 comedy staring Chase, but Smith says he hasn't even talked with the Saturday Night Live alum about the film. "I don't think Chevy Chase likes me anyway which is fine," Smith told About.com. "The feeling's mutual."  . . . Aspiring rocker Russell Crowe reportedly banned fans from taking his picture during concerts.  . . . Don't believe Christopher Walken if he tells you it's his birthday. The "Wedding Crashers" star sometimes pretends it is when it isn't. "I sit in the make-up trailer very early in the morning and while the lady is patting my face with a brush, I look very sad," Walken told the London Independent. "And sooner or later she'll ask: 'What's the matter? You look a little down today.' So, I'll say: 'I'm alright.' Then she'll finally ask again: 'Come on. What is it?' Then I reply: 'It's my birthday, and I'm sad, because I'm alone... and I don't have a cake.' I then wait a few beats, and whisper: 'But don't tell anybody!' By lunchtime a cake is wheeled out with bottles of champagne, and we all have a lot of fun."
Mondays through Thursdays on MSNBC.com