Justin Timberlake has long sung the praises of wife Jessica Biel, but in a new book from the superstar singer, songwriter, actor and now-author, he opens up about the origin of what he calls their "long-lasting love" like he never has before.
From first meeting to first call to when he first realized she was the one, the 37-year-old reflects on it all in "Hindsight: & All the Things I Can't See in Front of Me."
"When I met Jess, it was undeniable how beautiful she is," Timberlake wrote in an excerpt provided exclusively to Entertainment Weekly. "We were at a surprise party in Hollywood at a speakeasy kind of a bar, a private club, and we were standing around in a group of people. I made some sort of sarcastic comment, really dry. Nobody got it except her. She laughed, and I noticed, all of a sudden, and in the way where you wonder if a person's like you, if they have a very dry, dark sense of humor, too."
They talked, they danced and then they went their separate ways — without even swapping phone numbers.
"It wasn't the time," he said of that decision. "But I was thinking about her. Thoughts kept leaping into my mind: I'm kind of really interested in that girl. There was just something about that girl. Kind of interested in that girl."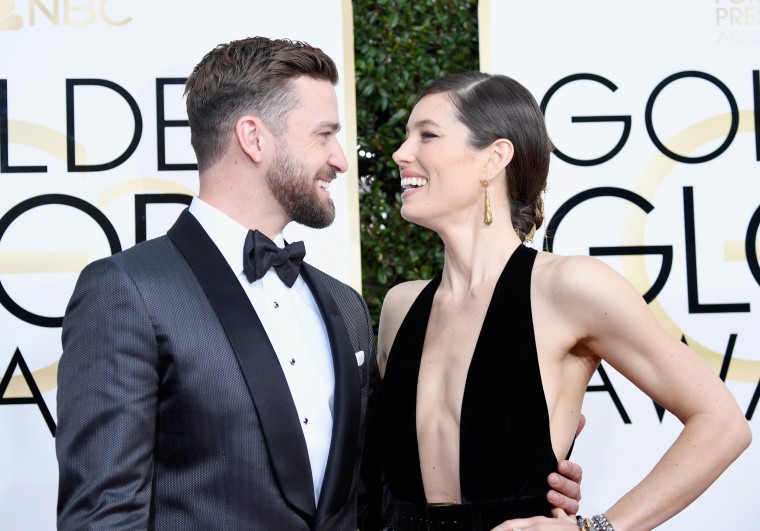 Despite his star power, he felt a bit powerless about his sudden feelings for her.
"I had to psych myself up. I had to remind myself that I was me — giving myself a pep talk, shadowboxing with myself, rubbing my own shoulders," he recalled.
And he must have made his feelings for Biel known, because after a while, a mutual friend offered to "bring a certain somebody" to one of his shows.
"I said, 'I could be into that.' Patience may not be my strong suit but, apparently, playing coy is," he noted.
He didn't keep up the coy act for long, though. After the show, he offered to give Biel and her pals a ride on his tour bus, where he finally asked for her digits.
"That was when we started talking on the phone," Timberlake wrote. "We didn't date at first. For about two weeks, we talked on the phone, because I was on tour."
Since those early days of their romance, the duo have formed an unbreakable bond complete with marriage and parenthood — not that it took years of partnership or a wedding or a family for him to realize all that she had to offer.
"I had admiration for her before," he explained. "She's a very good writer. She's a poet. She's a tremendous actor. She's funny. Very funny. And she's one of the most patient people I've ever met."
He added, "She changed me."
Fans can hear all about that in the 2013 track he wrote about their love, "Mirrors" — or they can just head to the bookstore on Oct. 30 and grab a copy of "Hindsight."
"Hindsight" is available for pre-order on Amazon.
TODAY has affiliate relationships, so we may get a small share of the revenue from your purchases. Items are sold by the retailer, not by TODAY. All prices are subject to change and items could sell out based on the merchant's inventory.