After rocking the Super Bowl halftime show like a pro, Justin Timberlake won us over just a little bit more by admitting that he still gets nervous onstage, even after all these years.
During a post-Super Bowl appearance on "The Tonight Show Starring Jimmy Fallon," Timberlake revealed his sly way of dealing with pressure while performing, and it's totally relatable.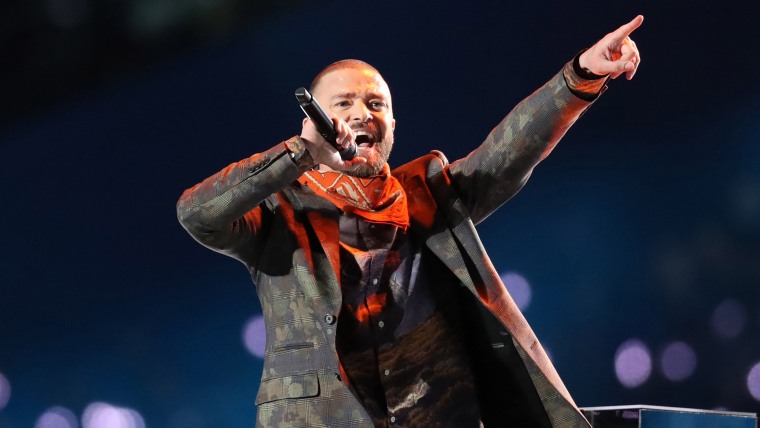 After congratulating the singer on a job well done, Fallon told his longtime friend he noticed that he likes to flip the microphone in the air (à la Tom Cruise in the movie "Cocktail") while onstage, and even saw him do it a few times during his killer halftime performance.
"You know, you make me nervous, though, when you do that mic flip. And you flip the microphone. You spin it around. I can't even do it with a Sharpie," Fallon joked.
Timberlake went on to admit something he said he's never revealed publicly. "That's my nervous tic onstage. I flip the microphone. I don't know where I started doing that but I haven't dropped it yet," he said.
In two blink-and-you'll-miss-it moments, Timberlake spun the mic ever so expertly while performing his hits "Cry Me a River" and "My Love" last night. Hint: Start watching at 4:44 and 5:42 to see the fancy mic moves.
The singer, who just released a new album last week, showed off some other choreographed mic moves during a performance of his fan-favorite hit "Suit & Tie," and spun his mic stand sideways, forwards and in a semi-circle.
From a tribute to Prince to an adorable selfie with a fan, Timberlake definitely filled his halftime performance to the brim with plenty of entertaining elements, but it's safe to say those relatable mic spin moments might be the most endearing ones of all.