/ Source: msnbc.com contributor
The romantic pairing of certified Teen Idols Britney Spears and Justin Timberlake was a media dream made flesh, so to speak. How sweet, how fitting that these magnetic fresh faces on the cusp of adulthood would cling to one another for shelter and understanding against the gale force winds of celebrity, pop royalty sharing the fairytale magic of Love's First Kiss (or something, um, similar). Only the dwarfs were missing.
BEST OF ALL, the relationship was real, uncontrived, even the Disney angle genuine: Britney and Justin originally met in the early-'90s as preteen cast members of "The New Mickey Mouse Club," fellow laborers in a juvenile showbiz factory that also employed Christina Aguilera, Felicity's Keri Russell and Justin's future 'N Sync-mate JC Chasez.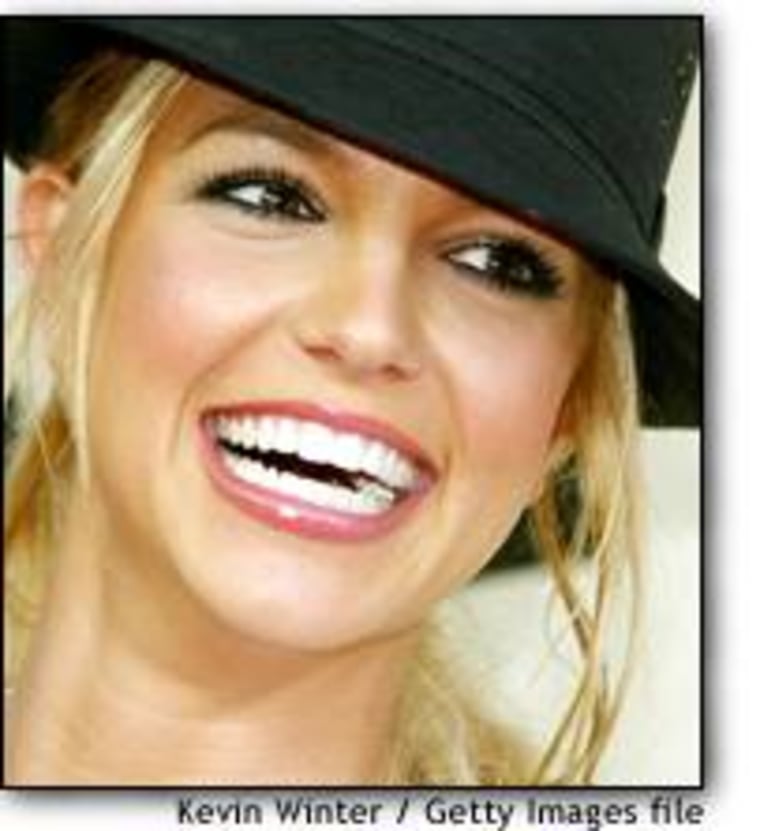 But there was to be no happily ever after: they broke up after four years in the spring of 2002, fleeing the dream castle on separate but parallel paths. Justin and Britney — their first names are usually enough — are no longer together but they aren't far apart either: they still share the Jive record label, a similar urban-pop musical style, many of the same rabid fans, and neither is getting any uglier. Both are also seemingly all over the place, leapfrogging each other in the media spotlight.
Timberlake, 22, rocked large arenas all over North America this summer on tour with Aguilera on the strength of his smash 2002 solo album, "Justified," which has sold seven million copies worldwide and yielded hits "Like I Love You," "Rock Your Body" and "Cry Me a River." Continuing his sabbatical from 'N Sync, Justin is now gearing up for a fall European tour by playing five intimate club and theater shows in the U.S., and he has his own television special airing on NBC on November 25.
Spears, 21, has a new single, "Me Against the Music," featuring her MTV Video Music Awards lip-lock partner Madonna, out in advance of her fourth album, "In the Zone," due November 18. Britney was the steaming topless October 2 cover model for Rolling Stone, and oops, she did it again as the November cover for both Esquire (more steam) and Cosmo Girl (clothed and girlish) magazines.
"JUSTIN & BRITNEY" OR VICE VERSA
While the former lovers both seem ubiquitous, things aren't as equal as they may appear to the casual observer. Based upon the verdict handed down by the popular culture judges at "Saturday Night Live," Justin is now on top: he hosted and performed as musical guest two weeks ago, proving himself a confident and likeable performer, a talented mimic, a fine comedic actor, and a genuine musical talent. Of course, Britney had already proved most of these things with two dual hosting/musical guesting performances on the show in 2000 and 2002, but last week poor Britney was musical guest only for the episode Halle Berry will host. Oh the indignity!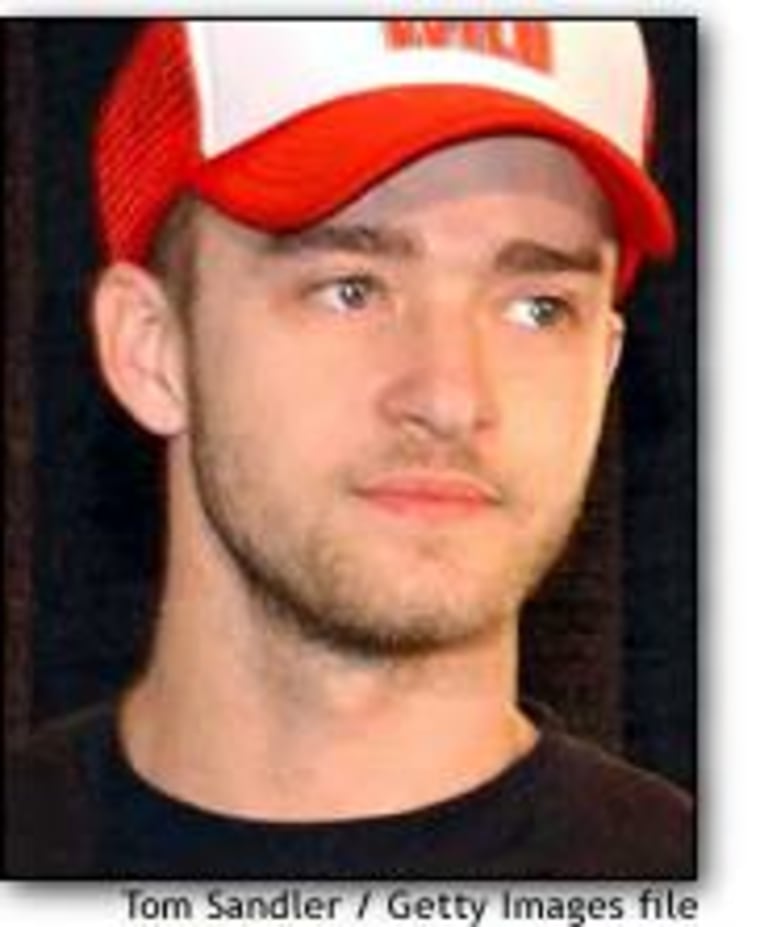 Yes, the perception is that Timberlake is on top of the world, a star ascendant, while Spears, a superstar for five years who has already sold more than 50 million albums, teeters precariously on spiked heels, her pierced navel and demure pelvic tattoo on display, as she and her team wait nervously for response to the album that could make or break her career.
Britney, the former virginity-until-marriage advocate, was recently vilified for her newly sexualized image in a speech by Kendal Ehrlich, the wife of the governor of Maryland, who playfully added she'd "like to shoot" the neo-strumpet for leading impressionable teens down the road to crotch-grabbing, Madonna-kissing perdition, before she recanted and apologized. I would guess the governor's wife has never been exposed to the Secretary of Skank, Aguilera.
At least Britney is wildly successful, not a single mother and in control of her own destiny; and the fact that she was very reluctant to admit a physical relationship with Justin, with whom she was "in love," would seem to indicate where her natural values lie. I fear that this attack on the relatively tame Spears means that she is no longer a girl, not yet a woman, but rather a symbol, and that is very sad for her.
DOUBLE STANDARD?
I also see the old familiar double standard at work here: Spears is berated regularly for dressing in a sexy manner, she was ridiculed for "trying to look grown up" when she strode onto a Milan runway last October in a $23,000 rainbow-spangled gown by Donatella Versace. Yet Timberlake is applauded for forsaking his boyish squeaky clean, color-coordinated 'N Sync image in favor of an earthier, stripped-down, young adult, bachelor-on-the-prowl vibe by the very same press that rebukes Spears for updating her image.
Mary Huhn feted the lad earlier this week in the New York Post, crowing, "he exploited an already-publicized break-up with Britney Spears by talking about their sex life on Hot 97 (the top hip-hop station in the New York market), then released a scathing video for 'Cry Me a River' in which he all but outed Spears as a cheater who ruined the relationship." Gee, what a gentleman, but this is meant as praise. Huhn then added that Timberlake "traded up" from Britney to Janet Jackson (who appeared on his album), Alyssa Milano and Cameron Diaz — maybe she meant "traded up in age." Forty years of feminism has wrought this kind of thinking?
Ultimately, though, the diverging perceptions of Justin and Britney come down to the legitimate matter of music. With similar young lifetimes of performance experience, vocal training and the pick of crack arrangers, producers and songwriters, natural talent and taste are the only real variables left, and for now at least, Justin appears to possess the stronger musical hand.
There might even be something approaching a "Justin Timberlake" sound emerging from the haze. His best songs are built upon organic funky grooves, from which Timberlake and collaborators like the Neptunes, Timbaland, and Brian McKnight then construct songs — a firm musical foundation not dissimilar to that of one of Timberlake's idols, Michael Jackson, whose falsetto Timberlake's resembles.
Britney, thus far, appears to be much more of a studio creation, her early hits primarily the work of Swedish pop mastermind Max Martin, her new album collaborations with such diverse producer/writers as Moby, the Matrix, R. Kelly and Tricky. Her voice remains small, affected and indistinct. Of her new music, only the jittery electronic confection "Me Against the Music" is currently available from the label for review. Hmmm. Ironic that Britney was the musical guest last week on SNL and not the host — she's better as host. I mean that in a nice way.
Eric Olsen is the editor of Blogcritics.org and a frequent contributor to MSNBC.com.