Every single day, around 55 million photos are uploaded to Instagram. On Friday, the company's CEO Kevin Systrom went on TODAY to reveal which one of them ranked as the top image of 2013.
And the winner is ...

Yes, that is pop star Justin Bieber getting jiggy with actor Will Smith. The photo has racked up more than 1,496,070 "likes," officially making it the most popular image on Instagram. The company made news Thursday after debuting a private photo-sharing feature called Instagram Direct. 

"It allows you to send photos and videos to your closest friends," Systrom told TODAY's Tamron Hall. "It's important to have this aspect because usually you post to all of your followers, and this lets you select a few followers."
The Biebs has more than 12 million followers on Instagram, along with more than 47 million followers on Twitter.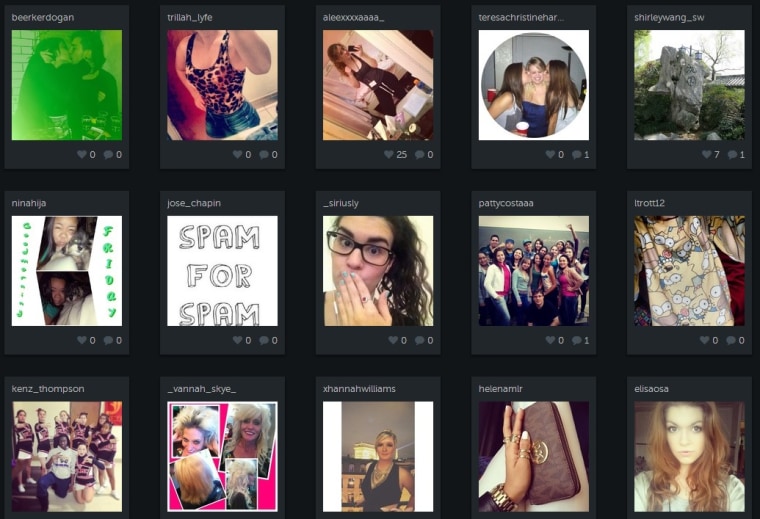 Instagram also revealed some other interesting facts about its users. The top hashtags for 2013? Those, in no particular order, would be:

#love

#friends

#fashion

#selfie

#food

#tbt

That last one stands for "throwback Thursday," when Instagram users indulge in nostalgia by posting photos from their past. Even the first couple got into the spirit with a #NoFilter memory that was liked by nearly 66,000 people. (Michelle Obama, by the way, currently trails Bieber by more than 11.5 million Instagram followers).

Of course, Instagram users aren't all in the United States. Sixty percent of them live in other countries, which explains the number one geotagged location of 2013: The Siam Ocean World Mall in Bangkok, home to one of the largest aquariums in Southeast Asia. Overall, the top five places people checked-in at were:
Siam Ocean World Mall in Bangkok

Times Square in New York City

Disneyland in California

The Bellagio Fountains in Las Vegas

Disney World in Florida
And while people posted selfies and food photos all year round, the most Instagrammed day of 2013 occurred on a holiday that won't happen again for tens of thousands of years: Thanksgivingukkah, when Thanksgiving and the first day of Hanukkah coincided, resulting in a colorful mix of turkey and latke photos, as well as evidence of the rarely spotted "menurkey."

Keith Wagstaff writes about technology for NBC News. He previously covered technology for TIME's Techland and wrote about politics as a staff writer at TheWeek.com. You can follow him on Twitter at @kwagstaff and reach him by email at: Keith.Wagstaff@nbcuni.com