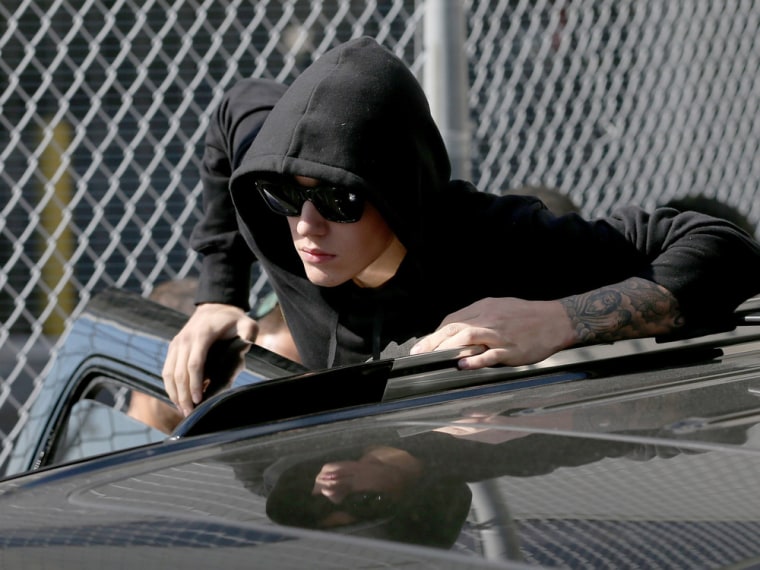 The toxicology report for Justin Bieber's recent Miami Beach, Fla., arrest shows that he tested positive for marijuana and Xanax, and is consistent with what the 19-year-old pop star told police at the time of his arrest.
The report, obtained by NBC News, does not reveal the quantities of the substances in Bieber's system. Police obtained a urine sample from Bieber following his arrest on Jan. 23. Miami Beach police said they stopped Bieber, who was "drag racing" in a rented yellow Lamborghini through a quiet neighborhood. 
Police said he cursed at an officer as he resisted arrest and admitted to smoking marijuana, taking prescription medicine and drinking alcohol. The pop star was charged with DUI, resisting arrest without violence, and driving with an expired license. 
But a DUI test report obtained by NBC News shows that Bieber's alcohol breath tests were under the legal limit, even for an underage driver. The report describes Bieber as being "excited, talkative, profanity, cooperative, insulting, and cocky" and states that he had a pronounced odor of alcohol on his breath, bloodshot eyes, a flushed face, and an odor of marijuana on his clothes and breath. During DUI field tests, officers wrote that Bieber could not walk heel-to-toe as instructed, had trouble turning without losing his balance and could not smoothly follow a moving object with his eyes.
One officer said he asked Bieber if he was smoking marijuana and the singer replied: "Yeah, we were smoking all night at the studio."
Police stopped Bieber at 4:09 a.m. According to the report, Bieber initially "let some time lapse as he decided whether or not to take a breath test. Defendant then had extreme difficulty providing a breath sample. Defendant had great difficulty providing a continuous breath."

Police tested Bieber four times, beginning at 5:24 a.m., because the first two samples could not be measured, the report says. The third sample provided a positive reading of .014 and the last one measured .011 — both under the legal limit. 
Bieber pleaded not guilty Wednesday to all three charges, and an arraignment hearing has been scheduled for Feb. 14.
Meanwhile, also on Wednesday, Bieber surrendered on charges of criminal assault in his home country of Canada for an alleged altercation with a limousine driver. Toronto police said in a statement that the incident took place Dec. 30 after a limousine picked up a group of six people outside a nightclub and an altercation took place between one of the passengers and the driver. A man struck the limousine driver on the back of the head several times, officials said. The driver then stopped the limousine, exited the vehicle and called police. But the man who struck the driver left the scene before police arrived, the statement read.
Bieber's attorney, Brian Greenspan, issued a statement saying Bieber is "innocent."
Early this morning, Bieber's father tweeted a photograph showing his son resting at home.