It's official: Justin Bieber and Hailey Baldwin are engaged!
Following rumors and speculation about the pair taking their whirlwind romance to the next level, the pop star made the announcement on Instagram Monday.
But rather than simply breaking the news to fans directly, Bieber's big reveal came in the form of a message to his bride-to-be.
"Was gonna wait a while to say anything but word travels fast, listen plain and simple Hailey I am soooo in love with everything about you!" the 24-year-old wrote alongside a couple of photos of the pair cuddled close together.
"So committed to spending my life getting to know every single part of you loving you patiently and kindly. I promise to lead our family with honor and integrity letting Jesus through his Holy Spirit guide us in everything we do and every decision we make."
The "Sorry" singer didn't stop there. He went on to rave about his love for the 21-year-old model and his vision for their future.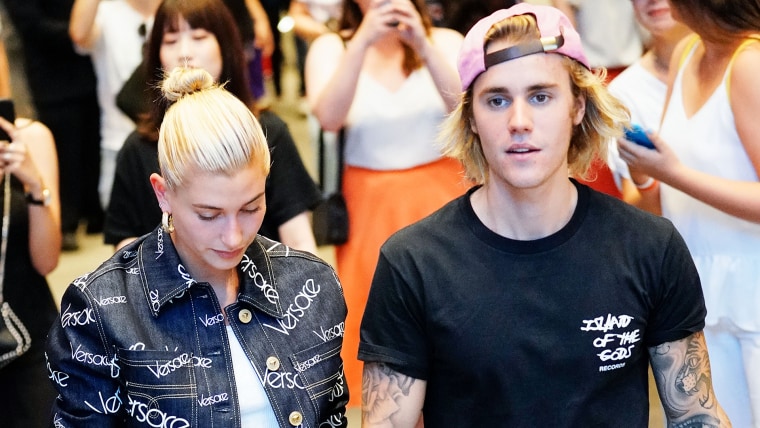 "My heart is COMPLETELY and FULLY YOURS and I will ALWAYS put you first!" he continued. "You are the love of my life Hailey Baldwin and I wouldn't want to spend it with anybody else. "You make me so much better and we compliment each other so well!! Can't wait for the best season of life yet!. It's funny because now with you everything seems to make sense!"
While the duo only revealed that they were dating weeks before getting engaged — much like another pop superstar and her partner — Bieber and Baldwin actually go way back.
The now-couple dated briefly in 2016, seven years after they first met each other — behind the scenes right here at TODAY.
Although engagement rumors first started back in June, Bieber revealed in his post that he actually popped the question just days earlier.
"Gods timing really is literally perfect, we got engaged on the seventh day of the seventh month, the number seven is the number of spiritual perfection, it's true GOOGLE IT! Isn't that nuts?" he added. "By the way I didn't plan that, anyways My goodness does feel good to have our future secured! WERE GONNA BE BETTER AT 70 BABY HERE WE GO!"
And Balwin, who's the daughter of actor Stephen Baldwin, is clearly just as excited.
Just an hour after Bieber shared the happy news, she told her fans and followers that she's "not sure what I did in life to deserve such happiness but I am so utterly grateful to God for giving me such an incredible person to share my life with!"
Congratulations to couple!