Singer Justin Bieber was arrested in Miami Beach early Thursday morning and charged with DUI, resisting arrest without violence and driving with an expired driver's license, Miami Beach Police said. According to the arrest affidavit, the 19-year-old pop star was driving a rented yellow Lamborghini and was "drag racing" with a red Ferrari when police came upon the two cars.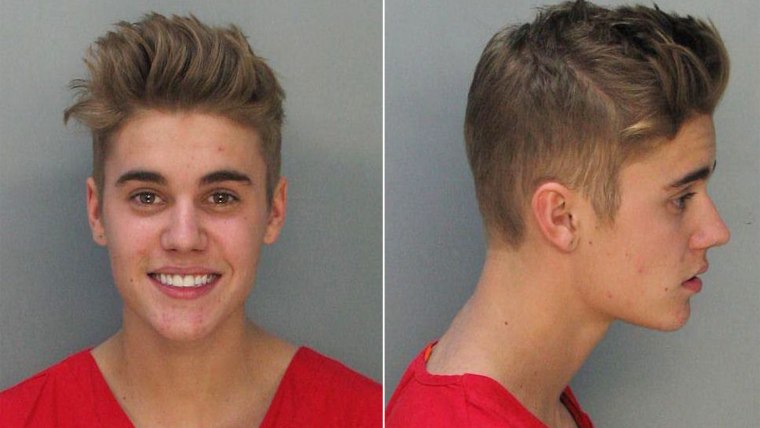 Miami-Dade Circuit Court Judge Joseph P. Farina set a bond of $2,500 — $1,000 each for resisting an officer and driving under the influence, and $500 for driving with an expired license. Bieber was represented at a Thursday hearing by prominent Miami attorney Roy Black, who has represented William Kennedy Smith and Kelsey Grammer, among other high-profile figures.
The singer later left the Turner Guilford Knight Correctional Center in Miami dressed in a hoodie, leather shorts and sunglasses while seated atop a black SUV. He waved to a crowd gathered outside.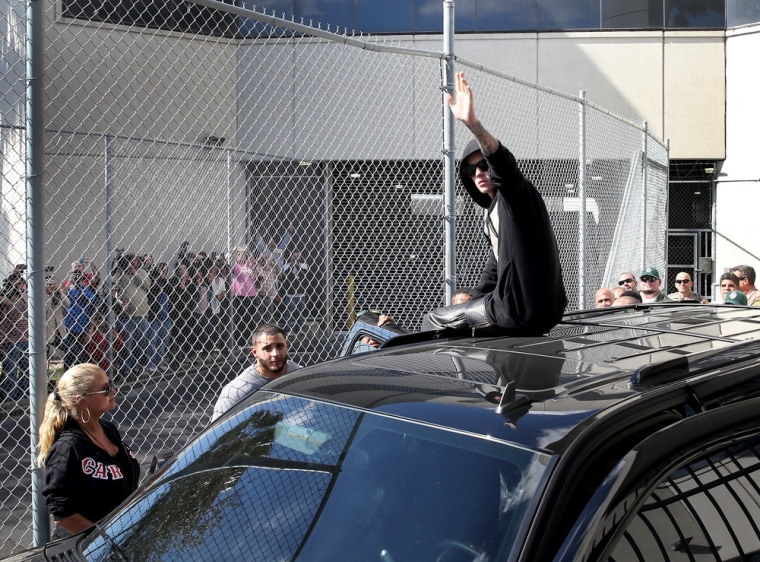 Miami Beach Police spokesman Sgt. Bobby Hernandez told NBC Miami that the arrest occurred at about 4 a.m. Hernandez also said that Bieber failed a sobriety test at the scene.

Police chief Raymond Martinez told the Miami Herald that a test showed Bieber was under the influence of drugs. After his arrest, the pop star admitted to consuming alcohol and prescription medications and smoking marijuana, Martinez said during a press conference. Martinez said that the singer was incoherent and had his hands in his pockets at the time of arrest, and that he resisted arrest without violence.
According to the police report, an officer noticed the two vehicles — a red one and a yellow one — traveling northbound on the 2600 block of Pine Tree Drive, and that there were "two black SUVs behind both vehicles as if to stop traffic going northbound. This facilitated an open road for the two Lamborghinis to race."

The officer estimated that the two cars "attained an approximate speed of about 55-60 mph" in a residential area that is zoned for 30 mph. The officer was able to stop the red vehicle — a Ferrari — driven by a friend of Bieber's, which the police department had noted earlier on its Twitter feed.
Police spokesperson Vivian Hernandez told The Miami Herald that the other driver was Khalil Sharieff, and he was charged with DUI. Sharieff is also 19.
Another officer was able to stop the yellow Lamborghini, which was driven by Bieber. The officer noted in the police report, "I immediately smelled an odor of alcohol emanating from the driver's breath and bloodshot eyes. The driver had slow, deliberate movements and a stupor look on his face. These are all indicators of an impaired driver."
After Bieber was asked to exit the Lamborghini, the singer repeatedly asked why he was being stopped and searched, and used several expletives. When he repeatedly refused to keep his hands on the car so the officer could perform a pat down, the officer arrested Bieber.
Another police officer also noticed indications that the singer was impaired, according to the police report. He was given a standard field sobriety test, and "did not perform to standards. (Bieber) later agreed to a breath test as well as a drug evaluation."
Read Bieber's full arrest affidavit.

The officer who pulled over Sharieff noted in their police report that when the young man rolled down his window, the officer "was met with the odor of marijuana coming from the passenger compartment of the vehicle." The officer reported that Sharieff "had a dazed appearance," and later failed the standard field sobriety test, and was arrested.
Read Sharieff's full arrest affidavit.
The two young men arrived at the Turner Guilford Knight Correctional Center later on Thursday morning and were booked shortly after 10:30 a.m. ET. The judge set bond for Sharieff at $1000.
At around 2:30 a.m. ET, Sharieff tweeted an Instagram photo of a young man resembling Bieber riding in the passenger seat of a yellow Lamborghini.

Sharieff's family has not yet responded to a request for comment.
Florida's DMV website notes that the state has a Zero Tolerance law for drivers under the age of 21. Any underage driver who has a blood alcohol level of .02 or higher will have their state drivers license suspended for six months.

An employee with Tremont Towing in Miami Beach confirmed that the yellow Lamborghini pictured here is the car Bieber was driving when taken into custody. (Tremont Towing is well known in South Florida, and to fans of the truTV reality show "Miami Beach Tow.")
Philip Levine, the mayor of Miami Beach, addressed the arrests on his Facebook page.
"Early this morning an unfortunate incident involving drag racing in a residential neighborhood resulted in the Miami Beach Police Department arresting two high-profile individuals, including Mr. Justin Bieber," Levine wrote. "Fortunately, there were no injuries. I commend the Miami Beach Police Department for their professionalism throughout the entire ordeal."
Last week, Los Angeles sheriff's deputies raided the pop star's Calabasas, Calif., mansion after obtaining a search warrant. The search was tied to the allegation that Bieber had egged a neighbor's home. According to sheriff's spokesman Steve Whitmore, because the estimated damage to the neighbor's home was estimated to be $20,000, the warrant involved probable cause for felony vandalism.