It's been 25 years since Steven Spielberg turned dinosaurs loose in a theme park that was meant to contain them — but of course never could — in "Jurassic Park."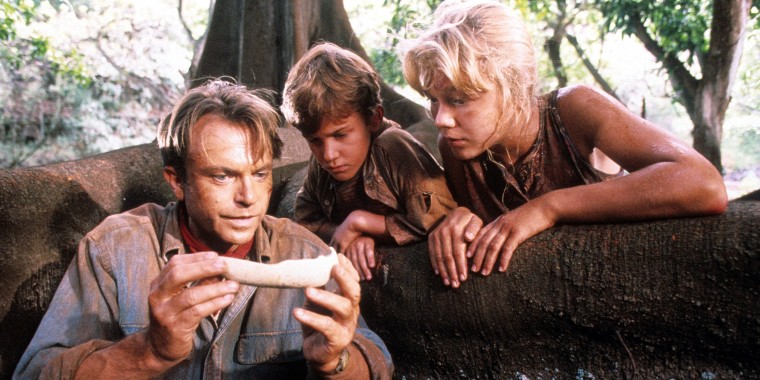 Based on the 1990 book by Michael Crichton, "Jurassic Park" went on to earn over $1 billion worldwide on its own, and contributed to the ongoing $5 billion franchise of "Jurassic" films that include "The Lost World: Jurassic Park" (1997), "Jurassic Park III" (2001), "Jurassic World" (2015) and "Jurassic World: Fallen Kingdom" (2018). "Jurassic World 3" is slated for 2021.
That's worth celebrating! But while many of us got a look behind-the-scenes of the fictional park in the film, we never knew some of the fun that happened during shooting for one of its youngest stars. TODAY spoke with Ariana Richards, who played teen computer expert "Lex" in the film, and she shared what it was like to be in the movie — including getting sneezed on repeatedly by a Brachiosaurus.
1. Making the film wasn't exactly easy — or clean.
Working with Spielberg and a whole lot of animatronic dinosaurs was pretty exciting, but things could get messy. The famous T-Rex attack in the paddock was actually shot on a Universal set, which contained wind machines, rain machines ... and mud.
"There was this huge mud pit, and I kept thinking, 'This isn't that glamorous,'" Richards, 39, recalls. "I remember going back to the school room — as a minor you do school when you're not filming — and my books were covered in bloody makeup and mud from those scenes."
2. Steven Spielberg became a lifelong pal.
"The biggest friendship I made was with Steven," she said. They would swap stories at the lunch table with Richards, and play games with her and co-star Joseph Mazzello (Lex's brother Tim). Spielberg also purchased Richards and Mazzello their very own video cameras. Alas: "We weren't allowed to film on the set."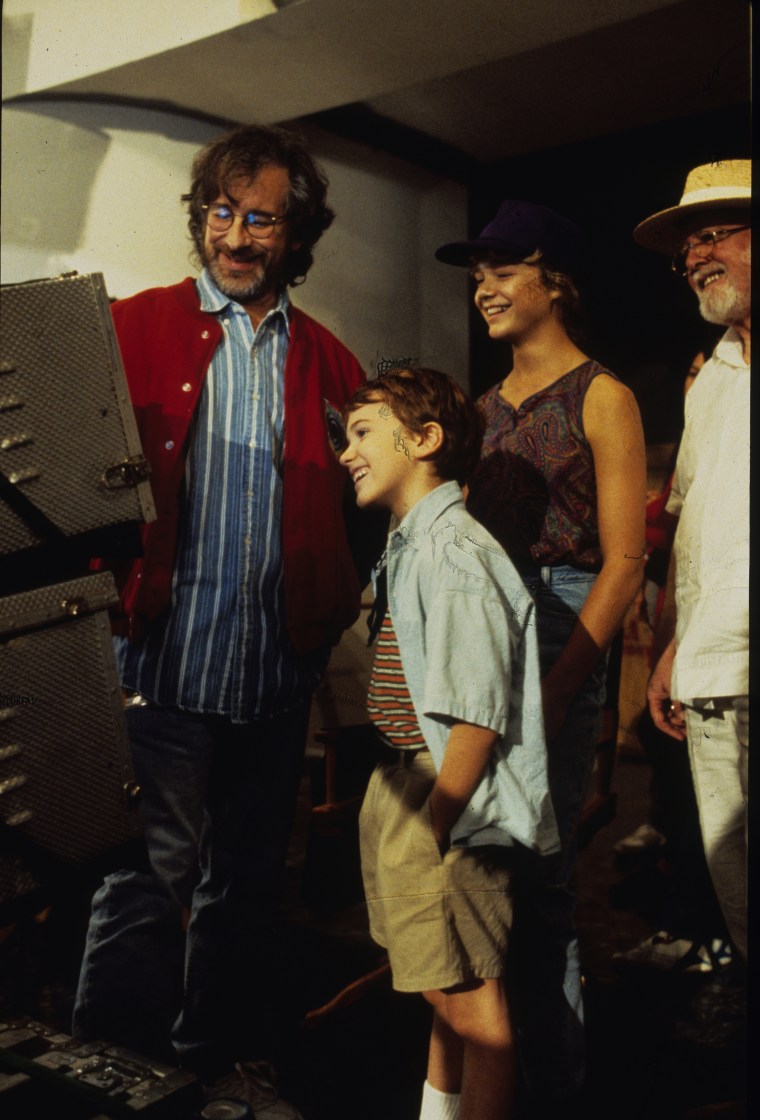 Today, they're pen pals. "I got a sweet letter from Steven recently, where he said he recognized that I seemed to feel the same level of enthusiasm that he did coming to the set every day," she recalls. "He said I always ran to the set, because I was always so excited to get on camera."
3. But it was Jeff Goldblum who cracked her up.
As mathematician Ian Malcolm, Goldblum stole the movie several times, most notoriously when he lounged around injured with his shirt wide open.
"He made me laugh so much," Richards recalls. "He'd sit down next to me and Joe before a scene and practice his lines — but practice out loud, speed-reading. Totally larger than life."
4. Richards got compared to a screen legend.
Lex does a lot of screaming in the movie, so Spielberg introduced her to a legendary leading lady who also had plenty of lung capacity: The original "King Kong" star, Fay Wray.
"He invited her to the set and had her sitting next to him in the director's chair," Richards recalls. "He brought me over and said, 'From one great screamer to another.' Wow, what an introduction!"
5. So about that sneeze ...
Notoriously, Lex gets a whole lot of dinosaur snot on her face when a Brachiosaurus unleashes the contents of its nose on her. It's also the one thing she probably gets asked about the most.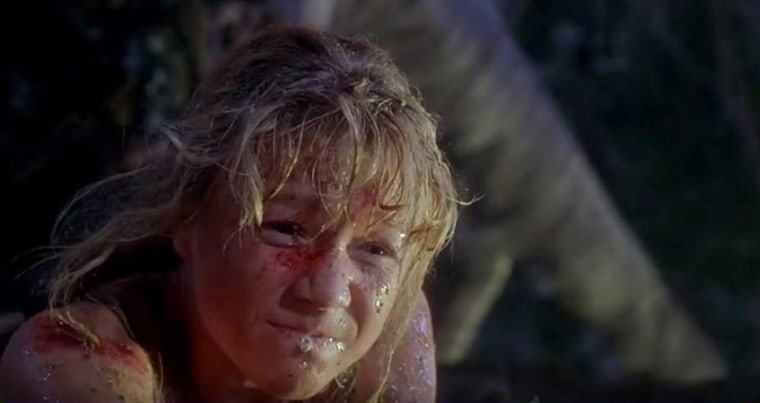 "It was funny," she remembers about the scene. "They had these special effects shooting this blob out at me. We filmed a few takes, and the makeup person had to wipe it off my face so they could film another take — and on the third take it was just dripping off my lower lip and Steven was like, 'Yes! That's the one!' It was really just some harmless clear goo — though they did put in some small pieces of spinach for effect."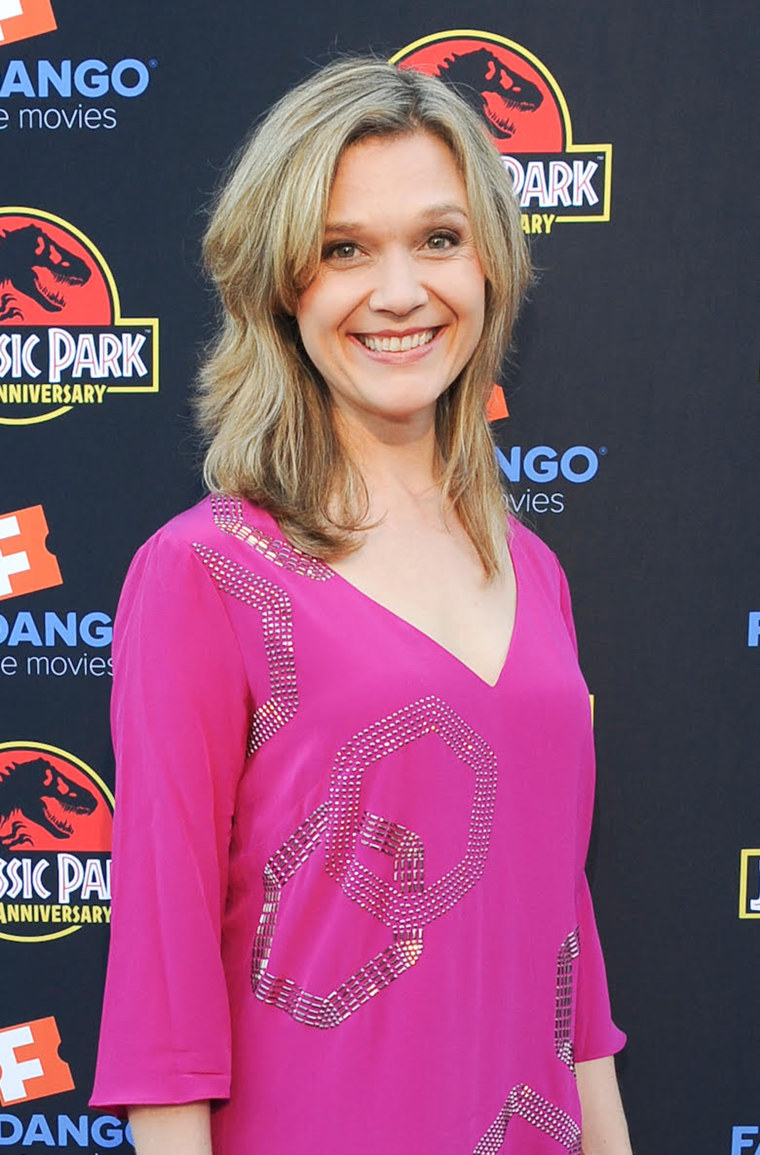 As for what she's up to these days, Richards does act but is also a married mom — and painter. At least one of her pieces of art will be familiar to "Jurassic" fans, as it depicts a very surprised Lex in a classic scene from the film:
You can even buy a signed lithograph of the painting, which she made back in 1995.
All ready to roar again with the dinos? Well, you can catch "Jurassic Park" on the big screen one more time on September 16, 18 and 19 thanks to Fathom Events. Be sure to sink your teeth into the tickets before they're gone!