If Julie Andrews seems like she's been with us forever, it's because she practically has: A former child actress who got her start on the London stage in 1948, she's graced us for decades with her pure, angelic voice and graceful, witty acting style.
Along the way, she's earned nearly the full EGOT (Emmy, Grammy and Oscar awards), lacking only a Tony. But as she turns 80 on Oct. 1, we think she's deserving of every prize in the book. So while we all know her best for her classic roles in "The Sound of Music" and "Mary Poppins," here's a look at eight other supercalifragilisticexpialidocious reasons to love her.
1. Singing "Je suis Titania (Polonaise)" at age 12
"The range, accuracy and tone of Julie's voice amazed me ... she had possessed the rare gift of absolute pitch," raved voice instructor Madame Lillian Stiles-Allen in Richard Sterling's 2007 book, "Julie Andrews: An Intimate Biography."
2. Winning her first Oscar in 1965 for "Mary Poppins"
No question that she deserved the prize, and naturally she was radiant and gracious in her speech: "I know you Americans are famous for your hospitality, but this is really ridiculous," she quipped.
3. "Try to Remember" from "The Fantasticks"
She performed the tune first made popular by Jerry Orbach from the off-Broadway musical on her Emmy-winning special "The Julie Andrews Show" in 1965.
4. Duetting with herself
Shockingly, Andrews was turned down when it came to casting the role of Eliza Doolittle in the film version of 1964's "My Fair Lady" (the role went to the lovely Audrey Hepburn but c'mon, Andrews got a Tony nomination for playing the role onstage already!) That makes this particular clip, in which she sings with her alter egos Doolittle and "Mary Poppins," even more pointedly funny.
5. Caroling "Hark the Herald Angels Sing"
Watch this video from her 1973 Christmas special and it doesn't matter that it's only October: You're immediately ushered into the holiday season.
6. The lonely "Muppets" goatherd
There's no escaping it: Eventually, Maria gets corralled to sing more "Sound of Music" tunes, but this time there was a twist — she did it on "The Muppet Show" in 1977. Far more entertaining than the marionette show in the movie!
7. "Victor Victoria" breakthrough
It's hard to imagine a world where Andrews can't make a living as a singer, but in husband Blake Edwards' 1982 satire, that's exactly what happens. Andrews reprises her Broadway role as the struggling Victoria, who dons a man's clothing to play — stay with us now — Victor, a man who impersonates women onstage. Naturally, she is "Le Jazz Hot!" And talk about being ahead of your time ...
8. Embracing the future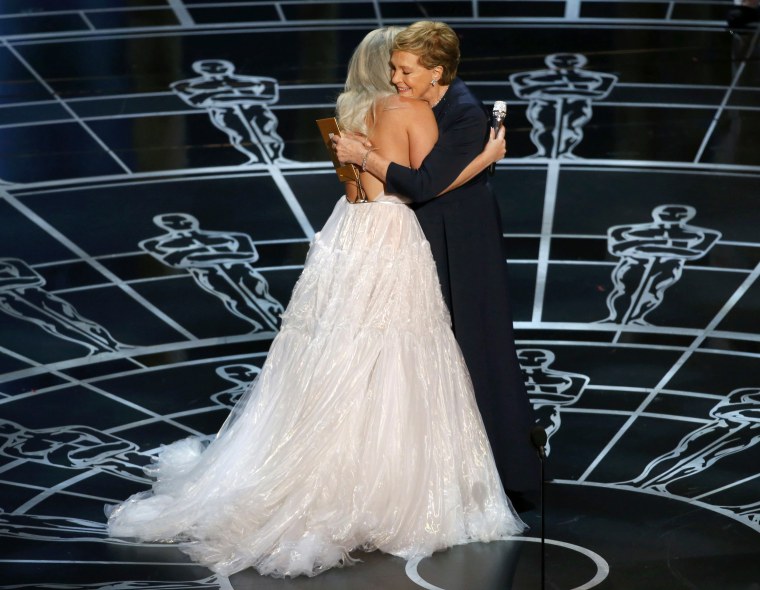 This year's Academy Awards ceremony featured a special 50th anniversary tribute to "Sound of Music," with Lady Gaga tapped to sing a medley of the movie's most iconic hits. (Andrews, sadly, has had to cope with a damaged voice since her throat was operated on in 1997.) But ever the gracious lady, Andrews embraced Gaga on the stage and later told People, "She hit it out of the ballpark."
As does Andrews, every day. Happy birthday to you!
BONUS: Check out this interview with Julie Andrews on TODAY from 1982!