Julia Roberts has been entertaining fans on the big screen for more than 30 years in over 50 films, but which one of those flicks would she pick to entertain her own family?
The star — who's mother to 14-year-old twins, son Finn and daughter Hazel, as well as 11-year-old son Henry — gave the question some serious thought when she sat down with Oprah Winfrey for an interview in the November issue of Harper's Bazaar.
"Do you imagine a day when you all sit down as a family and watch 'Pretty Woman'?" Winfrey asked.
Alas, no. The rom-com about a wealthy business man falling for a Hollywood prostitute with a heart of gold isn't exactly what she considers family movie-night fodder.
"I imagine a day that we all sit down and maybe watch 'My Best Friend's Wedding,'" Roberts said. "Or maybe..."
That's when Winfrey offered up the winning answer: "Steel Magnolias."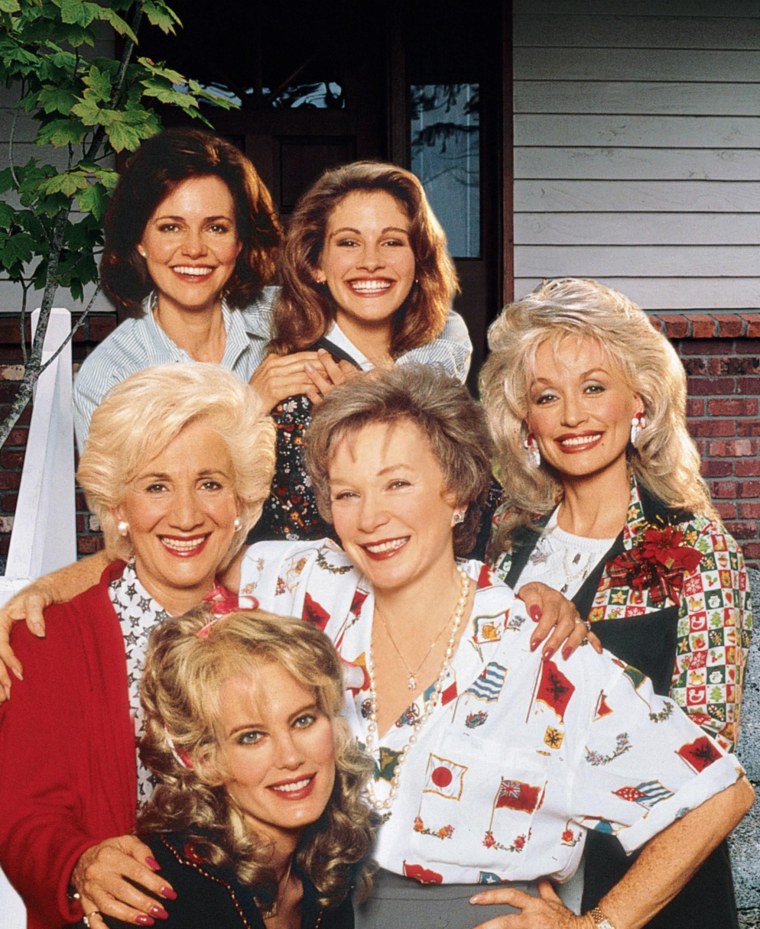 "'Steel Magnolias,' oh, my god," Roberts responded. "Yes, we could do that."
The timeless tale of love and loss between a tight-knit group of Southern woman certainly seems like a safe bet (if they keep plenty of tissue handy for all the tears).
As long as Roberts has her kids close, she's sure to enjoy herself. But last year, she wasn't so sure she'd have them nearby for one very important day.
That's because, for her 50th birthday, she asked for some alone time with husband Danny Moder.
"I said, '"How about this? We have five days away with zero contact with the outside world,'" she recalled to Harpers Bazaar. "That was 50, and it was so beautiful and wonderful. It was just the two of us, and there was a point where I thought, 'Gosh, this is kind of weird.' Not being all together with the kids, the five of us, for my birthday. I was kind of like, 'Huh. Maybe I didn't think this all the way through.'"
But her husband was way ahead her, and surprised her with the perfect present while they were out shopping.
"We went into this surf shop, and I go to the bathroom in the back of the store, and I come out and Danny's standing there holding a surfboard, and he goes, 'What do you think of this one?' I said, '"That's a big board. What is that for?' He moves it, and all three kids are standing behind it. I could burst into tears thinking about it."
So 50 was sweet, and she noted that she doesn't envy the younger generation. In fact, she recently got a harsh lesson in the sort of stresses they face.
"Something did happen recently on my niece (Emma Roberts') Instagram that I think taught me a lot about what it's like being a young person in today's society," she explained. "One weekend morning Emma slept over, and we got up and were having tea and playing cards and having this beautiful morning, and then a couple of days later she posted a picture of us."
"And the number of people who felt absolutely required to talk about how terrible I looked in the picture — that I'm not aging well, that I look like a man, why would she even post a picture like this when I look that terrible!" she said of the post, which has since had the comments turned off.
Roberts said she was "amazed" at how it made her feel.
"I'm a 50-year-old woman and I know who I am, and still my feelings got hurt. I was sad that people couldn't see the point of it, the sweetness of it, the absolute shining joy of that photo. I thought, 'What if I was 15?'"
She's glad she's not. Besides, turning 50 turned out to be "spectacular," Roberts added.