Julia Louis-Dreyfus' fake back tattoo on the cover of the new Rolling Stone is striking, but it sent eagle-eyed history buffs into an uproar Wednesday when they realized the inking didn't represent one particular historical document. 
At first glance, the "We the People" seems to suggest the U.S. Constitution, but the John Hancock right above the "Veep" star's bare bottom was all wrong.
Even the National Constitution Center in Philadelphia got in on the fun.
Fact is, the tattoo is neither fish nor fowl: It's not the Constitution, which would be too long for her back and wasn't signed by John Hancock — though, as Al Roker joked on TODAY Thursday, "He would have if it had been like that." It's also not the Declaration of Independence, which is also too long, and doesn't begin "We the People." The Preamble to the Declaration? Too short.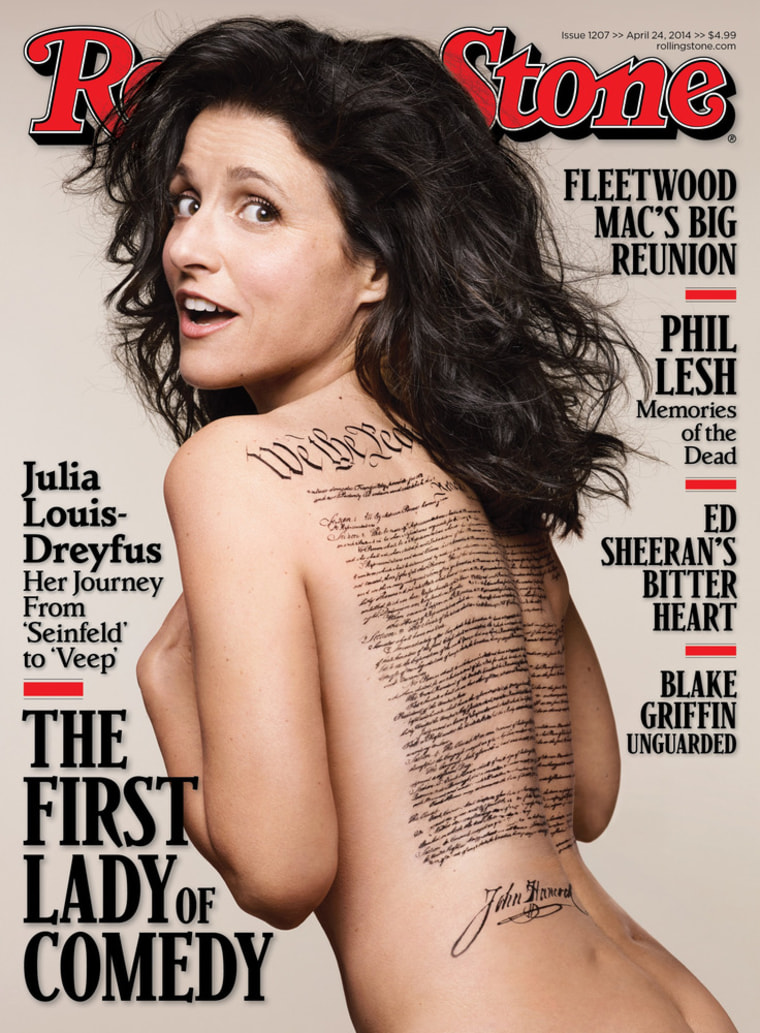 But cries for historical accuracy on a fake tattoo on the cover of the magazine quickly reached Rolling Stone's publisher. Wenner Media publicity director Melissa Bruno quipped to The New York Daily News, "The Declaration of Independence is on the other side, but we couldn't fit in all the signatures."
"Who first discovered it?" Savannah Guthrie wondered on TODAY. "Who was looking so closely at that portion of the picture?"
"Men are history buffs," Matt Lauer chuckled.
But a photo on the inside of the magazine seemingly explains the alleged goof as a joke. A man in a powdered wig and period costume is seen tattooing his name — John Hancock — on the actress' lower back.
The boo-boo "is kind of like an Easter egg for 'Veep' fans," a spokesperson for the magazine told TODAY. The comedy satirizes the incompetence in politics.
Even Louis-Dreyfus, who was promoting the return of the HBO series with the cover and interview, commented on Twitter about the perceived mishap. 
"Hancock signed Dec. of Independence NOT Constitution," she tweeted on Wednesday, then referred to Mike McClintock, "Veep's" hapless director of communications played by Matt Walsh, by adding, "Yet another Mike (expletive)-up. Dummy."

Now we know who to blame.