In the midst of becoming disillusioned with her glitzy, adopted world of New York City fashion, Rebecca Dana found herself decamping to remote Brooklyn and moving into a religiously devout community. In "Jujitsu Rabbi and The Godless Blonde," she recounts her search for self between these extremes. Here's an excerpt.
If God to you is youth and beauty, well—here He is: ten or twelve or fourteen sixteen-year-old girls in stilettos and fetal lamb fur (or combat boots and silk chiffon, or a large feather headpiece and flesh-toned underwear, or absolutely anything at all), floating down a white strip toward a wall of flashing bulbs.
God in this form descends on New York twice a year, for eight days of presentations, parties and swanning around in elaborate hats for whoever might be looking. Fashion Week is an exquisite circus, a trade show for the world's prettiest people and things. Its animating spirit is envy. It is an entire world governed by the belief that the right dress can change everything. I loved every moment and prayed for it to end quickly.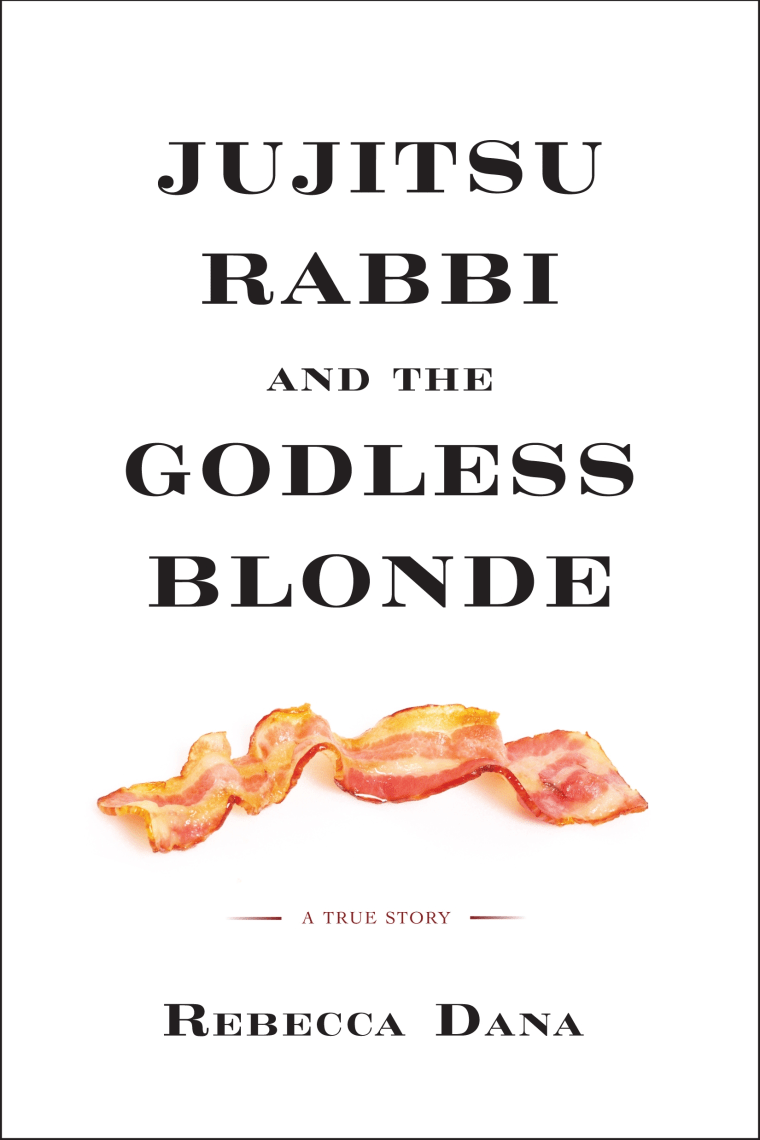 There is always a scandal or a tragedy in fashion, just as there is always someone to hate or cry over in global politics or middle school, and that's part of what makes it fun. Fashion is a closed universe contained within a very open one. We all wear clothes, and to varying degrees we all care about what we put on our bodies. But only a very small number of us particularly care if Christian Lacroix is going bankrupt or if gap-toothed models are "in" this season. Fashion people care very much about these things, and also about other fashion people.
That February, a new advertising campaign cropped up in the New York City subway system. Almost no one involved in the fashion business noticed because almost no one in fashion takes the subway, but I did—an hour each way, back and forth from Crown Heights, where, in the throes of a life crisis, I had recently moved in with a 30-year-old, jujitsu-practicing ultra-Orthodox rabbi named Cosmo. The advertising campaign was sponsored by the Times Square Church, a house of worship built during the 1980s crack epidemic. It featured a rainbow-colored word collage set against a simple white background. In the center of the collage was a question: "What is God?" Surrounding it was a few dozen stabs at definition. God is "a father." God is "the one with your answer." God is "powerful," "merciful," "able to protect." God is "the one who loves you." God is "there when no one else is."
This coincided roughly with the lowest point in the darkest time of my life. On top of all the usual crippling existential agita – loneliness, meaninglessness, fading youth – I now also had a moderate-to-severe mouse problem that made it impossible to sleep. As I rode from my very traditional neighborhood in Brooklyn to the center of Manhattan's fashion world, I read through all the things God was and then played a round or two of the game myself. God is…a huge admirer of your work. God thinks you look great today. God sees all the sacrifices you're making and your innermost desires and your greatest fears, and God wants you to know that it's all going to work out beautifully in the end.
A lot happened that Fashion Week. Alexander McQueen hanged himself. The establishment fashion press engaged in a boiling feud with a 13-year-old blogger. I watched Katie Holmes eat an entire croque monsieur after a day of shows. And I went home every night to Crown Heights, where I got to know a world I never thought I would: the ultra-Orthodox heroin addicts who lived across the hall; the gorgeous Hasidic women as stylish as any at Fashion Week; my roommate, the brilliant rabbi who worked at a photocopy shop and dreamed of being a rock star.
On the last night of Fashion Week, I met my friend Rachel at a fashion party at the Boom Boom Room, a popular nightclub. We sat on a banquette eating miniature cheeseburgers served to us by barely clothed male models, and I complained about being lost and exhausted and confused. Rachel looked at me, took a bite of a cheeseburger and said, "I don't want to hear anything more about this." Mouth full, I raised an eyebrow. "You're on a spiritual journey," she said.
"I'm on a spiritual what now?"
"A spiritual journey."
And she was right. It seemed odd to imagine my aimless schlepping back and forth between these two worlds as any kind of search for meaning, but that's what it was. As I slumped through my late-twenties, lost and seemingly alone, I discovered I was collecting people around me who would give my life purpose. Haphazardly and unconsciously, I was creating a community of meaning. It's messy and difficult to shape a family out of bosses, colleagues, professors, fictional characters, girlfriends, boyfriends, mothers, fathers, and Hasidic Jews. It was strange to ride the subway to Fashion Week and think about all those fancy women in their crazy outfits as part of my community of meaning, but that's what they are. It was even stranger to think of the ultra-Orthodox I met in the course of my time in Crown Heights as part of my community, but they were. Every mini-cheeseburger or Shabbos dinner at a friend of a friend's house is a tiny spiritual journey. It's no different really from finding people to make money with or fight wars with or gather together with to pray.
What is God? Call him love, call him a father, call him whatever name you want. It's the calling that matters, not the response. God is never the thing that fulfills you. God is the name for the hole.
Excerpted from the book "Jujitsu Rabbi and The Godless Blonde." Copyright © 2013 by Rebecca Dana. Published by Amy Einhorn Books, an imprint of the Penguin Group.