It's been nearly a decade and a half since "13 Going on 30" gave us an epic dance routine, a delightfully charming time-travel romance and an unforgettable catchphrase ("30, flirty and thriving!").
When Judy Greer, who played Lucy Wyman — the frenemy of Jennifer Garner's Jenna Rink — recently visited TODAY, we asked her to look back on the beloved flick. So, grab some Razzles and watch the video below!
"I think people still love '13 Going on 30' because everyone can relate to wanting to go back and try it a different way," said Greer, who recently worked with Garner again on Greer's directorial debut, "A Happening of Monumental Proportions." "It's still so fun, and the humor holds up, and who doesn't love Jennifer Garner? And me, I'm mean, too. But I'm kind of naughty in the movie. But I'm lovable. In person."
Though Lucy is portrayed as a manipulative mean girl, Greer explained, "I never consider a character I play a villain, even if they are a villain, 'cause like, real villains don't think, 'I'm a villain.' They just think what they're doing is right."
However, she added, "It was awesome. And I liked it because in a different romantic comedy that I did I was kind of daffy and silly, and so this was fun, because I got to be mean."
One of Greer's most memorable moments from the movie was filming the famous scene in which Garner's character — a teen suddenly transported into an adult woman's body — re-creates the choreography from Michael Jackson's "Thriller" video at an event for the magazine where Jenna and Lucy work.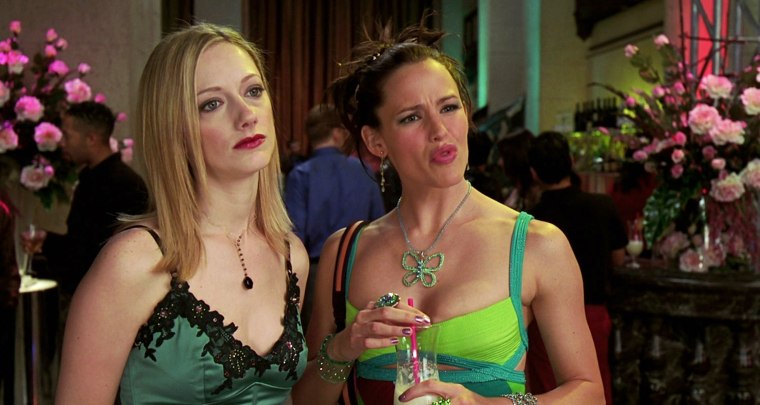 "It was really hard to learn that dance, and the first, like, four hours that we were doing it, it was super fun," she said. "And then every minute after that, I was, like, 'OK, I'm good, I don't need to ever hear this song again for the rest of my life.' And we are coming up upon the holiday season, where I will get to hear that song so much. And every time, I'll immediately start to get hot, and my legs will start to get sore. Even if I'm just sitting in a chair."
As for where Lucy, Jenna and Jenna's love interest Matt (Mark Ruffalo) would be now, Greer has one idea.
"Lucy, I like to think of her as being sort of, like, an Anna Wintour type, like, maybe running a magazine, like, the editor-in-chief of something fabulous. And Jenna and Matt probably work at, like, Costco. But a higher-up. Like, a head of a department. Or something. Not that there's anything wrong with that."
Jenna's trip to the future ultimately prompts her to set her priorities straight — and Greer says we can all learn from the story.
"I think the movie has a really great message," she said. "Kind of about being appreciative of where you are. And that no matter how hard you fight it, you'll probably end up exactly where you're supposed to be."