Within just a few minutes of meeting Judy Blume — iconic children's/young adult author whose books have sold more than 85 million copies worldwide — at her New York City apartment overlooking Central Park, the legendary writer notes: "Superman and I are the same age. We're both 75."
She's not boasting; it's just a factoid. Still, the fact is Blume has been a kind of Superwoman for generations of young readers, who pored through books like "Tales of a Fourth-Grade Nothing," "Are You There God? It's Me, Margaret," "Forever" and "Tiger Eyes." Writing sensitively about kids many decades her junior, Blume got into their heads and told stories that have proved enduring, compelling touchstones that explore with humor and insight just what kids are going through during their most tumultuous years.
Which brings us to the reason for visiting Blume on this early June day: She and her son Lawrence Blume have co-written a script for her 1981 book "Tiger Eyes," and Blume-the-younger has directed the film, which opens in theaters and on video-on-demand on Friday.
Shockingly, it's the first motion picture ever made of Blume's works.
"It was never right before," says Judy, recalling how "not that many years ago" her book "Deenie" (about an aspiring young model diagnosed with scoliosis) was being worked on for Disney films. "I should have tried to stop them and let them know this was not the best one to do," she says.
The problem is that her books are "very small stories," she explains. "They might work in an hour." (And there have been attempts made at putting some of her stories on TV — "Otherwise Known as Sheila the Great" was an ABC Weekend Special in 1991, and "Fudge" (based on "Tales" and "Superfudge") was briefly a TV series in 1995.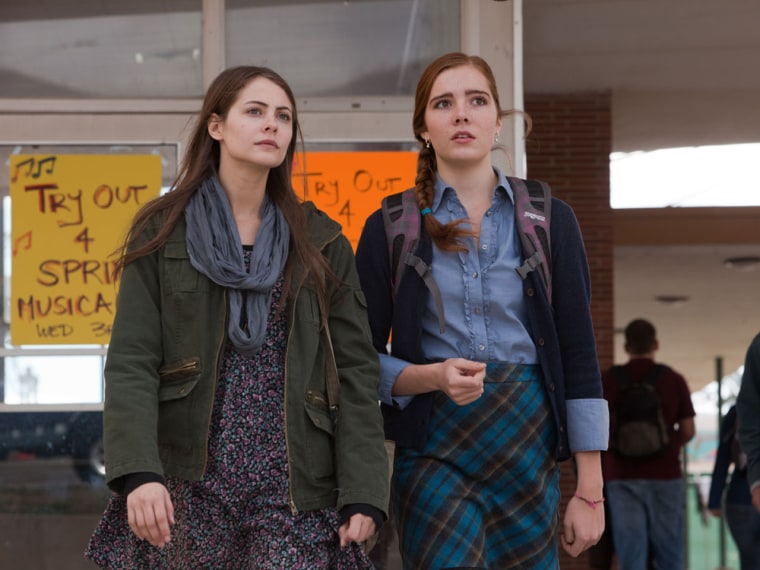 But some — like "Tiger Eyes," about a teenager named Davey (played by Willa Holland of "Gossip Girl") trying to come to grips with the sudden death of her father — "could be opened up well," she says.
The story is partially ripped from Blume's life; she lost her father suddenly when she was 21, and, after divorcing her first husband, relocated her family (in addition to Lawrence she has a daughter, Randy) to New Mexico — a move that had some repercussions personally but that also gave her a setting for "Tiger Eyes."
Still, when she wrote the book, "That's not what I thought I was writing about," she says. "It wasn't until I saw the movie that I realized how much must have been my own grief." She says she still gets choked up by some scenes, both in the book and the movie.
"It's sad in places," qualifies Lawrence, "but to me it's more of a discovery story. Life goes on. It's about that first time you realize your parents aren't making all the decisions for you, and you have to decide for yourself."
Judy's not sorry that the film is explosion-, CGI- and animation-free — it, like her books, speaks to kids using a different vernacular. "I don't know how to tell stories like that," she says. "That's not what I write about."
But don't think that the Blumes are done collaborating; Lawrence would still like to adapt his mother's "Summer Sisters." Judy says she's eager to get back into the next draft of her next novel, offering up the briefest of peeks at her blue binders of printed-out versions. This one, she says, will be geared toward adults (as are "Wifey" and "Summer Sisters"), and takes place in her New Jersey in the 1950s. When asked what the book is about, she kept it vague — but referred to UFOs and volcanoes and even ... well, zombies.
"Zombies!" she laughed. "I have it in my book. They eat something ... your brains?"
Indeed.
"Tiger Eyes" opens in limited release and on VOD on June 7.