/ Source: The Associated Press
A judge Thursday ordered another DNA sample be taken from Anna Nicole Smith's body as he heard more arguments in the fight over the former Playboy Playmate's remains and custody of her infant daughter.
Smith's longtime companion, Howard K. Stern, and her estranged mother, Vergie Arthur, each hope to win control of the body. Photographer Larry Birkhead, who claims to have fathered the former centerfold's 5-month-old daughter, Dannielynn, hopes DNA taken from Smith will prove his case and that there was no baby switch.
The judge has said the dispute could be lengthy. The hearing, which began Wednesday, stretched into the afternoon Thursday and was to continue Friday.
"We're going to have hearings — as many hearings as we need," Circuit Judge Larry Seidlin said Wednesday. "This is just a warm-up."
Stern claims he is executor of Smith's will and wants to have her buried next to her son in the Bahamas; Arthur wants her daughter buried in her home state of Texas; and Birkhead simply wants to prove he is the father of Dannielynn, who potentially could inherit millions.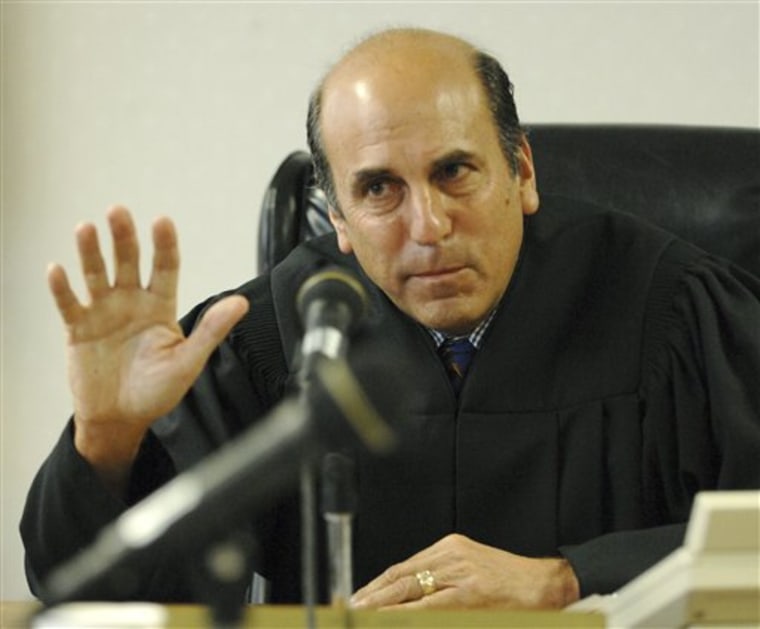 Debra Opri, an attorney for Birkhead, said in a statement that she was satisfied DNA samples would be provided by Florida authorities.
Opri has said Smith's DNA is needed to connect her with Dannielynn so no one could switch the babies.
Prince Frederic von Anhalt, the husband of the actress Zsa Zsa Gabor, has said he had a decade-long affair with Smith and may also be the father. He said he plans to file a paternity challenge in court and wants a DNA test.
Smith's body remains at the Broward County Medical Examiner's Office, and Seidlin said it would stay there. "This body's not leaving Broward County till I make the ruling."
Smith, 39, died Feb. 8 after collapsing at a Florida hotel. She was the widow of Texas oil tycoon J. Howard Marshall II, whom she married in 1994 when he was 89 and she was 26. She had been fighting his family over his fortune since his death in 1995.
Elsewhere, custody of Dannielynn is being fought, too. A Bahamian judge issued an injunction Tuesday preventing the baby from being taken out of the country until the custody case is resolved.
Arthur wants to be named guardian of her granddaughter and sought the order because she feared Stern would take the child from the Bahamas, her lawyer said.