Judd Apatow is one of the leading voices in comedy, directing modern classics like "The 40-Year-Old Virgin" and the upcoming "Trainwreck." But on TODAY Monday he had words to share not about his movies, but about the recent allegations by dozens of women that Bill Cosby drugged and sexually assaulted them over the years.
While it wasn't the first time Apatow has gone on the record about Cosby, he did note that he's one of the few in the business talking about it at all.
"I just kept noticing that no one else was saying that this was a bad thing," he told TODAY's Willie Geist. "I would have loved to not talk about it. It's incredibly sad. It's one of the most tragic things that's happened in our business, and I think we do have to stand up for the women and say that we believe you."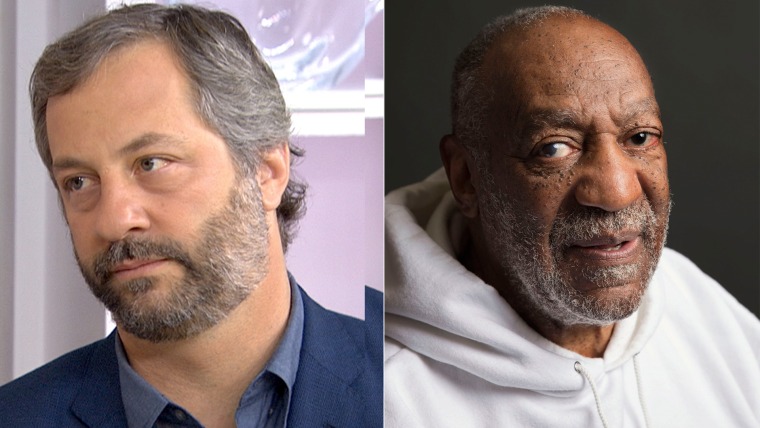 He also referred to last week's revelation that Cosby had admitted in a deposition that he did give the sedative known as Quaaludes to women.
"A lot of people got terribly hurt," he said. "And you know, when you go out on a date you don't need seven prescriptions for Quaaludes. I'm in show business. Famous people can meet women without the enormous prescriptions."
While more than a dozen women have accused Cosby, 77, of having sexually assaulted them, he has never been charged with a crime and both he and his representatives have denied past allegations.
While Apatow stayed calm discussing the controversy, he did seem irritated that more people weren't excoriating Cosby now that so much evidence and first-person accounts have surfaced.
"We should all be very hesitant about getting involved in anything," he noted. "But when it's 40 people [making accusations], it certainly is time for everybody to wake up and say we should be concerned about the women."
"Trainwreck" opens in theaters on July 17.