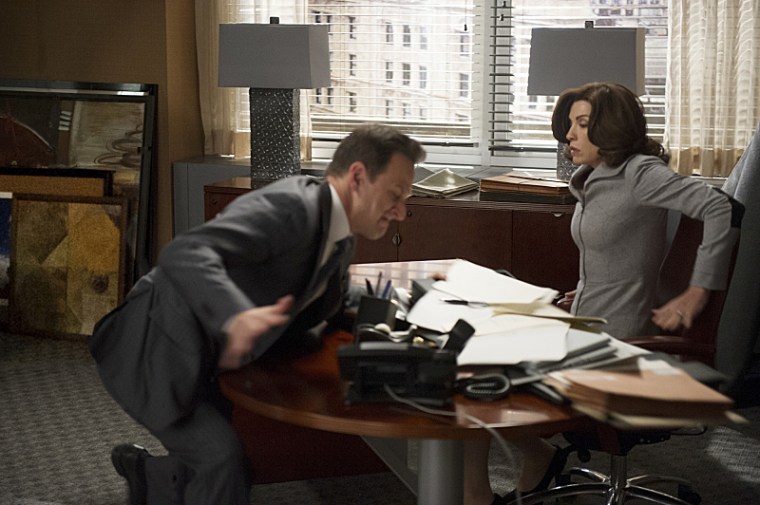 "The Good Wife" no more. Alicia's been very bad, and it's delicious.
Sunday night's "Hitting the Fan" episode of CBS' "The Good Wife" made for exciting television and the producers promise the repercussions will reverberate throughout the entire fifth season. Alicia's (Julianna Margulies) betrayal of the firm that rescued her from her life as a scandalized political housewife has set a lot of tense drama in motion, including Diane Lockhart (Christine Baranski) losing the judgeship she compromised herself to get and unleashing the rage of Will Gardner (Josh Charles). Boy, is he mad.
In a press call last week, executive producer Robert King said the writers decided to split up Alicia and Will (law school friends, business associates, former lovers) for good because "once you have a love triangle, it's kind of a monkey on your back. There's only so many ways to tell that story fresh. It seemed more exciting to see the reverse side of it."
And it won't ever go back to the way it was, King said. 
"There's a kind of gauntlet set down between her and Will that makes her a more competitive person, and she's sent off on a warpath," he said. "Alicia's a little more ballsy and kicking ass and enjoying kicking ass...She has been playing things to the middle. I think as soon as Will picks up her cellphone and says, 'I'm confiscating this,' it was the crossover from the personal to the professional. Even though there's a hypocrisy there on her part, she saw that Will won't be able to handle it professionally."
Can anybody blame him? The way Will Gardner sees it, he gave Alicia a chance at a second chapter in her career, promoted her to partner, and offered her to be managing partner when Diane decided she wanted to be a judge. On a personal level, they rekindled their law school romance when she was separated from Peter (Chris Noth), and then remained friendly and professional after she reconciled with her husband. Not only did Alicia choose Peter over him, she then connived to leave the firm with Cary Agos (Matt Czuchry) and the other fourth-year associates behind Will's back while taking some clients with her.
No wonder he's mad. Charles, who has been nominated once for an Emmy for his work on the show, told TODAY in a Q&A over e-mail that he welcomes the turn the twice Emmy-nominated drama has taken. He also warned that Alicia and Peter are not the only scary duo in Chicago; watch out for the newly minted team of Will and Diane. 
Q: By the end of Sunday night's episode, it almost feel like "The Good Wife" is going to be a new TV show for the audience. Does it feel that way you to you? Are you enjoying this reboot?
A: Doing a show and playing a character for this length of time I welcome the direction the show is going. Our writers have done such a brilliant job and the storyline has allowed us all to dive deeper into the psyches of our characters, which is what you always want as an actor.
Will's been betrayed left and right this season. Is he going to be OK?  
I think this betrayal, both personally and professionally, reinvigorates Will in a profound way. His competitive spirit is awoken. He doesn't just curl up in a ball and cry on his pillow. He takes the hits and moves forward.  
What hurt Will the most -- Diane's betrayal or Alicia's? Can he get over either?
Both, but certainly Alicia's betrayal hurts more deeply for all the obvious reasons of their unresolved personal relationship.
Will Will take Diane back? Can she still be useful, even if he's still hurt?
Of course he can! The bond between those two is incredibly deep and, while it may be frayed, won't be broken completely. The two of them together, both feeling betrayed and scorned, is something to be reckoned with I think.  
Is Will scared of Peter or this new Alicia/Peter team?
Well, he's not a dumb person, so I think he would rather not pick a fight with the governor of the state where he practices law. But, with that said, he won't run away from any fight. 
A new side of Alicia emerged at the end of the episode. Do you think it's always been there? Is she growing into who she really is?  
I think no person, or character for that matter, is ever just one thing. We all have many things going on inside of us at any one time. Alicia is the moral center of the show. Since the show is always more interested in the gray areas of ethics and morality, I think it's wonderful to see even more of those gray areas within Alicia. And Julianna conveys all of that so beautifully, sometimes without ever speaking a word.
Should we be scared of Will? He seemed very determined at the end of the episode. Is anyone safe at Lockhart/Gardner?
Yes. But in this sense, I think being scared is a good thing!