Hailee Steinfeld appeared to attend a Buffalo Bills game over the weekend, further fueling speculation that she and Bills quarterback Josh Allen are in a relationship.
Fans shared a photo on social media of a woman whom they identified as Steinfeld at the Sept. 17 game at Highmark Stadium in Orchard Park, New York. 
In the photo, the woman who fans believe is Steinfeld wore a red baseball cap and a tan hoodie as Allen led the Bills to a 38-10 victory over the Las Vegas Raiders.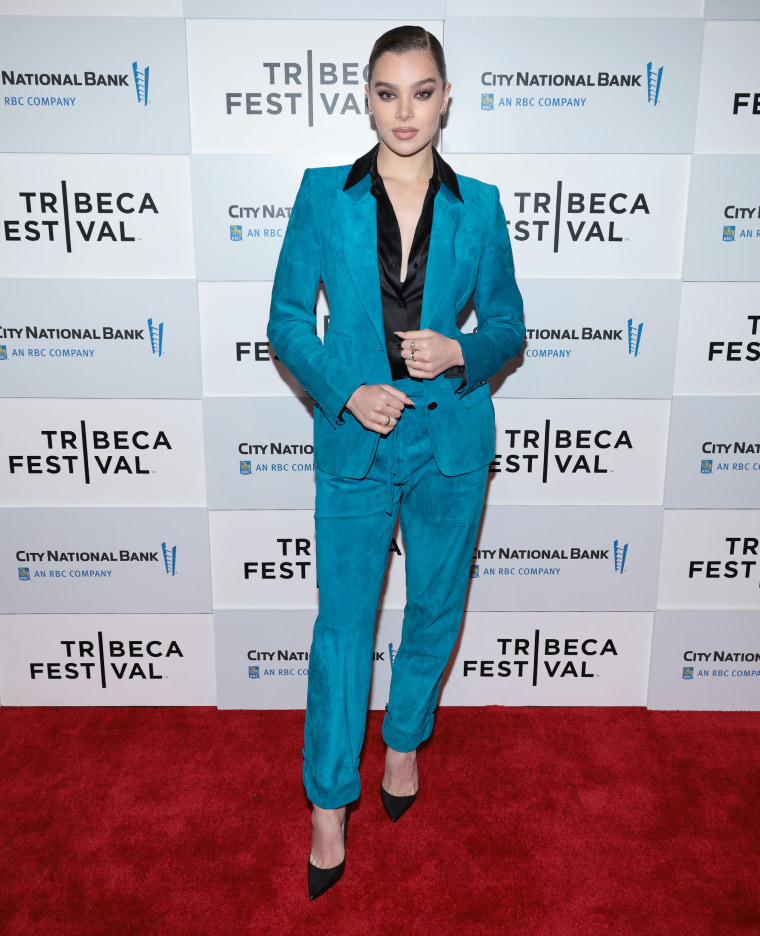 Allen, 27, and Steinfeld, 26, have not commented publicly on whether they are an item, but they have been sparking romance rumors since May.
Here's what to know about the timeline of their rumored relationship.
May 2023: Steinfeld and Allen are spotted out and about together
The actor and the NFL player were seen hanging out together around New York City in various photos shared by the New York Post and People, sparking romance rumors. 
The same month, the pair reportedly were also photographed at a New York City sushi restaurant, Sushi By Bou.
August 2023: Allen appears to address the relationship rumors publicly
Allen seemed to indirectly address his rumored relationship with Steinfeld in an Aug. 2 interview on the "Pardon My Take" podcast.
Co-host Dan Katz teased Allen about the romance rumors, working in a reference to Steinfeld by "accidentally" mispronouncing the name of a classic '90s sitcom.
"Are you a fan of Steinfeld?" Katz asked the NFL star.
Allen wasn't taking the bait.
"I don't know what Steinfeld is," he deadpanned back. "The show? Big fan."
But a moment later, Allen acknowledged Katz's accidentally-on-purpose "Steinfeld" slip-up.
"I didn't know how I was going to work that in," Katz said of his playful flub. "Did I do a good job?"
"You did a good job," Allen said. "Respect. Respect."
Shortly afterward, the quarterback talked about having a girlfriend, though he never mentioned Steinfeld by name.
The topic came up when co-host Eric Sollenberger (aka PFT Commenter) asked Allen if he had seen the recent news about his rumored relationship. 
"There was a headline and it was just, 'Josh Allen Makes Out With His Girlfriend on Vacation,'" Sollenberger said. "That's awesome, that somebody writes an article about you making out with your girlfriend."
"The fact that anybody cares about that still blows my mind," Allen replied.
He added that it has been tough dealing with paparazzi attention. 
"They were on a boat," he said, referring to photographers he encountered on vacation. "I saw it and I just like, I just felt like this gross feeling. Insecurity, no privacy, just like, what is wrong with you?"
Steinfeld has not commented on the rumored relationship
The "Pitch Perfect" star has never commented publicly on the rumored romance with Allen.
She has discussed her desire for privacy in the past when it comes to her love life.
"I feel so lucky that (my fans) care enough about me to know what I'm doing every second of every day, but I think that sometimes it's hard for people in general to realize that there are boundaries to a person's life and personal life," she told Us Weekly back in 2018, addressing rumors at the time that she was dating former One Direction singer Niall Horan.
"I am a very private person," she added. "I do love that I have the opportunity to share with them what I'm comfortable with and they're there to listen and support me."