Jonathan Scott and Zooey Deschanel have melded their lives together over the last few years, from Deschanel joining the Scott brothers for the new season of HGTV's "Brother vs. Brother," to buying and designing their Georgian-style home in Los Angeles.
Arguably one of the largest life changes, though: Scott going from having no kids to now being a "bonus dad" to Deschanel's daughter, Elsie (7), and son, Charlie (5) — and as he discloses in a recent interview with TODAY.com, he wouldn't have it any other way.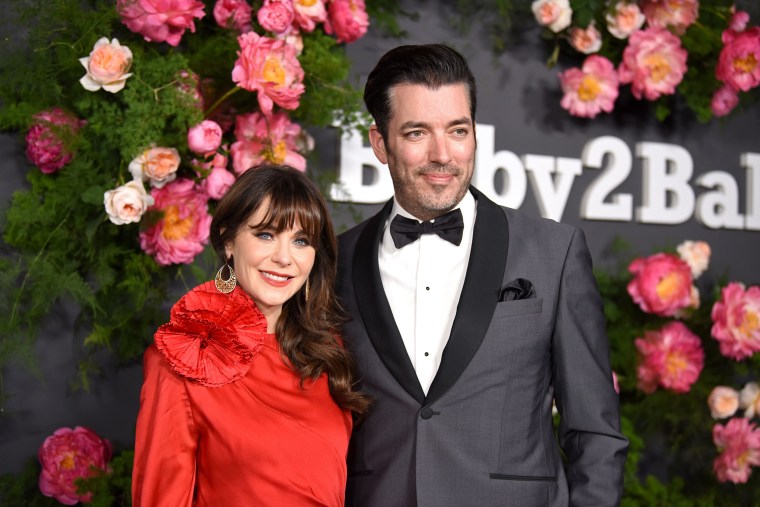 "I always knew I would be a great dad — former clown, magician, I can build stuff — and it's been incredible," Scott explains. "You see your life transform, your priorities become your kids, and when they have a performance that they're doing at school, or working on some of their homework, or whatever it might be, it's a joy.
Scott says that he and Zooey "enjoy every minute" of co-parenting Elsie and Charlie together alongside the kids' biological dad, Jacob Pechenik, whom Scott describes as "wonderful."
The "Property Brothers" star also recalls to TODAY.com the moment when his connection with Elsie and Charlie really clicked.
"The first time I realized (we had a connection) ... our youngest came back from school with a picture that he had drawn, and in the picture, he has Mommy and Daddy and Jonathan and his sister and our puppies," Scott recalled. "He had drawn this whole picture. This is his happy family."
"I think that was when I was like, that's pretty sweet, because the way we think of it is, he has the benefit of a 'bonus dad,'" Scott continued. "How cool is that? You have more people that love you."
Scott met Deschanel while on the set of "Carpool Karaoke" in 2019 and became Instagram official with her that October, so the HGTV personality says that Charlie "doesn't remember a time" when he wasn't around.
In a November 2019, Scott echoed how much he loved step-parenthood to TODAY.com while on the red carpet with Deschanel for the annual Baby2Baby gala in West Hollywood.
"I love it. Just (to) be sitting doing nothing and they'll come over and just plant a big hug on you or say something really sweet," the "Celebrity IOU" star exclaimed. "Like, that came out of left field but I will take it!"
Deschanel shined a light on how Scott has played a crucial role in that closeness, too, saying that he's "the best step-dad" and he's "very highly qualified for the job."
As they continue to parent together, fans will be seeing more of the iconic duo in Season Eight of "Brother vs. Brother," premiering on HGTV Jan. 11 at 9 p.m. ET. Deschanel will offer "advise as a lifelong Angeleno," according to the press release, as Scott battles it out with brother Drew Scott to see who adds the most value to their selected property at the end of the season.