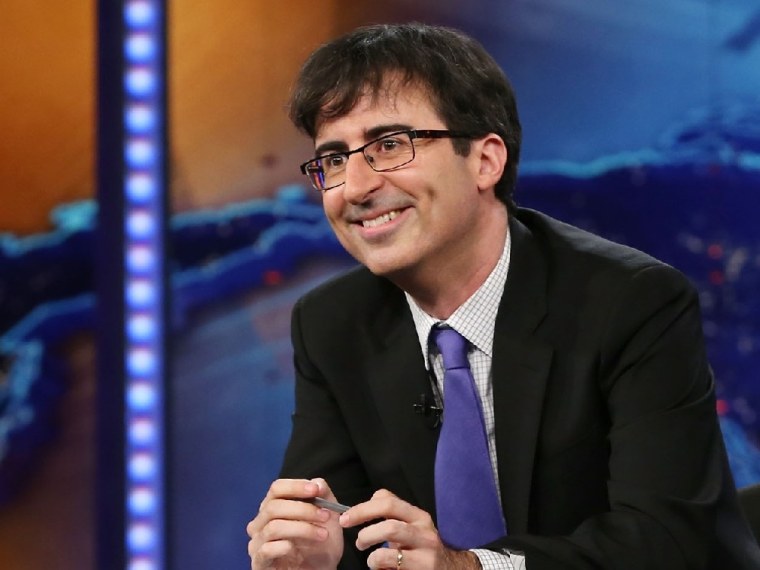 Jon Stewart usually gets big laughs on "The Daily Show," but on Thursday night he delivered a surprise farewell to John Oliver that inspired tears from the departing comedian-correspondent.
While Oliver, who'll soon launch his own satirical current events program on HBO, was aware that it was his last night as a regular on the show, he wasn't aware that his boss scrapped a planned British phone hacking skit in favor of a full tribute to him.
"We're not doing the bit?" Oliver asked when Stewart went off script.
"Of course we're not doing the bit," Steward answered. "There's only one British royal I care about tonight, and his name is Prince John Oliver."
After that sweet setup, Stewart rolled a highlight reel of Oliver's best gags — from channeling a host of Dickensian characters to pointed interviews to simply going for low-ball laughs.
Stewart referred to the on-screen action as "amazing, beautiful." As for Oliver, the retrospective of his seven and a half years on the show and the kind words from Stewart left him in tears.
In an attempt to lighten the mood, Stewart played the Carlos Danger theme song — a treat from Oliver's days at the helm of "The Daily Show" over the summer. The music had both men moving, but Oliver's tears kept flowing through the dance and past the parting hug.
Get a hanky ready and see the sad so long in the clip from Comedy Central, but beware — while the curses have been bleeped, Oliver's reel includes some mature (and possibly not-safe-for-work) material.
Oliver's yet-to-be-titled HBO show still awaits a 2014 premiere date.