JoJo Siwa took to Instagram on Saturday to open up about coming out as part of the LGBTQ community earlier this week.
"I wanted to come on here and just talk to y'all for a second and say thank you," Siwa said during an Instagram Live. "For the last 48 hours... 72 hours, I have gotten the most endless amount of love and support. I am really, really, I'm really happy. Now that the world gets to see this side of my life... it makes me really, really, really happy. I have been happy in this land for a minute now and now that I get to share that with the world now, it's just... it's awesome."
Saturday's Instagram Live session comes a few day after she posted a TikTok video of herself dancing to Lady Gaga's "Born This Way," causing some to speculate that she was coming out. Then on Friday, she seemingly confirmed that news when she shared a gift her cousin gave her, a t-shirt that read, "Best. Gay. Cousin. Ever."
During the Instagram Live, the 17-year-old reality star and influencer answered a fan's question: What label does she prefer?
"I have thought about this, and the reason I'm not going to say this answer is because I don't really know this answer," she said. "I think humans are awesome. I think humans are really incredible people. Right now, I am super, duper happy and I want to share everything with the world I really do, but I also want to keep things in my life private until they are ready to be public."
Next, she discussed the stigma associated with coming out, urging others who are struggling to make that step to do it for themselves.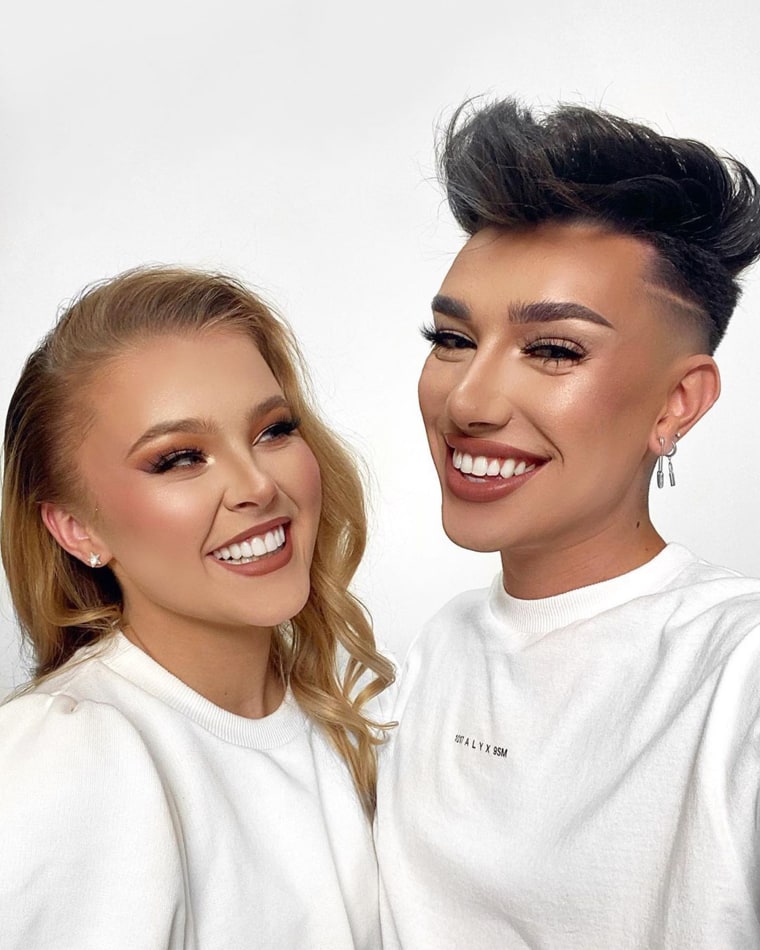 "But right now what matters is that you guys know that no matter who you love, that it's OK and that it's awesome and the world is there for you," she said. "There are so many people that are there for you. I know that everyone's situation is different and it might be harder for some people and it might be easier for some people to come out or to be themselves but I think coming out has this stigma around it — that it's a really, really scary thing, but it's not anymore."
A Trevor Project study from 2020 found that 78% of LGBTQ youth report having access to at least one in-person LGBTQ-affirming space, and 86% of LGBTQ youth report having high levels of support from at least one person.
However, there are other statistics that are more concerning. That same study found that one in three LGBTQ youth reported that they had been physically threatened or harmed in their lifetime due to their LGBTQ identity, and 40% of LGBTQ respondents seriously considered attempting suicide in the past twelve months.
Siwa urged her fans and followers to actively seek those who will be supportive of someone embracing their differences.
"There are so many accepting and loving people out there... that it's OK," she said. "Of course, people are going to say it's not normal, but it's your normal, nothing is normal. Literally not one thing about anybody is normal and it's OK not to be normal, it's OK to be a little different, it's OK to be a little weird, strange, it's OK to be a little different. That's something we should never, ever be afraid of. That's something we should be proud of. We should celebrate that because we all get to be so different and it's so cool and awesome."
"Life is not short until it is."
JOJO SIWA
Many people took to Twitter to applaud the famous teenager for coming out this week. One person wrote, "OK but the impact of JoJo Siwa coming out to millions of very very young kids and their parents ?? the normalization this has .... a queen."
Another person tweeted, "if you don't think JoJo Siwa coming out as gay is a big deal; just remember that there are LGBT kids that watch her videos that may have felt so alone with their identity and seeing the person they look up to coming out makes them feel safer and more comfortable with themselves."
On Saturday, Siwa also answered another fan's question regarding her parents and the conversations they've had since she came out. "My parents have known," she responded. "My mom said she's known for the last two years. She's like, 'I just know with you!' She's like around two years ago, she was like, 'I don't think you only like boys, that's totally OK.' But they've always been so everything, over the top."
Siwa ended her Instagram Live by sharing some words of wisdom she received from her father during this time, and then sharing some words of her own advice with her followers.
"Like my dad said, 'Love is universal,'" she said. "You guys can love whoever you want to love, and you guys can do in life whatever you ever want to do. You can dream a dream and make that dream come true, no matter what."
She concluded, "Just be happy, happiness is sometimes really hard. If something makes you happy, enjoy it. Just enjoy it, live in the moment. Don't think too much, just kinda live. Life is not short until it is."