Johnny Weir and Tara Lipinski took home gold at the 2014 Winter Olympics in Sochi — for commentating and fashion, that is. Here, Johnny and Tara continue the tradition by reviewing the year's biggest moments in pop culture as part of "2014 Voices," a special series of essays and interviews with newsmakers behind some of TODAY.com's biggest moments of the year.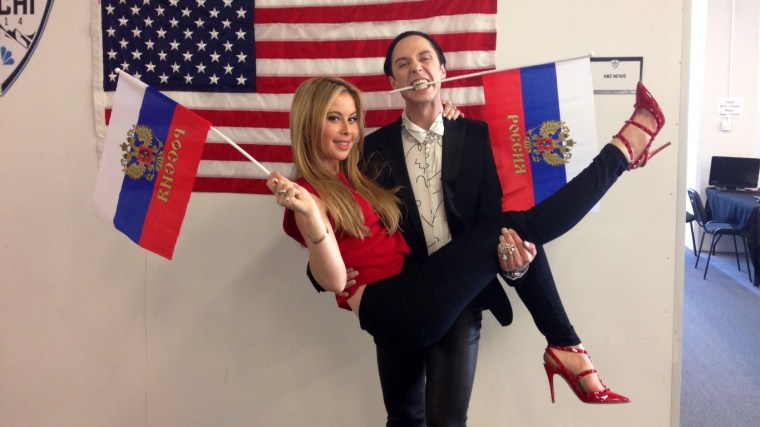 Royal baby No. 2: Boy or girl?
Tara: I hope it's a girl, it has to be a girl.
Johnny: A little prince and princess — a girl.
What do you think of Prince George?
Johnny: I mean, he stole that toy from that baby in Australia when he was touring. I don't know what his future holds, but he's very cute... and he steals.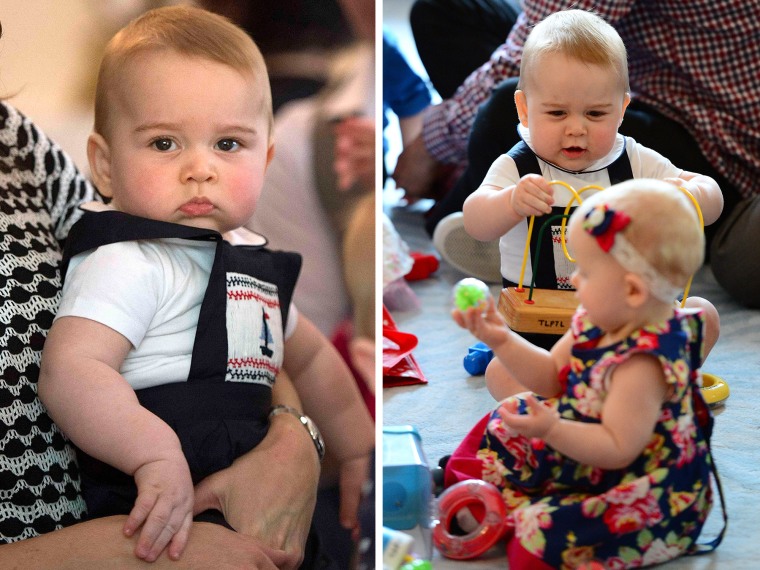 Sochi Olympics: What is your favorite memory?
Johnny: I feel like Tara Lipinski and Johnny Weir were really the breakout stars of the Sochi Olympics. I, like most of America, sat at home and enjoyed every second of their fashion, their insight and their wit.
Tara: I really enjoyed them too.
Johnny: Also, the kid who saved the dogs. That hot snowboarder... For us it was wonderful to feel the Olympics in a different way than we had. And to be behind the scenes and watch with the rest of the world all of these wonderful stories. For us, being there — that was my favorite moment.
Tara: It was not only working together at the Olympics for the first time but there were a lot of firsts. We were competitors at Olympic Games, but we never worked in this capacity and you still feel that honor and pride when you walk in. To be able to work it was really fun.
Johnny: We had an adjoining room.
Tara: You know what? That might be my favorite part.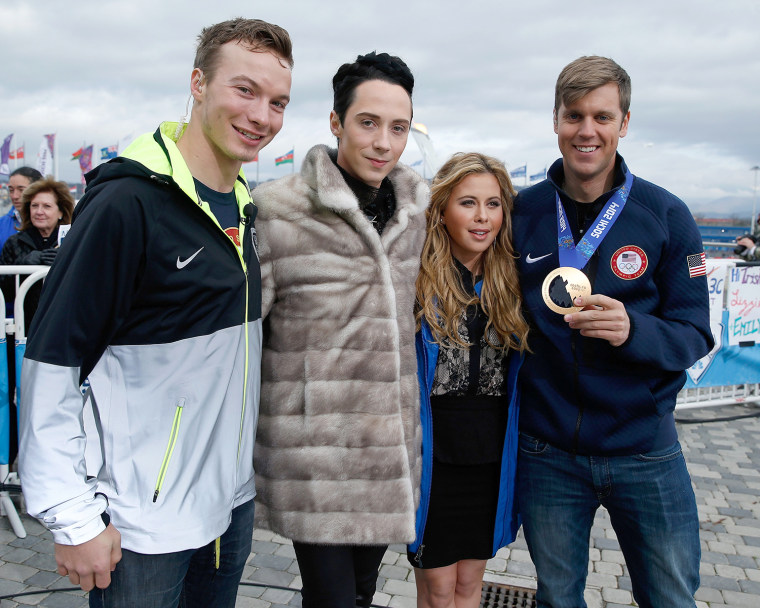 Ellen's Oscar selfie was a huge deal. Who would be in your perfect selfie?

Johnny and Tara: Bradley Cooper!
Tara: Ellen
Johnny: Prince George
Tara: And the little princess that's coming!
Johnny: Elsa?
Tara: No, but yes, Elsa.
Johnny: Beyoncé, certainly
Tara: If we have Beyoncé then we have to have Jay Z
Johnny: I want Justin Timberlake to stand directly behind me.
Tara: OK, OK
Johnny: Christina Aguilera…
Tara: Henry VIII
Johnny: Marie Antoinette — and her pompadour … and a Hershey bar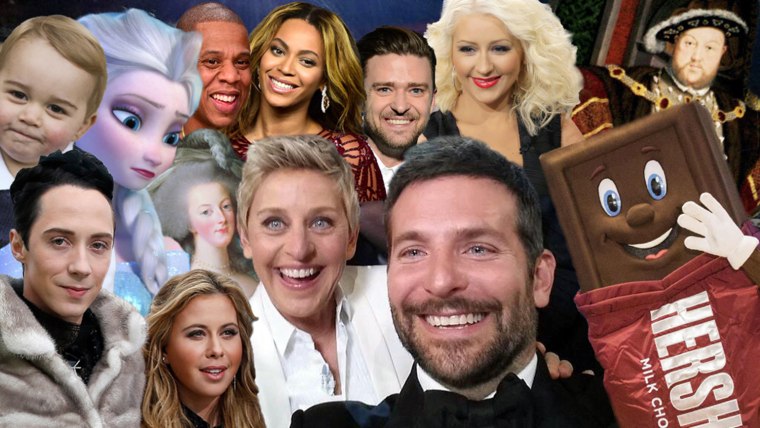 George Clooney got hitched this year. Thoughts?
Tara: I think it's sweet! I love Amal, looking at her fashion and her dresses and her wedding — it was all so beautiful.
Johnny: I like how she's like, "I have my own money and my own thing and am very successful. I am not just arm candy, George."
Tara: "Take it or leave it, George."
Johnny: I've never been the biggest oh-my-god-I'm-obsessed-with-George-Clooney person. But my mother has, so I've followed along with his life via my mother and I'm really happy that he found a strong woman who can stand on her own and do her thing.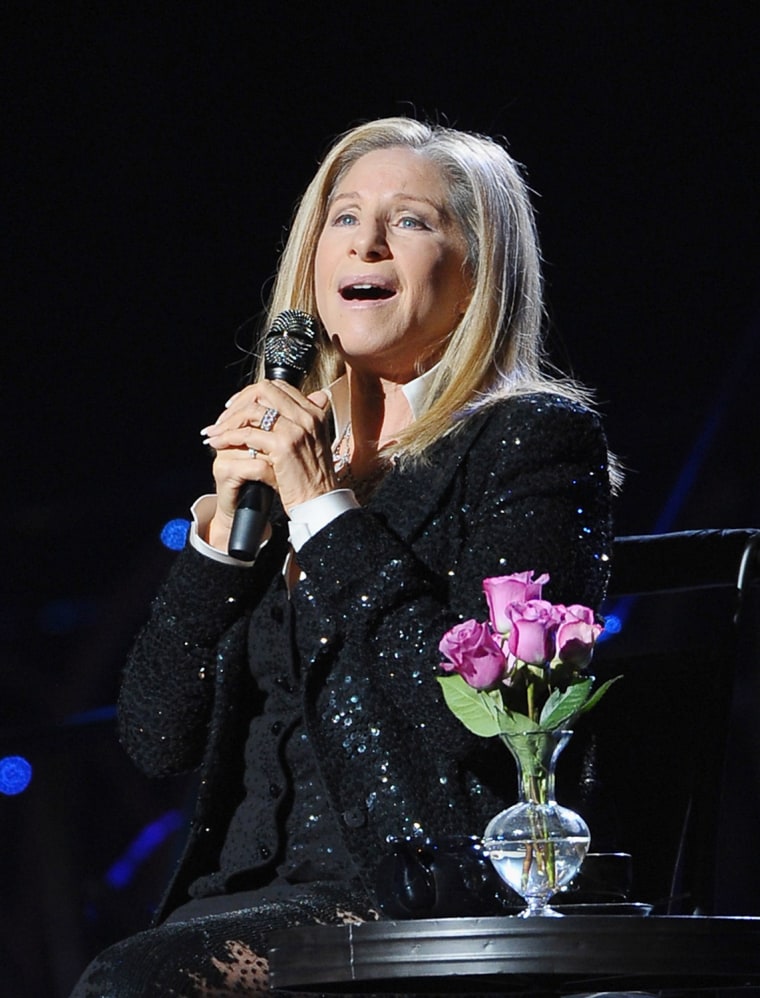 "Fancy," "All About that Bass" or "Shake it Off": What's your vote for song the year?
Johnny: "The Way We Were" by Barbra Streisand. I've been in Russia!
Tara: Katy Perry's "Dark Horse" was our pre-game…
Johnny: It was our pre-game schwerve.

How was doing the Ice Bucket Challenge?

Tara: They were cold. I messed one up so I had to do it again.
Johnny: Don't lie. You know you did 20 takes. I know I did.
Tara: I didn't because it was freezing.

What really happened between Jay Z and Solange in the elevator?
Tara: Family time!
Johnny: I wish we'd been there! Why were we not at The Standard? I love the Boom Boom Room!
Tara: "Hey guys, let me break this up."
Johnny: Solange, let's just hold on a second.
Tara: Let's get a glass of wine.

Any other thoughts on 2014?
Johnny: I like how couture Miley got.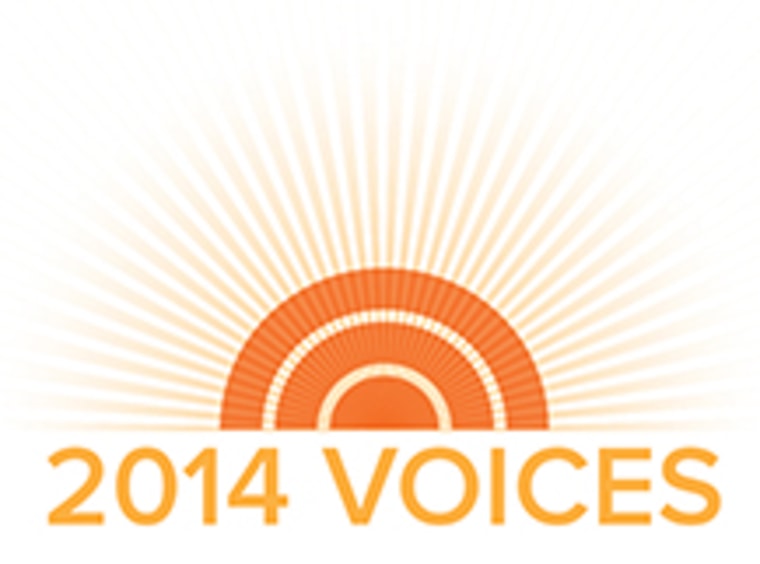 Find more essays and as-told-to pieces from the newsmakers behind some of the year's biggest stories on TODAY.com in our "2014 Voices" series.
*Woman whose weight-loss bikini pic went viral: 'I can help others not feel alone'
*Ice Bucket Challenge star on ALS fight: 'I want to grow old with my wife'
*Behind the music: 'XMas Jammies' family on their wild year, new holiday video