Even after John Travolta introduced the world to "Adele Dazeem" at last year's Academy Awards ceremony, the actor's quirky behavior continued at this year's event.
First, before the Oscars telecast even started, Travolta got a little up close and personal with Scarlett Johansson on the red carpet.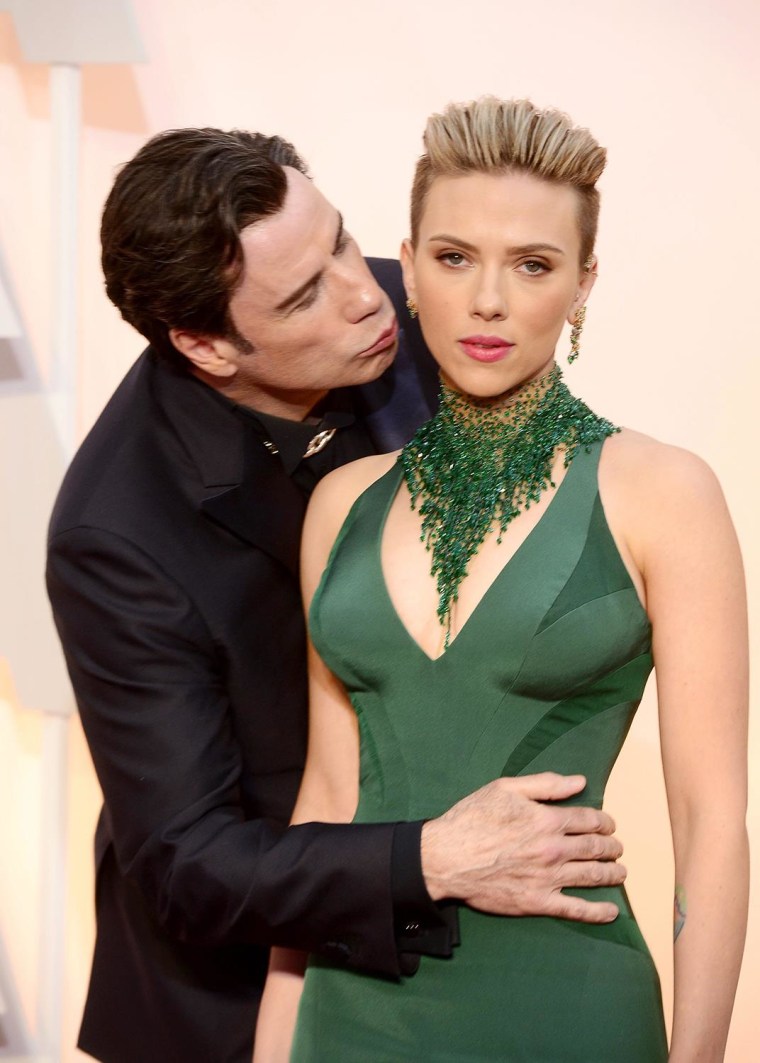 Oscars cheat sheet: Complete list of 2015 winners
He also made what some might consider a bold fashion choice, sporting a tight metal necklace on the outside of his green button-down shirt.
While seated in the Dolby Theatre, Travolta appeared to be peering at Benedict Cumberbatch in a way that caught the attention of TV viewers, including photographer Michael Deppisch on Twitter.
Oscars host Neil Patrick Harris ribbed Travolta while referencing Cumberbatch, saying it's "not only the most awesome name in show business; it's also the sound you get when you ask John Travolta to pronounce 'Ben Affleck.'"
But the awkwardness didn't end there. After Harris introduced "Adele Dazeem" herself — Idina Menzel — she welcomed her "very dear friend, Glom Gazingo," a.k.a. Travolta, to the stage.
"I deserve that," he said, wrapping his right arm tightly around Menzel's waist, before holding her chin. "But you! You, my darling, my beautiful, my wickedly talented Idina Menzel! Is that right?"
Replied Menzel, "You did it! That was so good! It's not like it's going to follow me around for the rest of my life or anything."
Added Travolta, "Yeah, tell me about it."
As Travolta started to announce the nominees for original song, Menzel interrupted, "You want me to do it?"
At the end of the show, when Harris revealed his Oscar predictions that supposedly had been locked in a case the entire night, Travolta was the butt of the joke yet again.
"Travolta will be back again next year," Harris said, "to apologize to Idina for all the face touching."
Follow TODAY.com writer Chris Serico on Twitter.