In his new Netflix stand-up special released on April 25, comedian John Mulaney spoke openly about his past drug use and 2020-21 stint in rehab.
He also revealed that one of the first phone calls he got while in rehab was from his famous friend, Pete Davidson.
Mulaney, who did two months in rehab starting in December 2020, told the story of how his famous friends staged a "star-studded" intervention for him.
After arriving two hours late to what he thought was a dinner — he stopped by his drug dealer and then the set of "Saturday Night Live" on the way to convince the hair department to give him a haircut — he opened the door to his friend's apartment and said he "immediately" knew it was an intervention.
"Do you know how bad of a drug problem you have to have if when you open a door and see people gathered, your first and immediate thought is, 'This is probably an intervention about my drug problem?'" he said. "There's no other reason people would be behind a door."
He quipped that though it had been infuriating the A-list stars at the intervention hadn't cracked a single joke the whole evening, he'd still been secretly a little excited to see everyone show up for him.
"As mad as I was when I walked in there, I was like 'This is a good lineup. This is really flattering in its own way," he said. "It was like a 'We Are The World' of alternative comedians over the age of 40."
Mulaney explained that comedian and former "SNL" star Pete Davidson was traveling at the time of the intervention but called him hours after he checked into rehab.
He said that during the call, Davidson said the public might think he had encouraged Mulaney's drug use, a concern Mulaney quickly refuted.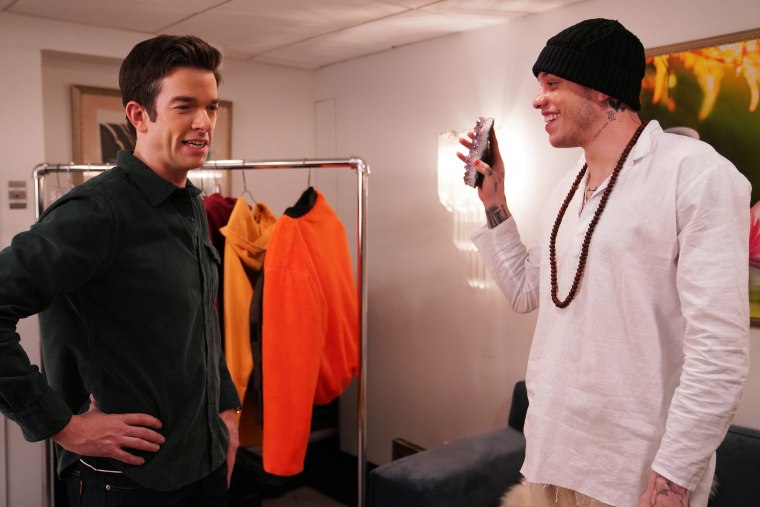 "Some people suggested that he and I did drugs together because he has tattoos and I am plain," Mulaney quipped. "We must be up to witchcraft!"
He then clarified that he'd never done drugs with Davidson.
Davidson did not respond to TODAY.com's request for comment.
Mulaney went on to say in his special that he's in a much better place now than the evening his friends helped him go to rehab.
The actor also welcomed his first child, a son named Malcom, with girlfriend Olivia Munn in December 2021.