We can see you, John Cena!
The "Ferdinand" actor and pro wrestler is a TODAY favorite — and on Sunday, he became an engaged man.
Getting down on one knee during WrestleMania 33, Cena asked his longtime love Nikki Bella to marry him ... and she didn't need a countdown to make a decision: She said yes!
RELATED: Nikki Bella and John Cena talk WrestleMania 33 (and… marriage??)
It's true that there's a lot of acting in wrestling, but we know it's the real deal: Cena used her non-stage name — Stephanie Nicole Garcia-Colace — in his proposal. (Cena's is John Felix Anthony Cena Jr.) Also, you can't fake that joy and those tears.
"I have been waiting so long to ask you this," he said, microphone in one hand and the ring box in the other. "Will you marry me?"
TODAY's Al Roker captured the moment on Instagram, promising that the couple would be visit the show on Monday.
The pair did indeed visit on Monday, and explained this is a proposal that's been long in the making — yet it still came as a surprise to Bella. "I never actually would have thought that he would have proposed in front of all those people, but that's home for us, WWE is our home, it's where we met, it's our passion, it's our life," she explained. "Honestly, I could not ask for it to be any other way."
This will be Cena's second marriage; he was married to high school sweetheart Elizabeth Huberdeau from 2009-12. It will also be a second union for Bella, who mentioned on "Total Divas" in 2014 that her quickie Las Vegas marriage when she was 20 to her own high school sweetheart was annulled three years later. Cena, 39, and Bella, 33, have been dating since 2012.
RELATED: Watch the trailer for John Cena's new animated movie 'Ferdinand'
Interestingly, in 2014 on "Total Divas" the pair discussed her first marriage and his lack of interest in getting married again or having kids. But when asked about those reservations on TODAY, it sounds like they figured things out.
"I found the absolute right person," said Cena when asked what changed his mind. "I found a strong person [who] I consider an inspiration, an equal, somebody who when I'm feeling down picks me up.... It took a person that strong to change my view on life."
Meanwhile, we were very impressed with the choice of engagement ring, too.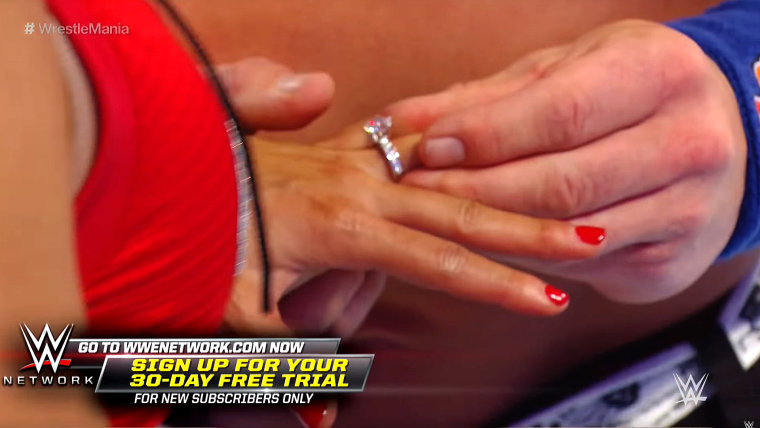 Bella's twin sister Brianna tweeted congrats shortly after the announcement:
While Cena himself also had a few words to share on Twitter:
Bella had a lovely collection of happy photos to share as well:
And, of course, everything was sealed with a kiss:
Congratulations! We're so glad you two finally pinned each other down. There's no date set yet, but as Bella told TODAY, "I'm ready to get this party started!"
Follow Randee Dawn on Twitter.