John Cena's newest film "Blockers" centers around a prom, but as we learned on "The Ellen DeGeneres Show" Thursday, the wrestler-turned-actor never actually went to the big dance himself!
As Cena revealed, he was in boarding school when prom rolled around so he decided to remain on campus to make extra money and miss his prom.
DeGeneres decided to put on her fairy godmother hat, and viola! She presented Cena with a prom.
With a little help from Cena's fiancée, Nikki Bella, that is. After all, he clearly needed a date.
DeGeneres had the stage all set, with a mirror ball, balloons, a punch bowl and lots of shiny decorations.
"I hate surprises, but this one I like," he admitted.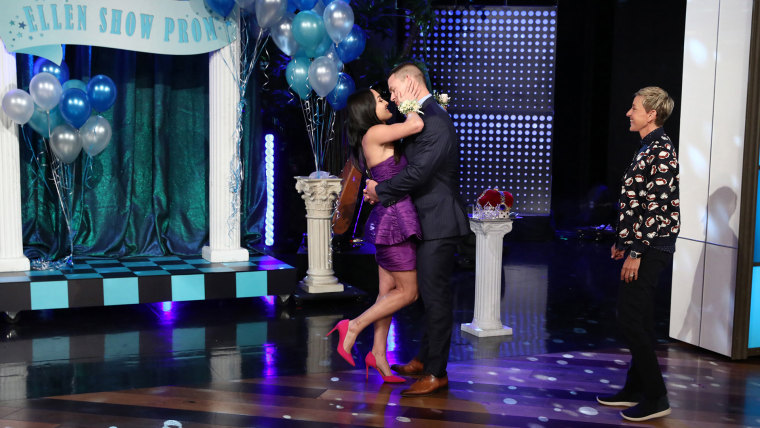 Afterward the pair slow danced like they'd never danced together before in their lives to the strains of the Commodores' "Three Times a Lady."
"We can't dance like this at our wedding," said Bella.
Cena and Bella got engaged in April 2017 at WrestleMania, with TODAY's Al Roker serving as guest announcer. They've had some ups and downs since, but the nuptials are still on.
So how do you round out a one-couple prom, with a fairy godmother hovering nearby? You spike the punch!
He may never have been to a prom, but Cena totally has the moves down!
Follow Randee Dawn on Twitter.