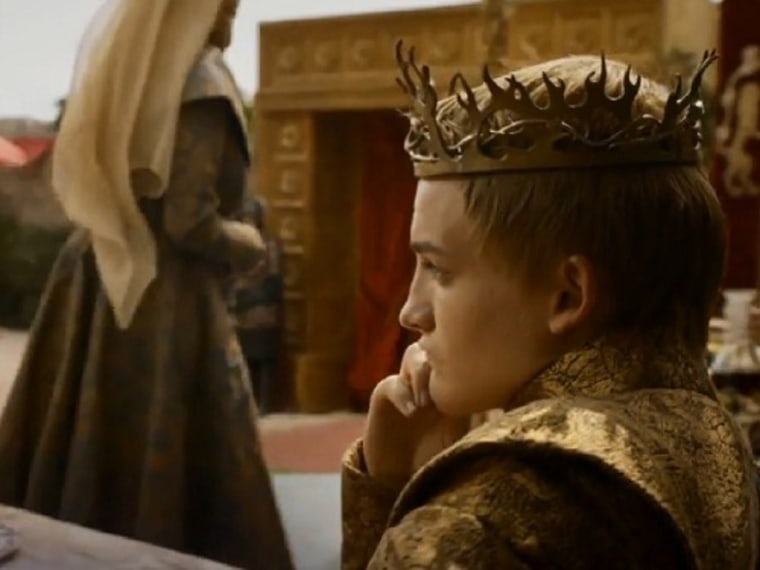 Don't blink! If you do, you might just miss the first look at season four of "Game of Thrones." After all, HBO released only a fleeting five seconds' worth of new scenes from Westeros as part of the network's year-end trailer.

Then again, it doesn't take much to renew excitement ahead the season's spring release, as the very first fresh image of a shackled Tyrion Lannister proves.
What could have everyone's favorite "half-man" all tied up? Well, it seems he's suspect No. 1 when it comes to the drama in the season opener. Readers of George R.R. Martin's "Song of Ice and Fire" novels already know what will get Tyrion in big trouble, but everyone else will have to wait — or read the books.
(The "GoT" action kicks off at the 1:37 mark.)
Then there's a quick cut of everyone's least favorite ruler, King Joffrey, as he pouts his way through pomp and circumstance. A look at Jamie Lannister reveals he's now sporting new haircut, hand and an interest in a no-doubt important big book. And a one-second shot of Sansa Stark shows a rarely seen smile.
See it all in the trailer, as well as scenes from other HBO dramas, including "Boardwalk Empire," and upcoming series premieres, such as Damon Lindelof's "The Leftovers." For more "Game of Thrones," catch the season premiere of season four in the spring of 2014 on HBO.