Whoa! Joey Lawrence is ready to bring "Blossom" back.
On Monday, the 41-year-old actor opened up to talk-show host Steve Harvey about how he and his former co-star Mayim Bialik are both "into" the idea of reviving the beloved 1990s sitcom.
"There has been serious talk about it, believe it or not," Lawrence told the host, adding that the two actors have chatted about it with the show's creator, Don Reo. "If there's a way in, we're all down for it."
The hit NBC show, which ran from 1990 to 1995, starred Bialik, 41, as Blossom Russo, a smart and spunky teen living with her divorced musician dad and two older brothers, including goofball jock Joey Russo (Lawrence), who immortalized the unforgettable catchphrase "Whoa!"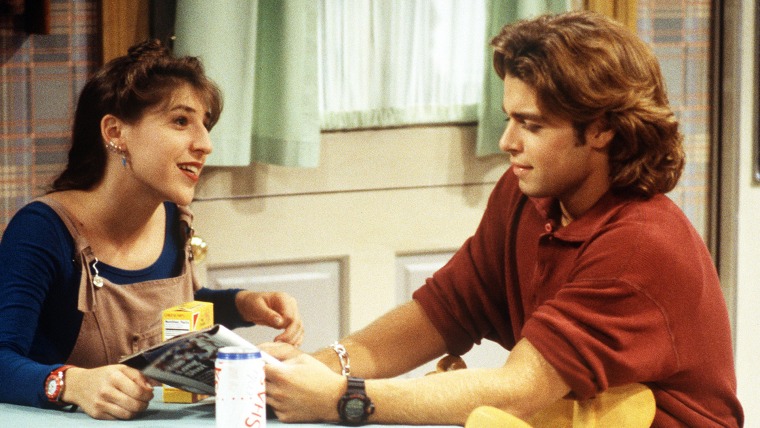 But where would Joey be now? Turns out, Lawrence has given it some thought. He believes Joey would have pursued a career in sports — and a lot of women.
"The show ended where he went off to play baseball. He was a really good baseball player," said the star. "So, I think he went and had a great career, probably got married several times — because he was always going on dates."
Lawrence says in a reboot, Joey could come home after a long period away to find out who he is now.
"Maybe his career is over, right? Mid- to late-30s. And, he's gotta find something else to do with his life," Lawrence said, before adding that air-headed Joey never had much to fall back on.
"His brain isn't firing on all cylinders," the actor said affectionately of his character.
In October, the show's cast members — including Jenna von Oy, who played Blossom's BFF Six, and Michael Stoyanov, who played Blossom and Joey's older brother Anthony — reunited for an Entertainment Weekly photo shoot.
And, just like the last time the "Blossom" gang gathered together in 2014, the show's fans went nuts.
Here's hoping we'll get a "Blossom" reboot soon!