Dun-dun! If you're wondering why Wednesday night's "Law & Order: SVU" was a standout in the series' long history, let's look at the evidence: a headline rip from "Making a Murderer," a guest appearance from "E.T.'s" Henry Thomas and ... oh, yeah, the vice president of the United States, Joe Biden.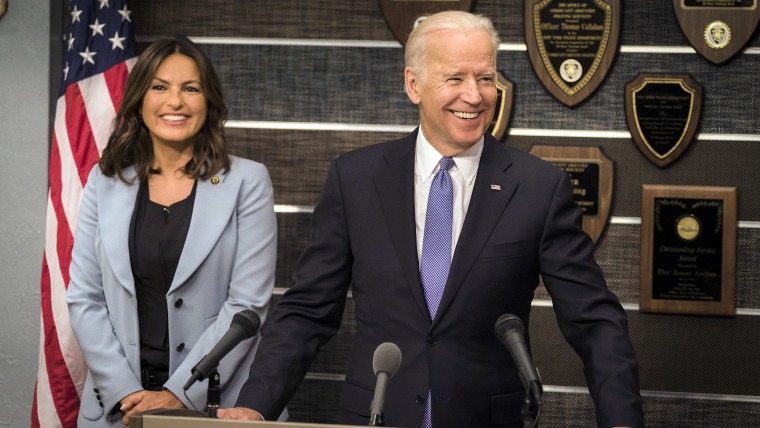 Biden played himself, standing alongside Mariska Hargitay (as Lt. Olivia Benson) to discuss the rape kit backlog in the U.S., which was an integral element of the night's episode.
During the show, the actress praised the veep for his appearance, calling him a "true hero" in a tweet.
MORE: Vice President Joe Biden, 'Law & Order: SVU's' Mariska Hargitay team for domestic violence PSAs
This wasn't the first time he and Hargitay have appeared together (though it was the first for the show).
In 2014, Biden and the Emmy-winning actress joined forces for public service announcements about domestic violence that aired during an "SVU" marathon.
But having him on the show was a whole new ballgame.
As "SVU" co-star Ice-T noted to TODAY during a recent roundtable discussion, having him Biden on set was "cool," but he was a little taken aback by the security detail.
"Have you ever been around them?" he asked. "Secret Service were here. They'd wipe [things], sweep down the whole place. We had to move a certain way, like when we left our dressing room, we couldn't go back. They blocked the back off ... it was the real vice president here!"
MORE: Joe Biden and Julia Louis-Dreyfus go rogue in madcap 'Veep' video
But back to the show: Naturally, the tweets were off the charts:
Which naturally led at least one fan to wonder — does Biden really have to leave the White House in January after all?
Well, even if he doesn't have an office in the West Wing next year, we know that Biden will always have a home on the "SVU" set.
Follow Randee Dawn on Twitter.