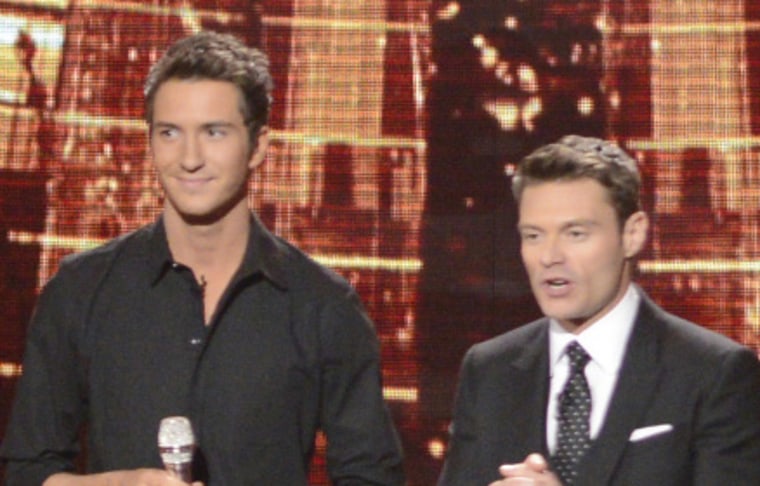 It was the best of times, it was the worst of times. "American Idol" finalist Paul Jolley's Tennessee hometown honored him with a proclamation, which Ryan Seacrest handed out on Thursday's results show. Perhaps the elected officials there are a lot smarter than most, because it turned out that their timing was impeccable.
Had they waited another week, it would have been too late.
Jolley was voted off the show soon after that announcement, joining Curtis Finch Jr. among the ousted "Idol" boys. With Devin Velez also among the bottom three, the odds of the guys extending their winning streak to six seasons look slim.
Then again, there's always Lazaro Arbos ... much to Jimmy Iovine's chagrin.
It's obvious that Lazaro isn't the "Idol" mentor's favorite. The "Idol" mentor always has something to say about the fan favorite who has a hard time saying anything at all, but sang earlier in the competition like someone with nothing but confidence. Nicki Minaj pleaded with Lazaro to just ignore Jimmy and go his own way, so the industry bigwig used some of his seemingly endless montage at the beginning of the show to note that Lazaro did not actually get the song at the last minute, that he needs to make better choices and work harder, and that he's secretly responsible for rising gas prices.
That latter point may not be true, but give Jimmy time. It might be on next week's agenda.
Does he have a point? Sure. Lazaro was bad on Wednesday and hasn't sung well in a month. He should have been sent home Thursday, and the fact that he wasn't even in the bottom three indicates that people like his personality or his backstory more than his performances.
That being said, excessive criticism of a fan favorite rarely does much to influence viewers to change their minds, so look for Jimmy to go the other way next week and say nothing but nice things to put Lazaro's fans at ease and get them to stop calling in. Or else the Interscope boss may take it to the next level and arrange for a trapdoor to swallow the young hopeful during his next performance. We'll see.
Whoa! An unpopular girl?
The men did manage to not finish with the three lowest vote totals for the second week in a row, as Burnell Taylor joined Lazaro in safety. That meant Amber Holcomb was a surprising selection to the bottom three. (Had Casey Abrams' Thursday guest number been up for vote, it might have edged her out for that slot.)
But perhaps her weak finish shouldn't have been a shock. Continuing the season-long A Girl Must Win theme, Thursday's show had footage of her struggling with both the production-related smoke and her lyrics. Nicki urged her to fight through any lack of comfort and not let that show in her performance.
Angie Miller also got dinged by Jimmy for being too dramatic, which appeared the day after her pre-performance video saw her proclaim herself as a former high-school theater geek. (What an amazing coincidence.)
But she was still safe, as were Kree Harrison, Candice Glover and Janelle Arthur. Jimmy had especially nice comments about the latter two, saying, "If there was ever a natural on 'American Idol,' Candice is that natural." He followed that by saying of Janelle, "Even though she dressed in white like a Greek goddess, she's my dark horse."
Odds are small he'll ever say those words to Lazaro.
Were you surprised by who was in the bottom three? Share your thoughts on our Facebook page.
Related content:
More in The Clicker: