Jimmy Fallon is a funny man. And, we suspect, he's a really great guy. What we didn't know until Tuesday night, though, is that he's also a terrific son-in-law.
Fallon took a few minutes during "The Tonight Show" Tuesday to tell the unique and thrilling story of his father-in-law, aviation executive and former U.S. Marine aviator William H. Juvonen, who in 1961 was forced to eject from his F-8C Crusader jet during a training exercise.
Juvonen survived in part thanks to his Martin-Baker ejection seat ... which made him eligible for an exclusive membership in the company's Tie Club. (Members get a special tie with a version of the Martin-Baker eject symbol on it, and Fallon wore that on Tuesday.)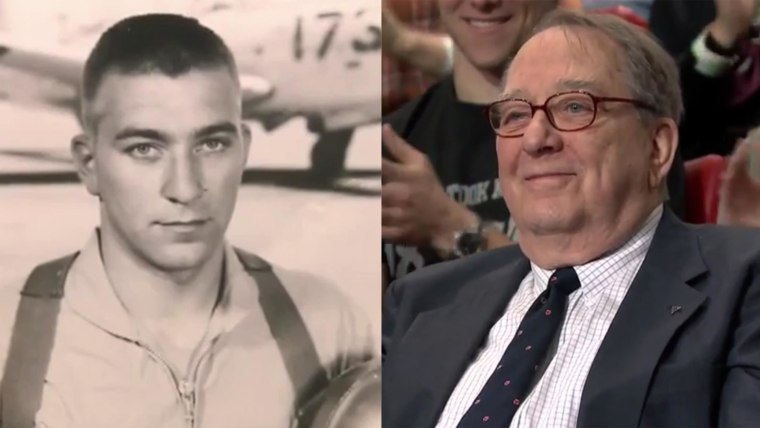 Fast forward to last summer, when Juvonen's son-in-law (who married his daughter Nancy in 2007) walked by a shop in London that had an ejector seat in the front window. Once inside the store, Fallon learned that it sold special watches, but only to members of the Tie Club. After confirming Juvonen's Tie Club number, Fallon was allowed to buy the special watch for his father-in-law — and held it up to the camera so the audience could see the red band that encircled the outer edges of the face.
But it wasn't just a great story: Fallon had a surprise up his sleeve. His father-in-law was in the audience, and after he finished speaking he bounded into the crowd to give the watch directly to Juvonen.
"Thank you for your service, and thank you for your daughter!" he laughed.
Awww. You really should see the whole video for yourself, so watch it and see!