We know you were just thinking: "If only there was a video out there of Mike Myers and Jimmy Fallon making up bizarre and hilarious dance moves, I would totally watch that."
You're welcome!
RELATED: Mike Myers brings back Dr. Evil in guest-filled 'Saturday Night Live'
It all happened on "The Tonight Show" Tuesday, as the two former "Saturday Night Live" players came together to (in theory) pitch a battle between Canada and the U.S. as they each threw an oversized, six-sided die covered in bizarre (as in fake) dance "moves."
Whatever they rolled, they had to dance.
And the feeling was electric! And deeply silly. Myers had to make up moves like "Hot Poutine" and "Perpetual Motion," while Fallon got busy with dances like "Windy Plastic Bag" and "The Which Pocket Did I Put My Keys In."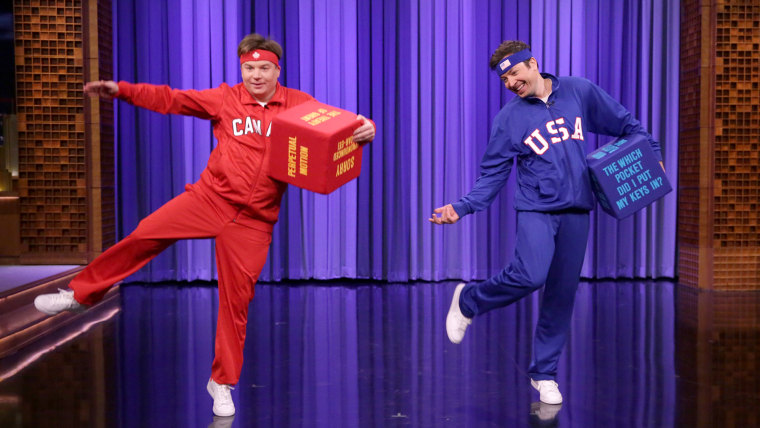 RELATED: Jimmy Fallon, Justin Timberlake do Beyonce's 'Single Ladies' dance at U.S. Open
These are dances that may have destroyed lesser men, but Fallon and Myers prevailed — even ultimately coming together at the end for "The Slip 'N Slide"!
There may be many things that divide us these days, but goofy dance moves endure. Thanks, guys!
Follow Randee Dawn on Twitter.