That awkward moment when you step down from hosting the most popular late night show — only to take it back months later?
Won't happen. This time, Jay Leno promised he's ready to hand over the reins to "The Tonight Show" for good.
"Of course. Yes, yes. Please. No problem," he told TODAY's Matt Lauer in an exclusive interview with both himself and the man who will replace him next month, Jimmy Fallon.
"I mean, this time, I was asked," Leno said. "The last time I was sort of told, 'This is what's happening.' If he wasn't here, would I still be here? Probably another year or so."
He also put some questions to rest.
"Of course I'll miss the show," he said. "You know, everybody thinks, 'Oh, are you going to do another late-night show?' No, I'm not."
Fallon will take over "The Tonight Show" from Leno on Feb. 17. Leno has hosted the program since 1992 (aside from a contentious and much-publicized seven-month stint by Conan O'Brien) and kept it at the ratings top spot for most of his tenure.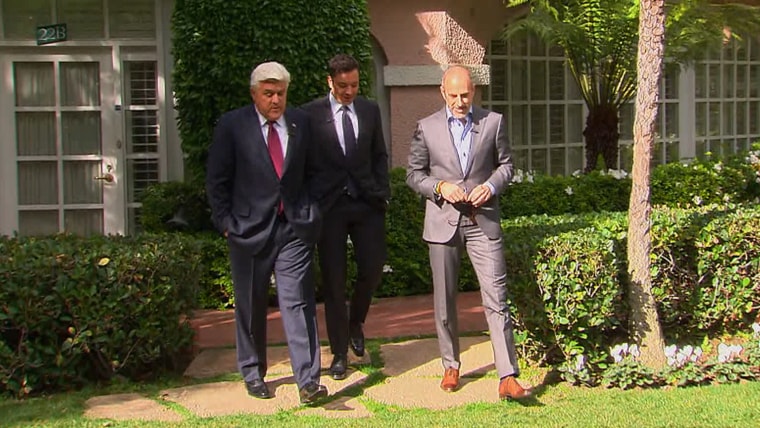 Leno said Fallon shares many of the talents and traits of their predecessor, the legendary Johnny Carson.
"I admire his professionalism, and his ability to do comedy is really good," Leno said. The first time he realized the depth of Fallon's comedic gifts was when he saw him do a Neil Young impersonation.
"I think he's probably the closest to Johnny of anybody else in late night," Leno said. "When I watch him do, you know, a duet with Justin Timberlake or something of that nature I go, 'Well, I can't do that. I mean, I write jokes.'"
For his part, Fallon said Leno's support and guidance have been instrumental.
"Obviously I look up to Jay, and so we talk every couple weeks or something like that," he said. "I just love his attention to detail and how he roots for me all throughout late night. You know, whatever — he'll give advice if I ask advice, or he'll say, 'I saw that one piece, that was great.'"
Fallon called Leno "one of the best comedians out there," but it has been his own comedic, and frequently musical, sketches from his "Late Night" show that have made him a popular entertainer since he left "Saturday Night Live" to host the post-midnight program.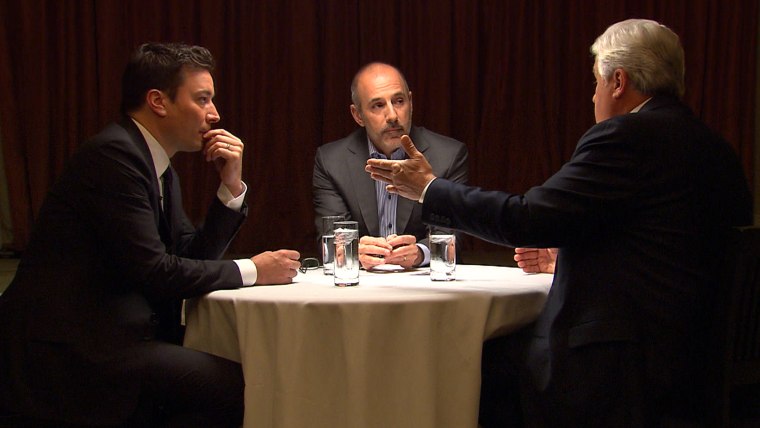 Fallon said he's not sure how different he'll feel in his new, earlier time slot.
"Remember when I talked to you, I said, 'I'm loving it, my job at 12:37 or whenever they air my show.' And I go, 'It's great. No one bothers me,'" he told Lauer. "I'm on, I'm doing our show, but it's almost like no one knows I'm doing it. It's just great."
But he knows there will be more pressure to succeed with more viewers at stake.
"With this one, I feel like there's more eyeballs," he said.
Despite intense network competition among late-night television shows, Fallon said he doesn't feel any additional pressure.
"I don't think for me … there's never anything tense," he said, prompting a sarcastic coughing fit from Leno.
"Tense? Ridiculous," Leno said.
An earnest Fallon replied: "Really? I mean, maybe I have a lot to learn."
Asked by Lauer what advice they would give each other, Leno told Fallon to stay true to himself.
"I would say don't do any joke you don't really believe in," he said. "I would say never put your personal opinion ahead of the joke. Johnny never did that."
Fallon said he just wants to do good: "I'd say, Dear Jay, I hope I make you proud."