Tina Fey is smart, charming, savvy and very, very funny. And as Jimmy Fallon noted on "The Tonight Show" Thursday, he considers her a role model for his own daughters.
"I have two daughters and my hope for them is that they grow up to be leaders like you," he told Fey, who was a guest on the show, "and that they'll be as fearless and confident in their strengths as you are."
Fallon's enthusiasm for his former "Saturday Night Live" co-star began with a delightful prerecorded video in which fans attending the "Mean Girls" Broadway musical — which Fey wrote — spoke from the heart about their heroine, who was listening in.
It's a surprisingly moving recurring sketch on "Tonight"; you may recall how in March Chadwick Boseman hid behind a curtain while his fans recalled how much "Black Panther" meant to them.
But after the video was over, one more fan wanted to be heard — Fallon himself. The "Tonight Show" host and Fey, 47, appeared on "SNL" for seven years together, and shared "Weekend Update" co-hosting duties for a time. But clearly, Fallon, 43, considers her more than a co-worker.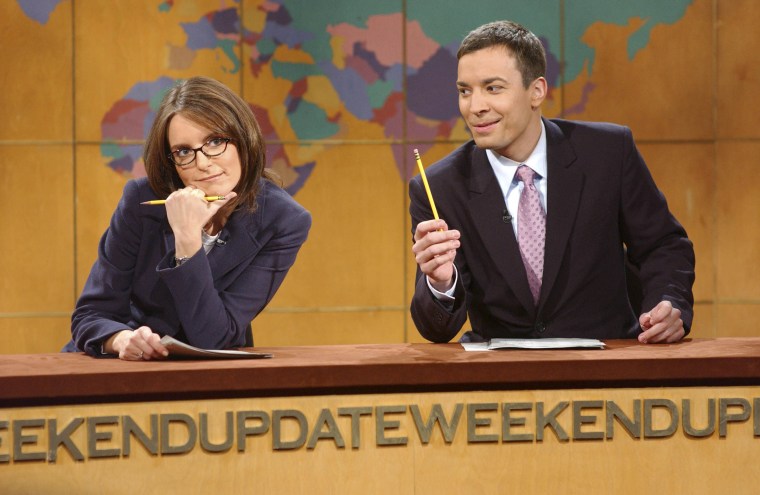 Fallon rose from his "Tonight" desk, where he and Fey had watched the video, and stood in front of a poster for "Mean Girls." (He begins speaking around the five-minute mark in the video.)
It was surprisingly emotional! "I'll just take a breath," he said, all choked up, adding, "I'm on hormone pills."
He continued, "If you're lucky throughout your life, you get to meet and spend time with a few people who really change you for the better. For me, you're one of those people."
He continued, "I was lucky enough to work with you and grow with you and learn from you. A lot of people in this world have dreams or goals or ideas, but not everybody goes out and fights to make them happen but you're someone who did. You didn't get served this, you didn't get given this as a gift. I know firsthand, you worked so hard and found a voice and found your way, and you made your own dreams come true, and most importantly even now you're making other people feel like they can do the same thing."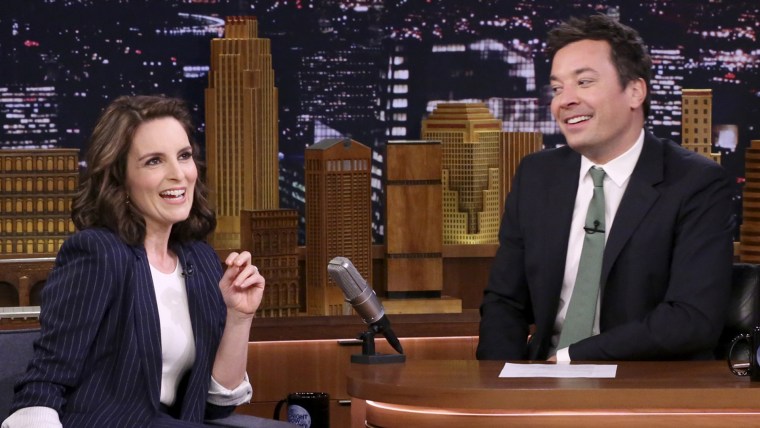 He then noted he hoped his daughters would be as inspired by her as he is, and ended by saying, "I love you."
We do, too!
Follow Randee Dawn on Twitter.