The world has another day left to enjoy the 30-plus-year reign of David Letterman on late night television, but "Tonight Show" host Jimmy Fallon is feeling the loss already.
Monday night, he spent a few emotional moments on his show to pay tribute to Letterman, noting, "I, like every kid who grew up watching him, will miss him."
Letterman's late night presence, first at "Late Night" on NBC and then at "Late Show" on CBS, was a given said Fallon.
"He's always just there when you need him," he said. "I remember after 9/11, we needed somebody. The city was in shock. We're all looking for answers. We wanted to see what Dave had to say, and we looked at him to say something."
He also pulled out a picture from his 8th grade yearbook (with a totally adorable photo of young Fallon posing near a computer) and pointed out a prediction his teacher had made that was printed in it: "James Fallon will replace Letterman on the 'Late Night' show."
"I want to go to the racetrack with that teacher," said Fallon, who did take over "Late Night" in 2009, when Conan O'Brien vacated the slot.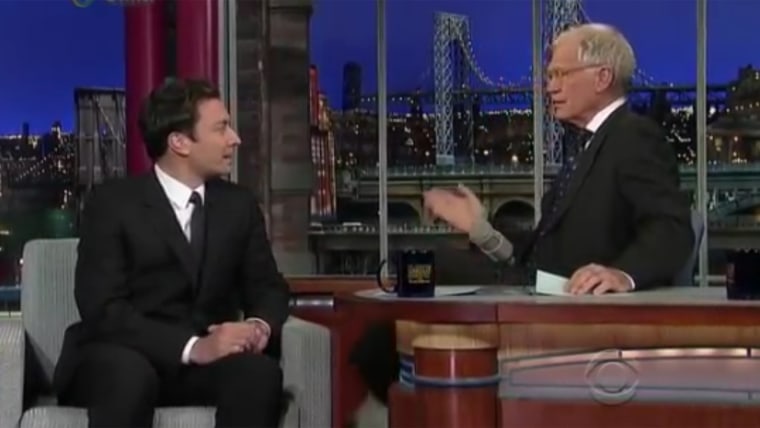 This isn't the first time Fallon referred to Letterman on his show. In April 2014, not long after the "Late Show" host announced his retirement, Fallon borrowed a bit from his peer's repertoire and created a Top 10 List of why Letterman was moving on. (No. 1: "Jimmy Fallon is stealing his bits.")
Fallon added, "He said ... 'There is only one requirement for any of us and that is to be courageous, because courage, as you might know, defines all other human behavior.' ... We needed that [after 9/11]. David Letterman is courageous. Have a nice retirement, Dave."
Letterman's last night on late night will be on May 20 on CBS. "The Tonight Show Starring Jimmy Fallon" airs weeknights on NBC at 11:35 p.m.