To honor Fleet Week on Wednesday, Jimmy Fallon welcomed U.S. troops to "The Tonight Show" the only way he knew how — a sweet, uncanny and hilarious duet with actor Adam Sandler.
Before either could even sing a word, the servicemen and women in the crowd were on their feet cheering.
The duo's song, "Friends on All Bases," was a take off of "Friends in Low Places" by country star Garth Brooks.
"Well I'll tell you the truth. I love all the troops. Protecting the land, sea and air," Fallon started, adopting a country twang.
Sandler then chimed in, "Now you're back in town, keeping us safe and sound from that crazy ass Elmo in Times Square."
RELATED: Melissa McCarthy blows Jimmy Fallon away in 'Tonight Show' lip-sync battle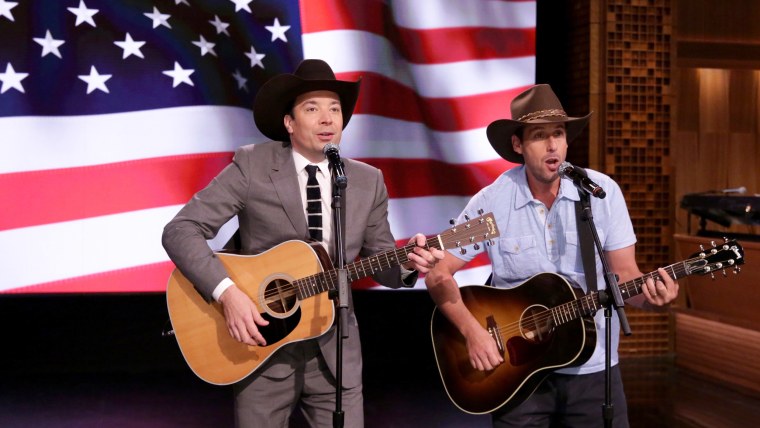 "I'm not going to lie, I love seeing you guys in my audience every day," Fallon continued.
And, as we know, it wouldn't be an Adam Sandler song without a bit of crude humor.
RELATED: Jimmy Fallon, Billy Joel give an epic performance of Rolling Stones' 'Beast of Burden'
"And when the show's through, just one thing left to do — go out to the bars and get laid!"
Jokes aside, Fallon was sincere when he dedicated the song "to those who serve us day and night," and together, the two finished out the song by celebrating all their military pals.