In the new sci-fi film "Linoleum," out Feb. 24, Jim Gaffigan plays a fading TV host obsessed with becoming an astronaut in a performance that's already generating buzz among audiences and critics.
Gaffigan said that he accepted the role after reading the script while on lockdown during COVID. "I just wanted to get out of the house," he joked during a segment on the 3rd Hour of TODAY.
All kidding aside, the "Beyond the Pale" comedian says the role provided the opportunity to stretch his acting chops. "I kind of enjoy the math of acting," he tells TODAY.com in a sit-down interview. "It's really rewarding, acting-wise, to find the character within yourself."
Best viewed on the big screen, he says that "Linoleum," at its core, is a love story and will likely "get to people," especially in its final minutes and (without revealing spoilers), might even prove to be a "crier" for some.
"It's a dramedy, but it has a larger point that's not cynical," he explains. "Which is really kind of amazing."
Along with playing two different characters in "Linoleum," Gaffigan says there were other challenges in making the film ... not the least of which was shooting movie in the midst of a global pandemic.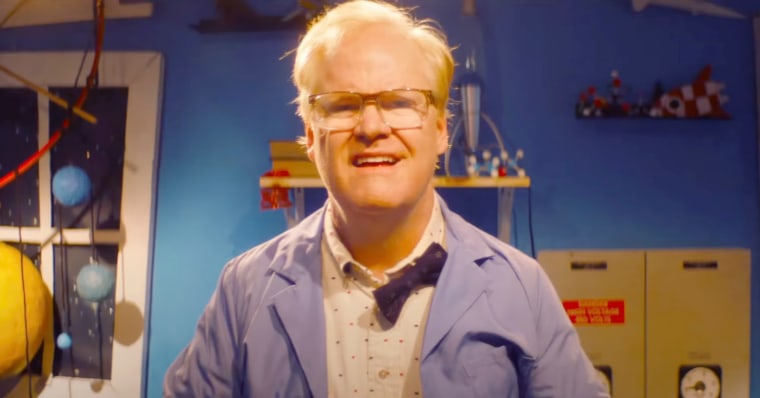 "There wasn't an expectation that it would definitely be finished," he says. In fact, the movie, written and directed by Colin West and also starring Rhea Seehorn ("Better Call Saul"), was at risk of shuttering due to COVID before they could complete it.
"With an indie film, if you're in production and it has to shut down, it might stop altogether because you just don't have enough money," Gaffigan explains.
The other challenge? Working with two of his sons, Michael, 11, and Patrick, 10, which the "Beyond the Pale" comedian says was fun but also added a certain degree of pressure.
"There's always a moment of, 'Why did I subject myself to this?'" he says. "If it's someone else's kid you're like, 'Well, that kid's being rude.' But if it's your kid, you're like, 'Be polite!"
Behind the scenes of the latest movies
Raising kids is 'terrifying'
As a father of five, Gaffigan is no stranger to managing kids. In addition to Michael and Patrick, his brood includes daughters Marre, 18, and Katie, 13, and son Jack, 16.
Raising them in a New York City apartment with Jeannie Gaffigan, his wife and writing partner, has often been fodder for the comic's stand up routines.
But Gaffigan says at times, parenting is nothing short of "terrifying."
"It's wonderful and really, really hard," he says. "What no one tells you is that when they get older, it gets so much harder. It's just a different type of hard."
Now that he's a dad, he has flashbacks of his adolescent years and, like most teens, remembers thinking his parents were clueless.
"You view your parents as these people who don't know what they're doing, they have nothing to offer, they're a burden in my life, really," he says.
Of course, now that he is a parent, he's got a whole new perspective and says that it's a challenge to share what he's learned about life to his kids who've yet to experience it.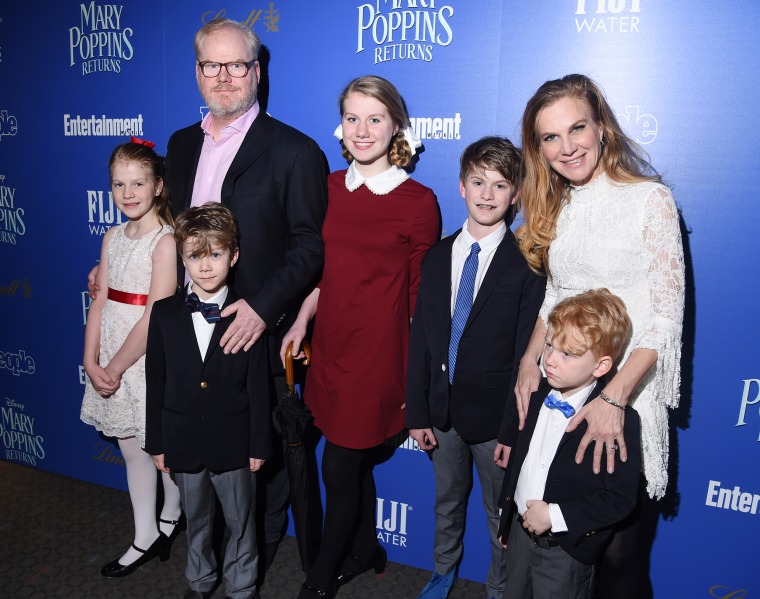 "The frustrating thing is being able to communicate some of the things that I might have learned in a way where they might hear it," the actor says.
He also thinks that the COVID pandemic has left its mark on not only his kids, but children in general, calling it "really, really devastating," particularly for teens.
"There's a lot of problems that they deal with that other generations didn't necessarily have to deal with," he says and cites social media and a culture that he sees as increasingly embracing superficiality over substance.
"It's so much easier to exist (now) with no empathy, virtually, so people can say nasty things and they don't see the reflection on someone's face or how they're processing it," says Gaffigan.
The best part of parenting, however, is seeing his kids discover what they're passionate about, he says.
"I know that it sounds corny, but as an adult you recognize how valuable it is to have something to be passionate about, to pour your energy into," Gaffigan explains. "That's the guaranteed layup for me, knowing that they have a passion so they're not going to be lost."
He compares auditioning to stripping
Along with the release of "Linoleum," Gaffigan is preparing to head back out on the road with his standup comedy tour "Dark Pale," a global venture that has him performing in venues from Hong Kong to Paris.
"This is my 10th hour," he says. "So there's the creating and rewriting and filling in the holes of developing the material."
While the comedian says that standup is very creative and rewarding, it's also a delicate balance maintaining the demands of his career and the desire to spend time with his family.
"You have to travel to do (comedy), if I do too much, then I'm missing out on other things. But when I do standup in the city, I can have dinner with my kids, which I think is a luxury for parents," he says.
Between acting and comedy, is there one he prefers over the other?
"I love doing both of them," Gaffigan says. "Comedy is kind of relieving tension and then drama is kind of sitting in it. And so both of them are really gratifying."
Auditioning, however, he could probably do without. "Auditioning is stripping, but you don't get the dollar bill," Gaffigan jokes.