/ Source: The Associated Press
In 1975, uber-producer Aaron Spelling came up with an outrageous idea — a TV show about three female detectives.
Back then, women didn't have leading roles in hour-long series and they certainly didn't run around without bras.
"Charlie's Angels" changed all that, introducing a spellbound nation to "jiggle television" through a beautiful blond named Farrah Fawcett-Majors. Her rise to superstardom in a pre-Internet and cable world is shown in "Behind the Camera: The Unauthorized Story of 'Charlie's Angels"' airing Monday on NBC at 9 p.m. EST.
Unknown actors play Fawcett-Majors, Kate Jackson and Jaclyn Smith. Dan Castellaneta, the voice of Homer Simpson, is Spelling. Wallace Langham ("CSI") reprises the role of manager Jay Bernstein that he played in last year's hit NBC movie about the backstage goings-on at "Three's Company."
The movie is based on the "Charlie's Angels Casebook" by David Hofstede and Jack Condon, who owns more than 8,000 items associated with the series and its stars.
Castellaneta narrates the movie as Spelling, starting with his pitch to ABC executives Michael Eisner and Barry Diller, who went on to more powerful gigs in Hollywood.
'One of the worst ideas I've ever heard'
On the "making of" show, Eisner tells Spelling that his pitch has to be "one of the worst ideas I've ever heard," and Diller claims no one would ever watch it.
Undeterred, Spelling got Jackson on board first, having worked with her in the ABC series "The Rookies." Fawcett-Majors and Smith were shampoo commercial veterans who had hardly acted.
During the pitch process, Eisner leaves ABC and is replaced by Fred Silverman (played in blustery fashion by Dan Lauria of "The Wonder Years"), who approves shooting the pilot. Spelling likes Jackson's suggestions: Call the trio angels instead of alley cats, and have them take orders over a squawk box from a never-seen boss.
Castellaneta had never before played a character who is still alive, nor did he speak to Spelling, so he wasn't concerned about looking or sounding like the wizened, white-haired producer.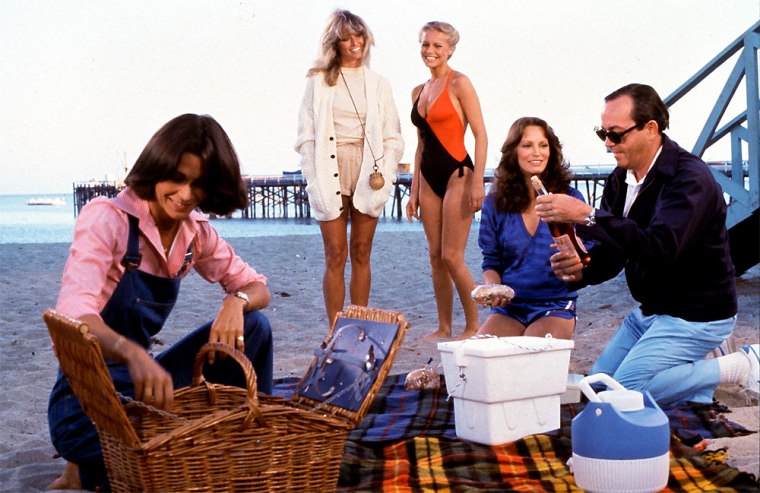 "I had to figure out what his relationship was with the angels and the network people," Castellaneta said. "He was like the man in the middle because he had to please the actresses and at the same time the network. He was an actor so he had sympathy for what actors go through. He also was a writer. He had a wide range of experience to be sympathetic."
Spelling's fatherly vibe helped when Smith, whose father was a Methodist minister, pitched a fit about her skimpy white bikini. He soothed her, saying on Monday's show, "We want our viewers riveted."
Were they ever. More than half of America's TV sets tuned in on March 21, 1976, the biggest numbers at the time for an ABC pilot. Critics weren't kind, slamming the show for its jiggle factor and vapid acting.
Castellaneta was in college during the series' run and watched it once.
"I thought, 'This is so bad it's funny,' and subsequently learned it was an intentional notion," he said.
Tricia Helfer (Sci-Fi Channel's "Battlestar Galactica") closely resembles Fawcett-Majors. She never watched the show either, having grown up without a television on her family's Canadian farm.
Opening doors with jiggle TV"It's funny it was called jiggle TV," she said. "It was fun and campy. It really opened doors for women as being able to be characters and draw an audience. Now there's so many female shows."
Farrah mania took off, fueled by her manager Bernstein's idea for a swimsuit poster. Her long, feathered hairstyle swept the nation and Bernstein fielded offers for everything from Farrah dolls to faucet necklaces.
"I was using Farrah as a role model. Women wanted to be her and men wanted to marry her, not just sleep with her," he said in an interview.
After the show's first season, Fawcett-Majors succumbed to the pressure of superstardom and husband Lee Majors' demands. He wanted her home nightly to cook dinner.
"He's a very old-fashioned person, which I respect, but it put me in a really tough position," Bernstein said.
Bernstein announced Fawcett-Majors wouldn't be back for the second season, triggering a lawsuit and hard feelings between Bernstein, Spelling and ABC.
Eventually, it was settled in a courthouse restroom, when Bernstein offered a deal for Fawcett-Majors to make limited guest appearances over the next two seasons. Cheryl Ladd replaced her on "Charlie's Angels," and Fawcett and Majors divorced.
"I've been a villain since that time," Bernstein said. "ABC has refused to work with me since those days over 25 years ago. The same with several other places. I've lost millions and millions of dollars since then."
Bernstein is unhappy with the movie's final scene showing a paunchy, Hawaiian-shirted version of him on Hollywood Boulevard hustling a blonde in his search for the next Farrah. He has threatened legal action if the scene isn't removed, saying it impugns his character and harms his ability to make deals.
He served as a paid consultant on the movie.