Jessica Simpson is headed to "The Oprah Winfrey Show" soon and there's talk that she might be discussing some of the phenomenally inappropriate comments John Mayer directed toward her in his recent Playboy interview.
After talking to people behind the scenes at Harpo and inside the Simpson camp, it's clear that Mayer is not the reason she's headed to Oprah, but queries relating to her ex aren't off the table.
Simpson's rep confirmed that the appearance is pegged to her new VH1 docuseries, "The Price of Beauty," and as for whether she'll talk about being Mayer's "sexual napalm," it sounds like it isn't off the table.
"I have no idea what questions she will ask," said the rep.
Folks at Harpo haven't yet confirmed an air date for the show, but expect it in the coming weeks. Simpson's eight-part docuseries premieres March 15.
'Private Practice' star, son in HBO movie?HBO is developing a movie about the Duke lacrosse scandal in which three of the team's players were accused of charges that included rape, first-degree sexual offense and kidnapping before their cases were ultimately dismissed. Casting hasn't begun, but there are rumors real-life father and son pair Tim and Sam Daly could be cast in the roles of Duke lacrosse player Collin Finnerty and his father, Kevin.
Tim is currently on "Private Practice," and Sam has a recurring role on "The Office." In 2007 HBO acquired the rights to the book based on the case, "Until Proven Innocent." No official filming date has been announced.
Inside look at season 3 of 'The Little Couple'TLC confirmed that its hit show about Dr. Jen Arnold and her husband, Bill Klein, is coming back for a third season. To celebrate the occasion and Tuesday's season two finale of the show, the couple got on the phone with me to talk to me about what goes on behind the scenes.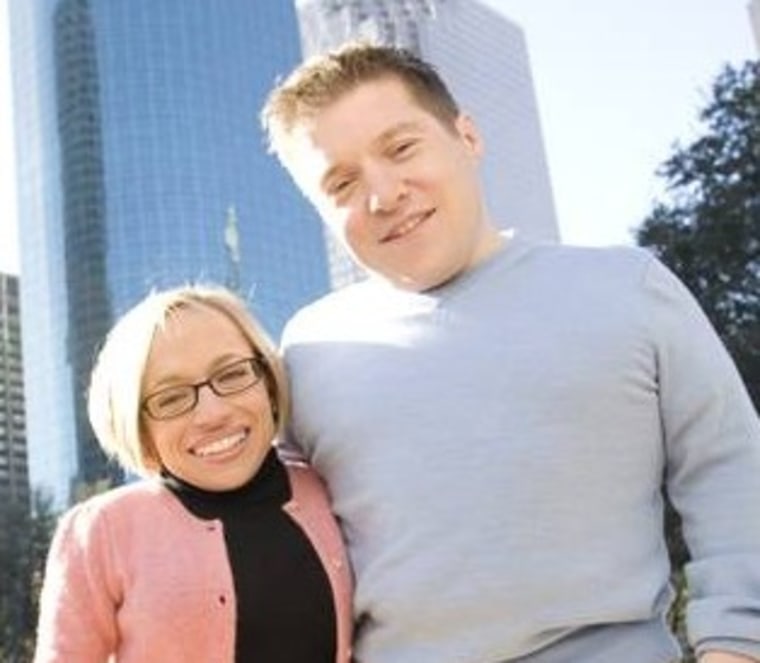 In season three, they'll continue looking into adoption and surrogacy after season two leaves off with the couple considering both options, with Arnold hinting they might be leaning in one direction over the other.
"We're going to be more aggressive about one than the other," said Arnold, without revealing just which way she and Klein are leaning. "We can't guarantee that we'll have a successful surrogacy and we don't know about adoption. We're just hoping for at least one to work out."
A significant amount of show footage comes from inside Texas Children's Hospital, where Arnold is a neonatologist (in fact, Arnold was phoning in between patients when this interview took place). She said that her only regret on the show is not being able to go into enough detail about the plight of the premature babies she treats.
"When I talk about patients at the hospital, (the show's producers) are trying to ask questions, but I'm really still focusing on the patient and then my priority is explaining what's happening. Sometimes I wish had more time to explain — I have this opportunity to educate people. Not only about challenges that little people face but about having a sick child in the hospital. I am happy to have that opportunity and I stress about the ability to do it justice. There's so much to learn when you get to see the human and the medical side of things," Arnold said.
Jake Johnson and Damon Wayans Jr. on the "Let's Be Cops," red carpet, Selena Gomez is immortalized in wax and more.
The public response to Klein and Arnold is about as positive as you'll ever see for a reality TV couple — there's nothing diva or high maintenance about them. And it's no surprise: It barely registers that they're on TV.
"You forget about the camera after a while," Klein said. "In fact once you realize (it's there), you're doing this boring thing — like just cooking dinner and you wonder, 'How is this going to work out?' "
Arnold isn't much different: "I pretty much ignore it (the cameras) for the most part but I'm a little bit more self conscious. Like I think after, 'I should have put on lipstick or mascara maybe.' "
Courtney Hazlett delivers the Scoop Monday through Friday on msnbc.com. Follow Scoop on Twitter @courtneyatmsnbc