Jessica Chastain is a two-time Oscar nominee who has a chance to receive another nod for her role as a powerful Washington lobbyist in her latest film, "Miss Sloane." While an Academy Award win would be nice, it's not what she strives for.
"I don't live my life going, 'Oh, God, I need this … thing,'" she told Sunday TODAY's Willie Geist. "It's a wonderful thing but if you live your life hoping for a result, then you're not really ever being in the moment."
Chastain has set certain goals for herself in her career, and they don't include trophies.
RELATED: Jessica Chastain's women-run production company will 'celebrate' silenced voices
"When I take on a movie, I go, 'What am I going to learn from this? Who am I working with? How am I leaving this set being a better person than I was when I arrived?'" she explained.
But if she does win an Oscar, she'll accept, right?
"Yeah! And my grandma will be there!" she laughed.
Chastain has brought her grandmother as her date to the Oscars in the past. Her grandmother made "so many sacrifices in her life to help me, and to watch the [Oscar] experience through her eyes, it was very emotional for me," the actress said.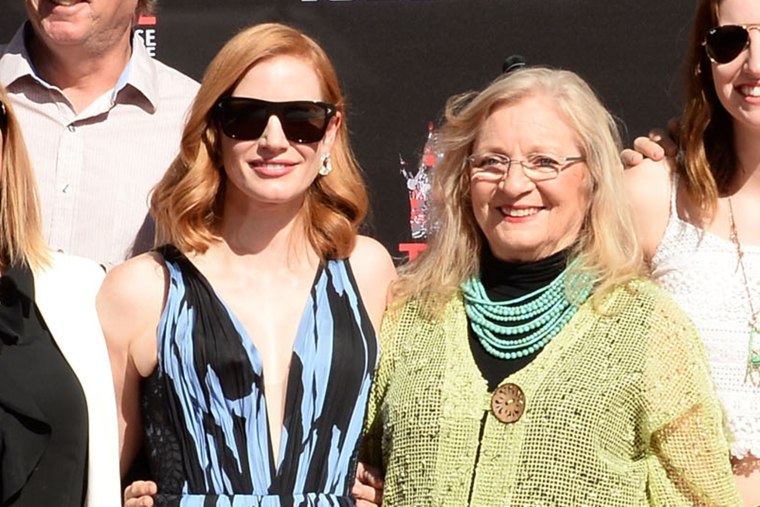 You can trace Chastain's success back to her childhood, when she decided at the age of 9 she wanted to become an actress. She eventually became president of her high school drama club and a self-proclaimed "theater nerd."
Chastain loved the theater so much, in fact, that it was her main focus. She didn't attend many football games and, she said, she didn't go to the prom.
"No one asked me," she revealed.
Hard to believe! Needless to say, it was a very minor blip on her way to stardom. She's appeared in such hit films as "The Help," "Zero Dark Thirty" and "Interstellar."
RELATED: Bryce Dallas Howard or Jessica Chastain? Stars clear up confusion in song
Chastain said she's "shocked" by how far she's come since her Julliard days.
"I can't begin to fathom it," she added.
Watch the videos for more from Jessica Chastain, including how Al Pacino helped her land a big film role and how she's become a leading voice on equal pay for women in Hollywood.
Follow Shane Lou on Twitter.