It was just revealed that the hit TV show "Modern Family" has been renewed for two more seasons and no one is more excited about it than the cast. Jesse Tyler Ferguson opened up to TODAY just after the news broke, revealing that he's "thrilled" to spend more time with his on-set family.
"We were all hoping for at least a year renewal so to know that we have two more years to live with these characters and to be a part of the show that we all love so much is huge for us," he said. "It's really exciting."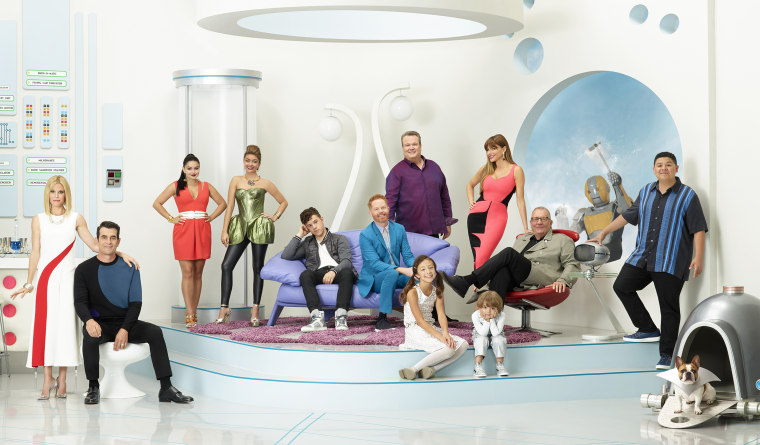 More than just colleagues, the cast — which includes Julie Bowen, Ariel Winter, Sarah Hyland, Ed O'Neill and other stars — are friends behind the scenes too.
"We all really do love each other," said Ferguson. "With any family, there are obviously dynamics and disagreements, but we all care about each other so much. We love working with one another and I do feel like the relationships that I have on TV sort of bleed into my real life."
In fact, O'Neill, who plays Ferguson's father on the show, actually takes on a paternal role in real life too. "Ed O'Neill is very much a father figure to me," added Ferguson. "He will send me random emails in the middle of the night checking in on me, or wants me to know what he is doing. It's just like my dad would do. He will send me texts I can barely decipher because he is not the best texter. It's great."
And if you follow Ferguson on social media you'll know that he loves to keep his family and friends close by, entertaining them at home. "It's all about putting family first and I love putting on dinner parties and cooking for my family and friends," he said. "A few nights ago, I had a book club with some friends and you will see lots of photos of me having parties or just cooking dinner for my husband. It's very important to me. I find it very relaxing and a great way for me to wind down."
Ferguson loves food and entertaining so much, he's actually considering pursuing it professionally.
"I think eventually a cookbook would be a really fun idea," he told us while promoting his partnership with Pepcid, which encourages people to be adventurous eaters without fear of heartburn. "I think opening up a restaurant seems a bit daunting, but maybe I'd have some sort of a cooking show. I would love to do something that hasn't been done and I don't know quite what that is yet."
Meanwhile, the 41-year-old is looking forward to celebrating his three-year wedding anniversary with Justin Mikita, likely with a nice meal. "We might go on a little bit of a trip," Ferguson said. "Last year, I was in the middle of doing a play, so I think we were actually away from each other. So, I think this year we will definitely try to do something together, whether that means going out to a really great dinner or going out on a trip somewhere."
And though they both have busy schedules that can keep them apart, Ferguson said it's their differences that actually make them closer.
"I am very lucky that Justin is not in the business, so it leaves a lot of stuff for us to talk about," he said. "It's been a very easy four years together. I haven't felt like it has been work to try and maintain a relationship."
But, do they share the love of cooking? "Justin does nothing in the kitchen," Ferguson joked. "That includes the dishes."
RELATED:
'Modern Family's' Ariel Winter defends wearing glam minidress to casual event