/ Source: TODAY Contributor
While taking a break from starring as Mitchell Pritchett on ABC's "Modern Family," Jesse Tyler Ferguson became the face of Purina's ONE Difference campaign, which advocates for the adoption and care of shelter dogs. In early August, the actor and his husband, lawyer Justin Mikita, adopted Fennel, a Maltese-poodle puppy to go along with their other pooch, 5-year-old Maltese-Yorkie Leaf.
TODAY.com caught up with Ferguson on a day off from filming the sitcom's upcoming seventh season to talk about his dogs, his real and onscreen husbands, and his feelings on when the show might end.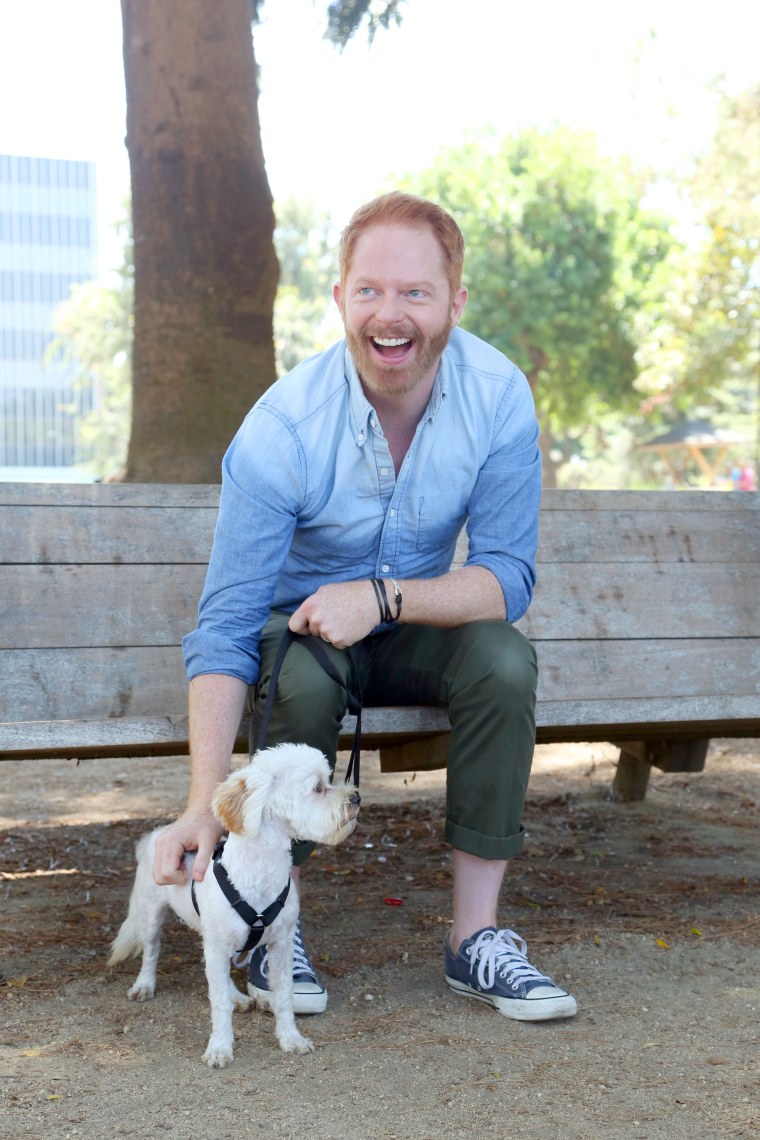 How are Fennel and Leaf getting along these days?
Oh, they're great. They really like each other. We let Leaf be a part of the process and he was kind of the one to dictate which dog we chose. It was very clear that he and Fennel were going to be the most compatible. They love each other. We kept calling it "doggie auditions." We met with a few dogs and brought them over to the house, and let Leaf interact with them on our front lawn.
The minute Fennel got out of the arms of the woman who brought him over, they just started running around our kitchen table like maniacs, like Tasmanian devils. Then we brought them out to the front and it was just nonstop playing for basically 40 minutes. You could tell, as sweet as the other dogs were, Leaf was sort of always looking for Fennel.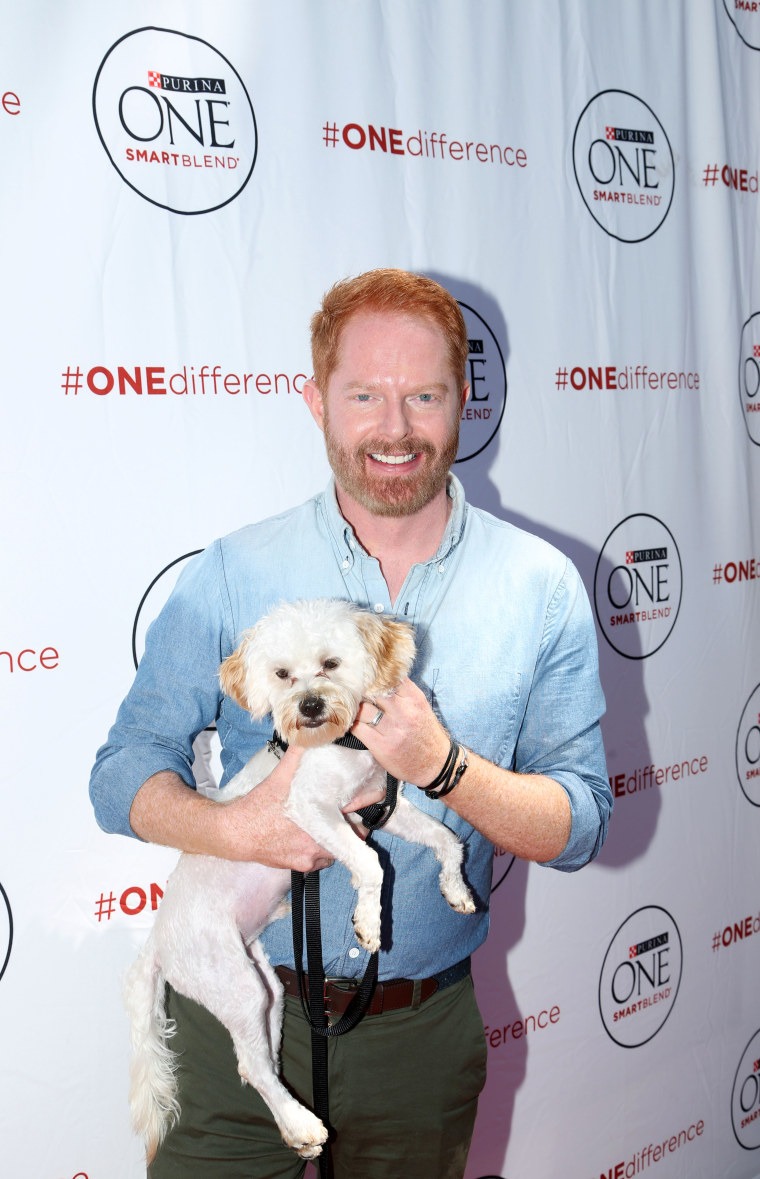 What advice would you give for people who have certain special needs for their pets and are hesitant about going the shelter route?
First of all, I think a common misconception is that dogs are in shelters have something wrong with them, some sort of behavioral problems or health issue, and that's really not the case. Dogs end up in shelters for so many reasons: They've been in a home where their owners have died or they're put in the hands of someone who just can't take care of them or maybe there's another dog in the house they didn't get along with.
What I found when I was visiting the shelters is that all the dogs want is to show love and to find their forever home. They truly know that they're being rescued and being given a second chance, and it's hard to turn your back on that amount of unconditional love. There is something to fit everyone's needs. We specifically needed a dog that was hypoallergenic because Justin has allergies, and a smaller dog because of Leaf's breed.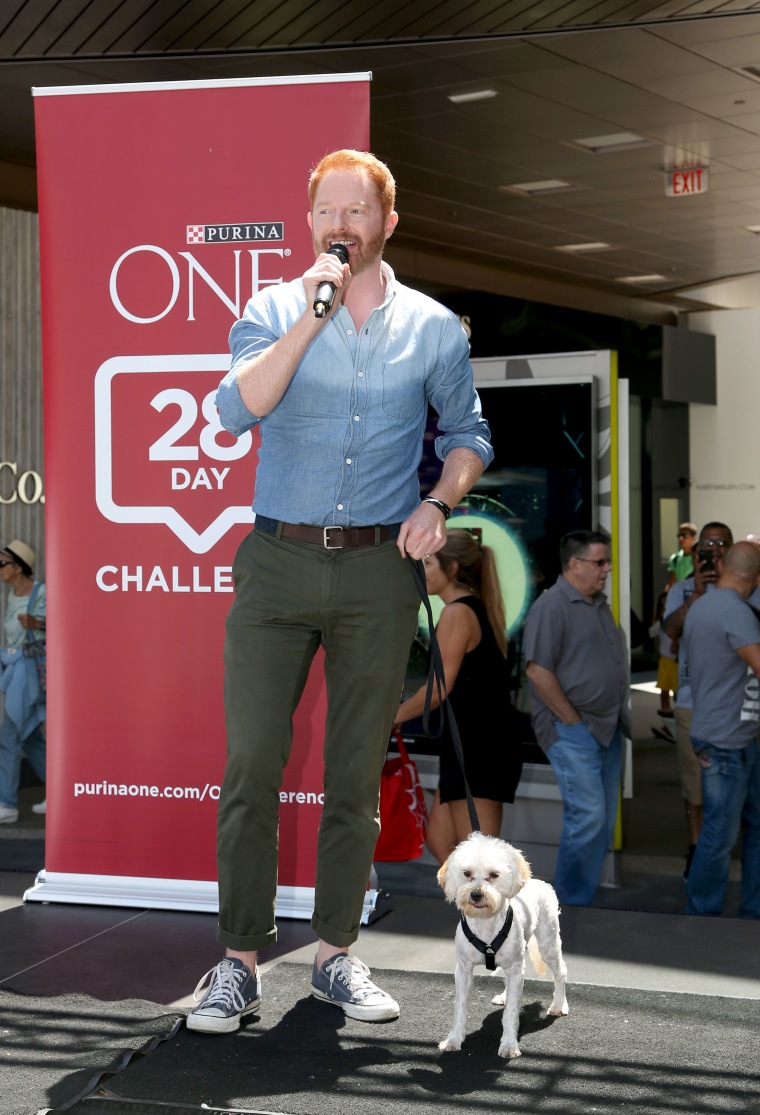 You recently tweeted that your husband's birthday was one day after Eric Stonestreet's, your "Modern Family" husband. What personality traits do they share?
Oh, gosh. They're both men. That's kind of where it ends [laughs]. No, they're both really fun guys. They both seem to like me. That's a common thread. They're very, very different people. It's so interesting. With Eric, I always called it an arranged marriage because I met him at a test audition for "Modern Family."
I often find that I work on my relationship with Eric harder than I work on my relationship with Justin because we were truly placed together by other people. We have so much in common but there's so much about Eric and I that are so different. We really do complement each other and we're really close friends and I'm very lucky that it worked out that way because that could have gone sour.
In the new season, Mitchell is out of his job and looking for something to occupy his time. Can you relate to that?
Well, every summer we have a hiatus and a few summers ago, I specifically didn't plan anything. It was wonderful for about two weeks and then I started crawling the walls, just wanting to do something. I understand how frustrating unemployment can be. I'm very lucky that I've been on a show that's been running for seven years, but when I was doing theater in New York, I spent more time on unemployment than I did working.
There were times that I would take a pay cut and do a play that didn't pay very much. Unemployment would be more than the actual salary of the play I was doing, but we're tortured human beings as actors and as long as the art is good, we're happy. Fortunately for Justin and I, we're both very driven. Justin's always been gainfully employed and kept himself very busy, and I'm just always looking for more time off, actually [laughs].
You recently said you enjoy watching "Modern Family" in syndication and seeing how much things have changed since the show started. What in particular stands out to you from the early days?
Well, the thing that's always a great touchstone is the kids. That's truly the test of how long we've been on the air, when I look back and see Nolan [Gould] and Rico [Rodriguez] and Ariel [Winter] and just how young they looked in our first season. Now they're these beautiful, well-adjusted adults driving themselves to work. That's what always blows my mind.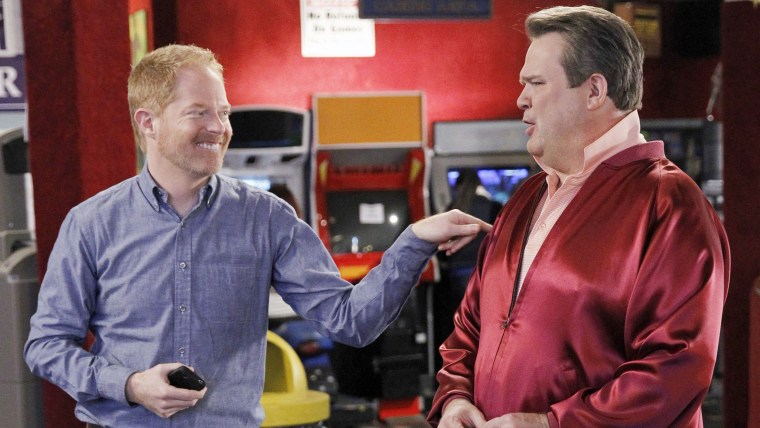 Now that you're in the seventh season, do you start thinking about when the show might end?
Yeah, obviously it has an expiration date on it and there's going to be a time when we're not on the air. We're still having a really nice time but now we're at the natural place where you start thinking, "OK, it could be another year or so and then we might be done." It's something that none of us can believe is already here because it just feels like yesterday that we started.
It's certainly been an amazing seven years and I personally would love to see it go on nine, 10, 11 years. I love these characters, but it's also exciting to think about the opportunities to do other things. We've all had opportunities come to us that our schedule has not allowed us to do. We have such great reasons for not being able to do these things, but at the same time it's very hard to say no to some amazing projects. It's pros and cons, but I think it's going to be very bittersweet when the show does end.
You could always start coaching a little league soccer team, like Mitchell does this season.
Yeah. I don't think I would be very good at that, but that's true.
Finally, you're a guest on the new season of "Running Wild with Bear Grylls," where you climbed down a frozen waterfall in the Italian Alps. Was there anything you told them you absolutely wouldn't do?
Well, I definitely mentioned that I was afraid of heights but that didn't seem to really make a difference. I did say I didn't want to jump out of an airplane. I have deep, deep fear of that, and I was hoping not to encounter any snakes or spiders, which I didn't. I think they sort of take those into soft consideration.