Nine years before the surprising finale of "The Sopranos" gave fans plenty to wave their fists at, there was the finale of "Seinfeld," a beloved comedy starring four favorite characters that went out on a distinctly sour note.
Or perhaps that note was actually ironic, depending on how you looked at it. But however you felt about the last moments of Jerry, Elaine, George and Kramer — all locked up in the same jail cell together — be aware: Jerry Seinfeld, star and co-creator of the iconic series, has some regrets.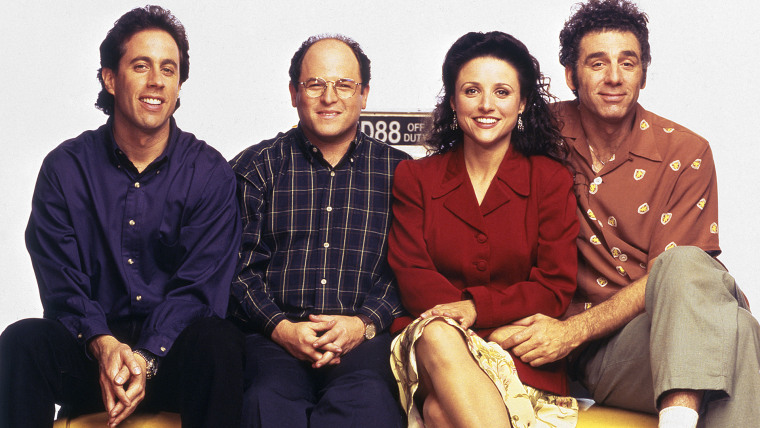 "I sometimes think we really shouldn't have even done it," he told an audience at The New Yorker Festival on Friday, reported Vulture. "There was a lot of pressure on us at that time to do one big last show, but big is always bad in comedy."
"The Finale," as the finale was known, ended a series that had run for 180 episodes and aired on May 14, 1998. It drew 76.3 million viewers, was actually two episodes that ran back-to-back.
During the second episode, various characters from throughout the series' run were called forward in court to speak about their experiences with the quartet, who had allegedly violated a good Samaritan law by laughing at a mugging victim. In the final scene (before the credits ran), the four were shown waiting in a holding cell.
Arguably, it's a fascinating concept (written by show co-creator Larry David): a great way to round up some of the series' most memorable characters for one final go-round, and give their leads some just deserts. And yet: the series spent nine seasons getting us to laugh along with, not at, Jerry, Elaine, George and Kramer ... so to some viewers it seemed like they themselves were being mocked this time.
In any case, Seinfeld today feels they might have been a little too ambitious. Comedy, he said, should be "small and cheap and quick ... That's why TV is always funnier than movies, because you don't have that much time and that much money."
So what was the high point of the series? To Seinfeld, it came at the end of Season 5's episode "The Marine Biologist," in which George finds Kramer's golf ball inside a whale's blowhole.
"We got very lucky," the comedian said of that joke. "Larry and I came up with it the night before we were shooting. We wrote it late at night, and Jason memorized the whole speech in one day."
Ultimately, he said, "The hardest thing in comedy is to have the biggest laugh at the end. And it's the most satisfying thing."
Follow Randee Dawn on Twitter.